How Much Time do you spend Lesson Planning?
Whether you are a first year teacher or a veteran with 30+ years experience, you probably spend a good chunk of time each week planning your lessons. Here's a lesson from Musicplay 1 for March week 2. With some modifications you can use for K, 1st or 2nd grade --- this week! Like all Musicplay lesson plans, treat the plan like a menu: choose the songs you want to teach, then choose the activities to do with that song. I plan for two 30 minute lessons, so if you have your students less than that, reduce the content. If you use Musicplay, much of the planning is done for you! The new online resource is only $149.95/year (USD) - and that's for your entire school! Create a new account to try it free for a month! www.musicplayonline.com
March - week 2:
Musical Concepts:
beat

practice

ta, ti-ti

so-mi and prepare do
New Songs: Concept:
78. Bee Bee Bumblebee smd
rhythm
79. Bringing Home my Baby Bumblebee fun
80. Lucky Leprechaun St. Pat's

Warmup

Rhythm - listen, clap and say activity in the Rhythm Practice section of www.musicplayonline.com

Solfa: echo sing so-mi-do patterns (Solfa Practice section www.musicplayonline.com)
Action Song - Bringing Home my Baby Bumblebee
This is a silly fun song for kids. (Talk about how you'd never really squish up a bee!)
Singing Game - Bee Bee Bumblebee
Open the Concept Slide (shown here)
have the students read and clap the words of the song, phrase by phrase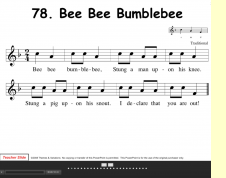 1. Bee bee bumblebee
2. Stung a man upon his knee
3. Stung a pig upon his snout
4. I declare that you are out.
ask the students which phrases are the same (2,3)
which phrase is similar (4)

which phrase is different (1)
Sing the song phrase by phrase and have students echo. If you are a non-specialist and aren't comfortable singing alone, play the song pausing after each phrase and have the children echo. At musicplayonline.com you have the choice to play a lyrics movie, a notation movie or play the audio from the concept slide.
Play the game!
This is a passing game.

Choose one child to be a bee keeper.

The child takes the bee around the circle showing the beat on the outstretched hands of the children in the circle.

At the end of the song, the child that is "out" becomes the next bee keeper.

I found two bees of contrasting size.

One was a giant bee that we named "Buzzy."

He sang the song in a very low voice.

The other bee was a tiny bee that we named "Buzzina."

She sang in a very high voice.

Each time a child went out, we changed bees and changed voice levels.

For some children, this drastic change in voice levels was a huge help in finding their singing voices. There is a kids demo video of this game at www.musicplayonline.com. I want to make a new video of the game with a variation - whoever is out takes the bee and runs around the outside of the circle back to their place, buzzing like bee.
If you have not labelled ta and ti-ti, use the interactive rhythm activity at www.musicplayonline.com to label it. If you have, this is great reinforcement and practice. The first three activities given follow:
1. Point to the beat as you sing the song
2. Clap the words as you sing the song.
3. Is it the beat or the rhythm? Play the beat/rhythm switch game. Make two cards that say beat or rhythm. Sing the song. If you hold up or point to the "beat" card, students step the beat. If you hold up or point to the "rhythm" card, students clap the words. Assess using this activity. Can students differentiate between the beat (the steady pulse) and the rhythm? (the way the words go) .If you select the correct box, it goes green.
4. Is it one sound or two? The activity is given twice - first with icons, then with notes. If your students have done this many times already, skip the icons and go right to the notes.
5. Create a new pattern with creepy crawlies
(If you have two lessons/week, leave the last two activities until lesson 2 so you have time to play Lucky Leprechaun)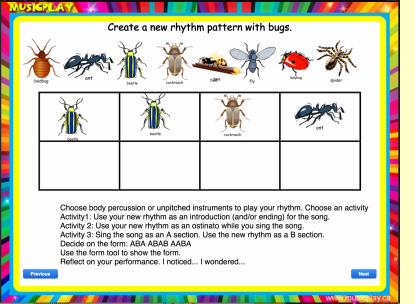 Choose body percussion or unpitched instruments to play your rhythm, and choose an activity
1 - use your rhythm as introduction or ending to the song
2 - use your rhythm as an ostinato while you sing the song
3 - sing the song as an A section and new rhythm as a B section
If you have Orff instruments, teach the very simple Orff arrangement from the Orff Source and you have a lovely little performance piece.

Singing Game for St. Patrick's Day - Lucky Leprechaun
Game Directions: Have the class form a circle. Choose one child to be a leprechaun. The leprechaun marches around the inside of the circle. At the end of the second phrase the leprechaun stops in front of a child. They join hands and they "jig" - left heel forward, right heel forward, etc. The children in the circle should do a "sailors horn pipe" at the same time. (Fold arms and jig in place) Now two children march in the inside circle. They choose two more partners and jig again. Continue with four, then eight, until the whole class is chosen. If one or two are left out, they become the new leaders. There's no kids demo movie for this song yet, so if you have a video of your students playing the game, please send it to Denise@musicplay.ca!
Download Musicplay PreK Part 1 - Canadian Site
USA Site - Download Musicplay PreK Part 1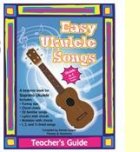 Easy Ukulele Teacher's Guide - C tuning

STUDENT BOOKS ARE AVAILABLE FOR EASY UKULELE SONGS! $5-7 FOR STUDENT BOOK/CD - YOUR STUDENTS WILL REALLY BENEFIT FROM HAVING STUDENT BOOKS.
LIKE our Musicplay Page on Facebook - another way to get notices of workshops, and new activities on www.musicplayonline.com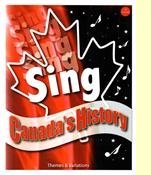 Sing Canada's History - Canada Site
American teachers - if you want to do a multicultural musical about one of your neighbouring countries, this is a great collection to use to learn about the history of Canada. USA SITE
This is a great resource to use in a performance for Canada's 150th birthday!

$10 Recorder Packages, Recorder Kits, Accompaniments & More!
a Handel or a Yamaha Recorder, The Recorder Resource Student Book AND CD - order 10+ Packages and we pay the tax and shipping.
Link to $10 Package - HANDEL GERMAN RECORDER
Link to $10 Package - Yamaha Baroque Recorder
Recorders, Books and other packages are available! Visit www.musicplay.ca and select Recorders.
USA Teachers - Link to West Music Recorder packages
Recorder Resource Kit 1 with PPTS: www.musicplay.ca (Canada)
Recorder Resource Kit 1 with PPTs: www.musicplay.ca (USA)
Recorder 1 Orff & Piano: www.musicplay.ca (Canada)
Recorder 1 Orff & PIano: www.musicplay.ca (USA)

Learn and Play Recorder App has all the songs in the Recorder Resource Kit!
Recorder App ITunes . Recorder App Google
Recorder Fingering Charts: www.musicplay.ca (Canada)
Recorder Fingering Charts: www.musicplay.ca (USA)
Combined Classes?

Do you have combined classes? For teachers with Grade 4/5 combined classes, we've created duet parts for the Recorder Resource 1. If you have an older version of the kit, I'm happy to give you the duet parts. Send a photo of the teacher's guide from the Kit to denise@musicplay.ca to request the free duet parts.
LINK to FREE RESOURCES:
Jan. 25 Free Recorder Resources!
The Recorder materials are also available as part of our online resource: www.musicplayonline.com .
For a limited time, new subscribers will get 1 month free! It's a great time to try out the site!