Admittedly, Moving Body Resources doesn't really keep up with trends.
Trends in business, trends in marketing, trends in fashion, you name it, MBR is just off trend. We value serving people, relationships, communication, and of course, MOVING! We have to remain contemporary enough with technology to stay in business (like this email newsletter). Yet, it's a peculiar experience when someone asks me to define what "I do" and what MBR is, and there's not one marketing box, cultural box, or trend that we fit into.
How do we stay in business if we're not clearly defined by external standards, trying to reach the widest customer base, trying to be the hottest space with the most hip classes and practitioners, and consistently using multiple social media sites to make sure the world knows we exist? We stay in business because real live people, with bodies and minds that exist in biologically slower time, keep seeking out spaces and people they can feel genuinely alive with.
Most of the time, all who find their way to MBR create a sweet, welcome relief of being together for whatever reason each person or professional walks through our door. Other times, we experience an awkward, difficult, dance of coordinating schedules, aesthetic needs, emotional differences, and genuine discomfort. Yet, all this realness, all this diversity, all the grace and all the awkwardness is what makes MBR an amazingly alive, moving, and PRESENT place.
As springtime enlivens our beings during the month of April
our teachers and practitioners are here to fully support all that's real, awkward, hip, hot, trendy, old-fashioned and PRESENT within you. We hope to experience the blessing of your moving body with us this month in classes, workshops, or private sessions.
See below for April highlights and more, and check out our website for other amazing and definitely interesting opportunities.
With appreciation for whatever your fashion is,
And all the diverse aliveness of your whole being,
Mary Abrams &
All at Moving Body Resources
Classes with Mary Abrams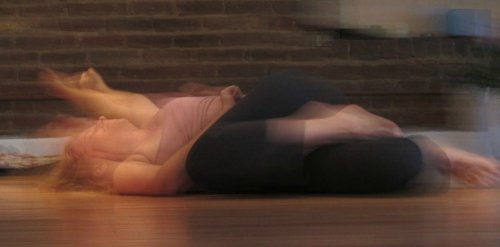 MOVING BODY INNOVATIONS
Taught by Mary Abrams
Tuesdays 11 am - 1 pm Ongoing
Thursdays 10 am - 12 pm Ongoing
Substitute teachers will teach:
Thursday, April 6, Melissa Neidich
Fees: $30/single class
$130 / 5 class series
See info below.
MOVING BODY DANCE
Fees: $30/single class
$130 / 5 class series
MOVING BODY HEALING
Apr 25, May 23
6 - 8 pm
Fees: $30/single class
$130 / 5 class series
ALL ABOUT ATTENTION
One Friday each month
Apr 21, May 12
mary@movingbodyresources.com
MBR Community Classes:
SOMATIC SOLSTICE MAT
PACHUAN TAI CHI
Taught by Dominique Jenkins
Thursdays 6:30 - 7:30 pm
347-607-2886
drj604@gmail.com
HEART-CENTERED TOUCH FOR MEN
Led by Adam Brown
Thursdays 8 - 10:00 pm
212-366-9025
adam@heartcenteredtouch.com
UPCOMING

WEEKEND EVENTS & WORKSHOPS
GUIDED BODY AND MIND MEDITATION
Taught by Apollonia Holzer
Wednesday April 5
6:30pm - 8:30pm
See below...
MOVING BODY SALON

Step out of your rhythm and step into MBR!
Friday April 21st!
7 pm
Great performers showing up....See below!!!
SOMATIC MOVEMENT IMMERSION:
Inhabiting the Body, Moving the World

Omega Institute, Rhinebeck, NY
July 23 - 28
See below...
THE CONTINUUM OF YOGA
Taught by Bobbie Ellis
Sunday April 23
10 am - 12 pm
$45
See below...
Special off-site workshops by Mary Abrams:
At Taryn Toomey The Class Studio:
Deepening Body Awareness in Practice: Somatic movement, fluid strength, and joyous discovery
Sunday, April 30
12-2 pm
$50
Register at: www.taryntoomey.com/workshops
At SOMA YOGA Center in Highland Park, NJ:
Feeling Moving: The biology of emotion in the flow of being
Saturday, May 6
10 am - 6 pm
Contact: somactr@aol.com
In Philadelphia:
Attuning to the Joy of Life
Sunday, May 7
10 am - 6 pm
Contact: lee@visioningbody.com
Taught by Mary Abrams & Colleagues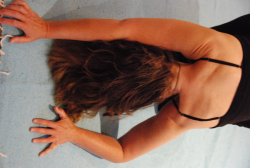 These classes are an amazing opportunity to awaken your senses, experience your body as movement, interrupt your habitual ways of thinking and feeling, and to develop new clarity, awareness, strength, and liveliness in your entire being. We will explore with breath and sound play, sensing, feeling, micro-movement, expressive movement, and deep stillness.
Beginners are welcome anytime.
Every Thursday 10 am-12 pm (sub teacher April 6)
Teacher schedule:
Substitute teachers: April 6, Melissa Neidich
Drop-ins welcome to ALL classes.
Fees for 2017:
$30/single class
$130/ 5 class series
Pre-registration via email or phone 24 hours in advance is appreciated but not necessary.
TO REGISTER via email or phone contact:
Taught by Mary Abrams
Every living breathing body is a dance of life each moment of existence. Dancing occurs deep within as subtle unseeable movements that awaken through small meaningful gestures that can explode with wild exuberant expression. Dancing takes form in many cultures in service of celebration and sacred ritual. Moving Body Dance classes offer a safe environment to find your uniquely authentic dance from within, and to celebrate your personal sacred ritual in community. Each class will begin with a ½ hour of Continuum practice (breath/sound, fluid movement, sensation awakening) to interrupt daily patterns, to deepen inner awareness, and to provide support for full genuine flow of expression. This segues into an hour of dancing with music, winding down with a ½ hour of breath/sound and inner movement exploration to support integration of all that awakens in your dancing body.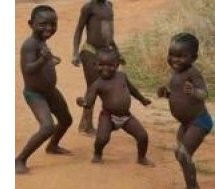 2nd Tuesday of each month
Apr 11, May 9
6pm-8pm
Maryanne Savino teaches April 11
Mary Abrams teaches May 9
Fees for 2017:
$30/single class
$130/ 5 class series
TO REGISTER via email or phone contact: mary@movingbodyresources.com
or 212-206-7542
Taught by Mary Abrams
This monthly class explores the questions, "What is healing? Who is the healer? Who is healing? Can healing occur if nothing needs fixing? Can healing occur if no one has special powers? Or if everyone has special powers?

During these sessions all participants will be invited to explore themselves moving, sounding, breathing, and being in the space as healers, as being healed, and in endless creative roles appearing and disappearing for no rational reason. Participants will be invited to bring their special, sacred, and mundane objects to heal with, along with fabrics, singing bowls, shakers, candles, water, and all other items in our healing space. Together we will feel for all the beautiful gestures we can make, and together we will discover the mysteries of healing.
This class is inspired by Mary's lifelong creative explorations in the mystery of being, ongoing Somatic Movement practice, and Fake Therapy as articulated by Valentina Desideri and experienced at the Body IQ Conference with Peter Pleyer.
4th Tuesday of every month
Apr 25, May 23
6pm-8pm
Fees for 2017:
$30/single class
$130/ 5 class series
TO REGISTER via email or phone contact:
mary@movingbodyresources.com or 212-206-7542
Taught by Laura V Ward

Mondays - 6:15pm - 7:15pm
Somatic Solstice Mat classes emphasize the subjective experience of embodiment by inquiring into the potential space inside and outside of the body with playful awareness. Through this approach we lean into greater connectivity, fluid resilience and functional integrity. Simple user-friendly exercises elicit healthy movement patterns that stimulate, massage and hydrate the soft tissues and the nervous system. This class cultivates a level of body intelligence and fitness that will continue to support your agility throughout life. Drawn from diverse movement forms including Ballet, Pilates, Yoga, Dance, Laban Movement Analysis, Bartenieff Fundamentals, Sounding, Continuum Movement, and Connective Tissue Therapy, there is balance of specific form-based exercise and non-judgmental free moving improvisational work. IT SHOULD BE FUN and FEEL GOOD!
No prior experience required. This is appropriate for all levels, ages and body types.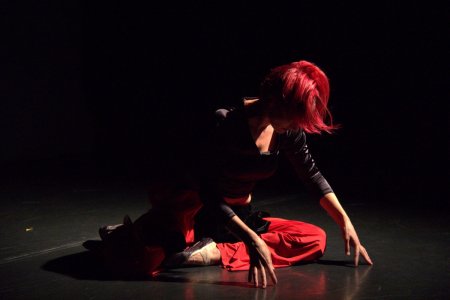 To register, or for more information:
646-241-8254
laura@lauravward.com
Guided Body and Mind
Meditation

Taught by Apollonia Holzer

Wed Apr 5, 6:30pm - 8:30pm
$30

The Body anchors our presence in this world. The Mind can help us to cultivate a higher awareness of our presence and of the Information we are continuously sending out and receiving. Such information can cause comfort or discomfort, and it can effect our physical and mental well-being.
The Guided Body and Mind Meditation invites us to gain more awareness of our physical and mental selves, allows us to make more conscious choices and brings us to a state of alignment with ourselves and the world around us.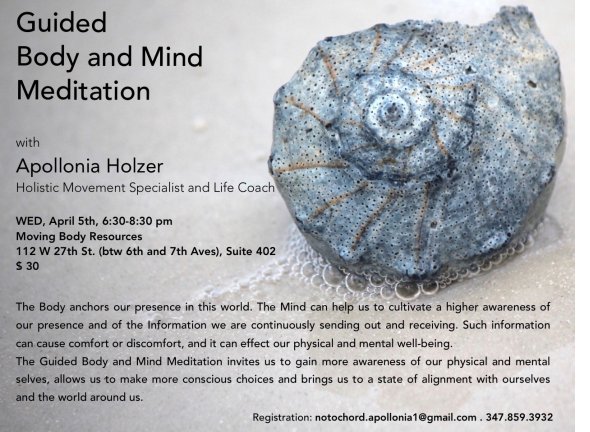 To Register Contact Apollonia Holzer:
notochord.apollonia1@gmail.com
347-859-3932
Friday, April 21st

7 pm

Moving Body Salons create a space for artists to share their work live, in real time,
with
real people to create living resources for us all.
Artistic expressions may be raw, fermenting, fully cooked, and more.
Calling all artists of all kinds and all levels.
April 21st will include performances by:
Laura Ward / Octavia Cup Dance Theater
with kids from Long Island City School of Ballet
accompanied by musicians Elizabeth Butters and Arthur Mallet
playing turn of the century Appalachian music.
if you want to perform the floor is yours!
Suggested Donation: $10-$25/person
Bring snacks & a beverage (or more)
P.S. April 21st is Mary's birthday, so triple your fun with live performance, birthday cake, and post-performance celebrating!!!
Performances, conversation, schmoozing, and who knows
services@movingbodyresources.com
An introduction to the evolution of practice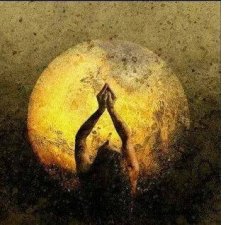 Sunday, April 23

10am-1pm
Discover new and unexpected possibilities when you combine the fluid movement practices of
Continuum with the principles and practice of Yoga. An introductory program designed for
everyone interested in the practice of Yoga or Continuum, as well as people exploring new
approaches to conscious embodiment.
Bobbie will guide experiential learning as you explore:
How the fluid nature of the body can inform yoga practice.

Movement as what we are, not what we do.

How the "8 limbs" of yoga are found in Continuum .

The body as a creative process, not an object.

Inhabiting, and pouring our bodies into and out of asanas as a living, fluid process.

Signs of life in your yoga practice, as opposed to the need to perfect the form of your practice.

Preventing yoga-related injuries by changing our habitual tempo and listening from within in

new and novel ways.

Moving beyond the physical aspects of Yoga and questioning the flexibility of being human,

rather than the literal flexibility of your body.

Awareness of internal experience through breath, sound, guided and silent meditation, and

fluid movement.

The dexterity and variety of breathing practices in Yoga and Continuum.

Cultivating curiosity.

Inner resources for resilience, adaptability, and change.

The difference between discipline and devotion to practice.
For 32 years Bobbie has been deeply committed to exploring the territory of
inquiry and creativity using the wisdom of the body. She owns and directs Soma
Center, Resources for Embodied Living and is a ceremony officiant with
Meaningful Ceremonies both located in Highland Park, NJ. As a yoga and somatic
movement educator, Bobbie leads classes, workshops and explorative trainings
rich in fluid expression, self discovery, writing, drawing and moving with living
anatomy. She explored Continuum Movement with its founder Emilie Conrad
from 1999-2014 and was an authorized Continuum teacher from 2005 2015. She
retreats and explores yearly with Susan Harper, of Continuum Montage. Bobbie is
a seeker and continues to find valuable resources for teaching, working and living a creative life. She self published her first book of poems in 2014 and an embodied meditation CD in 2010.
She is compiling her second publication of poems now.
For information and to contact Bobbie
please visit:
OMEGA INSTITUTE
SOMATIC MOVEMENT IMMERSION:

Omega Institute, Rhinebeck, NY
July 23 - 28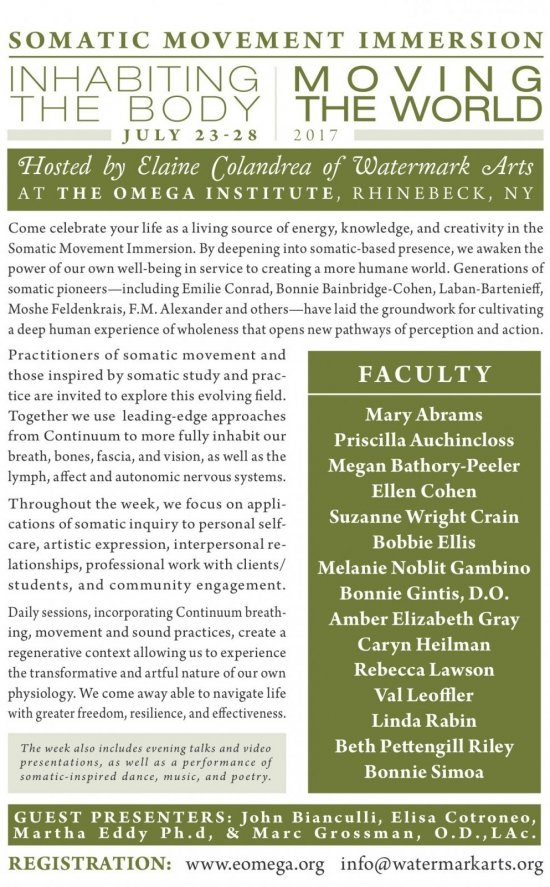 CEU credits approved by NCBTMB are available.
Living in Alignment with the Source of Love

Taught by Tom Monte

April 7 - 9

What if you discovered that most of your beliefs about yourself are completely wrong and, even worse, self-limiting and often self-destructive? And what if, upon deeper introspection, you came upon Another You, living in an awakened state, in which truths about your unique powers and purpose were waiting to be discovered and utilized? And what if living in alignment with this Other You is the most effective way of experiencing all you hope for — love, joy, healing, success, and fulfillment? Wouldn't the work of aligning with your Deeper Knowing be the single most important thing you could do with your time and energy?

The answer is most certainly yes!
For more information please visit:
If you have any questions please contact Toby Monte at
tobymonte@aol.com
Save the dates!


November 10-12, 2017

The first ever Moving Body Festival of Somatic Movement.

Details coming soon!!!

Festival Committee: Jennifer Maeve Moloney, Lee Fogel, Lillian Stamey, Cindy Shum, Ali Fischer, Corazon Tierra, and Mary Abrams

MBR has wonderful spaces for teaching
and healing arts of all kinds.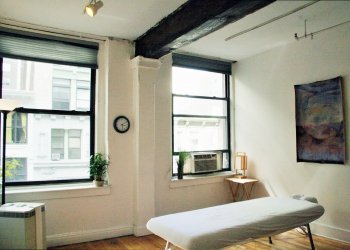 MBR has 3 office spaces and 2 group spaces available by the hour and by the day. Any space can be rented for one time, one hour, a few hours, a full day, an entire weekend, or for ongoing classes.
Our 3 offices are ideal for a variety of private practice sessions. Our 2 group studios -- 400 sq. ft. Small Studio and 1300 sq. ft. Large Studio -- are great for classes, workshops, and other group events.
The more you rent, the better your deal!
Office rates begin at $30/hr for 2017.
Please inquire for daily rental rates for offices.
Movement studio rates range from $47-$130/hr.
Go to our website and click RENTAL INFO &
Email:

services@movingbodyresources.com


or
call Greg at (212) 206-7542 - Mailbox option 2
Please Note: If you contact us after

7 pm

, on weekends, or at short notice please email rather than call.
Photo by Barbara Schaefer
112 West 27th Street. Suite 402.
New York, NY 10001.
(Between 6th and 7th Ave)
Phone: (212) 206-7542
Email:
services@movingbodyresources.com