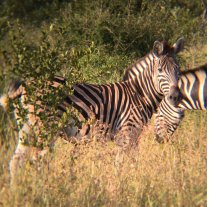 Knocked sideways with wild excitement and curiosity, I felt my first ever urge for safari when I saw Dana Slamp's eNews announcing her South Africa Safari & Yoga Retreat. Surprise #1.
Least expensive flights meant an 11-hour wait at London's Heathrow Airport.
I took a spontaneous tube ride into town to see the Brompton Road flat where we lived with our infant son in 1997-98, when my husband starred at the Theatre Royal in Miss Saigon for nine months. Surprised by deeply moving moments, walking old favorite haunts.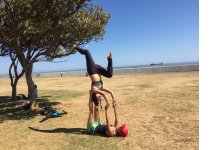 In Cape Town: sunny views, sunset and sunrise yoga, touring Mandela's prison, seeing penguins, enjoying winery tour and chocolate and beer tastings were all lovely!
The surprises were: Reunion with a sweet friend Marissa ~ after 5 years! A paraglide flight! A wild sunset bike ride and starlit pool dip with new friend Anna! A final evening of sweetly quiet, movingly nostalgic garden cafe dinner, alone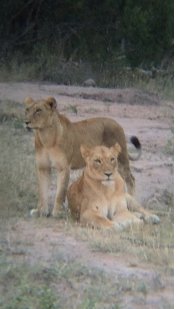 On one afternoon game drive in Kruger's vast reserves, nature graced us with lightning and thunder under a grey-blue sky, windy scents more changeful than ever, a steady drizzle on leaves and jeep roof.
Our last evening, after finding our lion pride at dusk, we head homeward contented and stop for a sundowner in the dark, only to hush as an entire herd of elephants slowly trail past us in the gloaming. Moving moments that surprise us.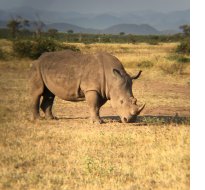 Flying back home, on my Cairo layover I meet a young couple moving to Spain from South Africa, and our mutual interests in spirituality and philosophy make the 4 hours fly by. We discuss wildlife, bush adventures, authors, and human nature, making the final piece perfect, and complete in my journey.
The greatest surprise, that needn't have been a surprise at all: our biggest challenges were not running off a cliff paragliding, or facing the buffalo on a bush walk. They were human signals, human truths, human language. What a familiar recognition. We go on adventures to meet our edges. We encounter our own nature as well as outer nature. We embrace the surprises that occur and meet us in both. We accept with grace the weather inside us and outside us.
100-Hour Restorative Teacher Training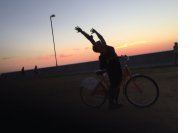 Dream a little dream... Restorative Yoga, especially the deluxe antidote to stress dished up in my Mother Mary recipes, is the creme de la creme of dream yoga for modern living.
Far more powerful profound than just a "yoga nap" though we may fondly call it that, it is supported by quite a bit of science for mind-body healing.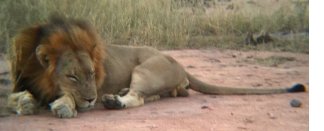 The 100-hour Teacher Training fulfills Yoga Alliance YACEP hours, and 100-hour advanced Pure Training hours for eligible trainees. Both students and teachers are welcome to steep in this training with us.
Modules may be taken separately in some situations. Each module is one weekend of 25 hours and comes with 30 days of complimentary Pure membership. Details here - scroll past the 30-hour Yoga Nidra Training.

I value your email privacy and never share emails. I invite you to Reply or Forward, Subscribe or Unsubscribe at any time.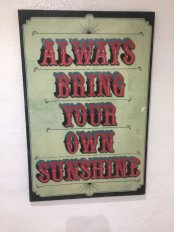 These monthly missives are my cyber-sangha link with many of you.
So, I send you heartfelt gratitude and South African golden sunshine.
The warmth of it is still on my back, my neck, on my chest, in my heart.
The light in me salutes the light in you.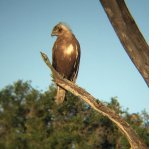 The snake eating eagle spies bold and far. He may see the month of May, where you may join me for Yoga Nidra training 2 weekends (May 6-7, and 20-21), or for Mother's Day Restorative Love on May 13th, here.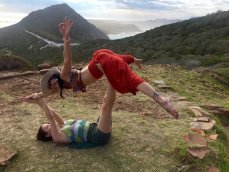 Here's Prema Yoga goddess Dana Slamp herself flying me on the lighthouse hiking path up on the Cape of Good Hope!
June 9-11 is my 10th retreat on Wagging Tail Yoga Farm. Come find out why the nature, company, hospitality, and varied yoga styles bring newcomers and retreats season after season! More here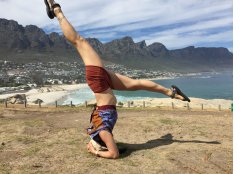 June 22-25 is the Wanderlust Music & Yoga Festival in Stratton Mountain, Vermont.
August 11-13 is New York AcroFest, our 6th annual summer AcroYoga Festival in New York City. Tickets will go on sale soon!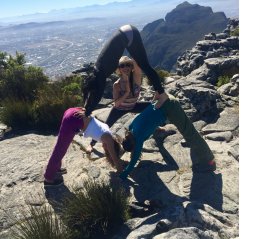 I will be lead assisting the AcroYoga team at Wanderlust VT, and teaching at NY AcroFest.
I hope to see you at both!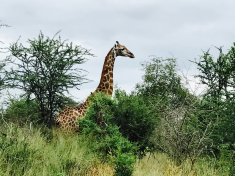 Links are on my website: www.maryaranas.com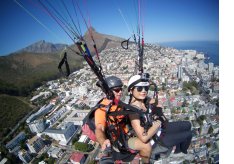 This issue, most photos are courtesy of an iPhone 6 or 7, mine or one of my dear traveling pals'. This shot however over Cape Town is from
a GoPro.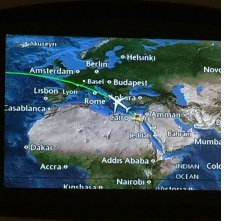 Please join me Monday mornings in Slow Flow Meditation at Pure Yoga East, or Friday evenings in AcroYoga Flow Open Level at Om Factory Fashion District.
For the rest of my schedule, whether it's Yoga, Restorative, Yoga Nidra, AcroYoga, or one of my upcoming events, it's always easy to check dates and links any time at my website:
www.maryaranas.com
Namaste
from Ganesh and me ~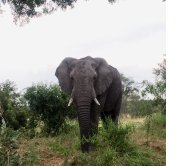 OMMMMMMMary