Healthcare for Robots: A simple blood-test to ensure reliability
The robots are coming? Nay, they are already here. A Price Waterhouse Coopers report cited over 120,000 industrial robots were shipped in 2013 alone, and the automotive and parts industries accounted for nearly 70% of those orders in North America. While some robots do have oil lubricated gearboxes, the majority of the robotic workhorses in auto manufacturing are grease lubricated. It is in that grease which lies a picture of the health of the critical robot joint health.

Grease is the lifeblood of a robot, and in the same way we use a blood test to proactively monitor human health and prescribe lower risk corrective actions, the same strategy can now be taken with robots. The Grease Thief has been included in a kit designed to obtain representative samples from all robot gear joints with a minimal amount of intrusion. Downtime is minimized, and the robot is restored to operating service in short-order, while the blood sample grease sample is sent off to the lab for analysis. How does this work? See in this video of a Fanuc industrial robot being sampled with the Grease Thief: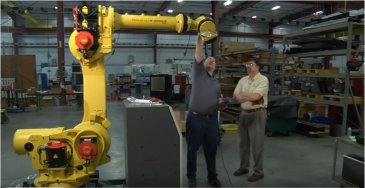 Grease Testing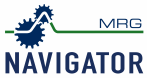 A screening test has recently been developed that has resulted in a price breakthrough for robot grease analysis. By taking advantage of the Grease Thief's unique geometry and optical characteristics, a three-part test can be performed that quantifies the ferrous debris content (wear particles) and the physical characteristics of the grease. Grease Thief Screening process can save up to $2500 per robot per year.
The data is presented in our NavigatorTM software where it is easily accessible any time.
Purchase a Robotics Grease Sampling Kit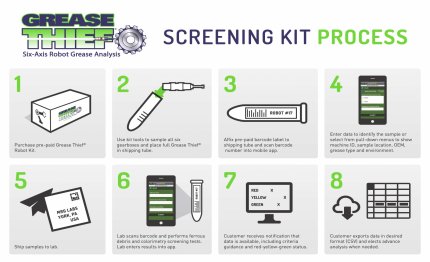 MRG Labs

Educational

Institute

2017

Schedule

Meet Our Team

Rich Wurzbach, President of MRG Labs
With more than 25 years of experience in the development of Predictive Maintenance Programs, Mr. Wurzbach is certified by ICML as a Laboratory Lubricant Analyst (LLA-II, Machine Lubricant Analyst (MLA-II), Machinery Lubrication Technician (MLT-II) and STLE as Certified Lubrication Specialist (CLS).





Lisa Williams, Vice-President of MRG Labs
Has been with MRG Labs since 2007, and currently manages business operations. Lisa is certified by STLE as a Certified Lubrication Specialist (CLS) and by ICML as a Laboratory Lubricant Analyst (LLA-II), Machine Lubricant Analyst (MLA-I) and Machinery Lubrication Technician (MLT-I).

MRG Labs
410 Kings Mill Road
York, PA 17401
(717)843-8884
info@mrgcorp.com