The day started off with a downpour and after a bit of a break it looks like we are in for round two. I am sure I'm not alone when I say it makes me want to just go back to bed! But, don't give it a second thought. Many of your favorite local blues bands will be tearing it up in your favorite venues this weekend. From Fayetteville up to Bentonville... and from Eureka Springs down to Fort Smith there are plenty of reasons to grab that umbrella and GO!
Read on below for more exciting opportunities from CD release parties to fundraisers. And check out the new articles on a new NWA blues jam opportunity as well as info about volunteering and ticketing for the Eureka Springs Blues Festival.


And don't forget...if you have some cool blues news...a great story about a neat event...a review of a favorite band or album...or some aspect of blues history you find fascinating, here's your opportunity! Drop me a note and let me know what you want to share. (Sandy's E-mail)

If you don't feel you want the "full" responsibility then send me a link to something you feel readers would enjoy reading in the newsletter and I will put an article together for you. Please do remember that OBS reserves the right to edit articles for space. So, hit me up!
Come on out and join your friends for a bi-weekly Open Mic Blues Jam at Legend's Restaurant,

Bar, and Nightlife in Jane, Missouri. Only 5 minutes north of Bella Vista on I-49 or 20 minutes north of the Promenade in Rogers! Our next jam is April 27th! Come check it out and jam/support the BLUES with us!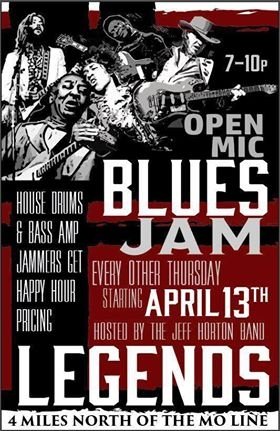 THIS SATURDAY!

Buddy Shute and the Motivators are hosting a CD release party on Saturday, April 22, 2017. Please join them at Bear's Place in Fayetteville next Saturday from 6-9 to help them celebrate.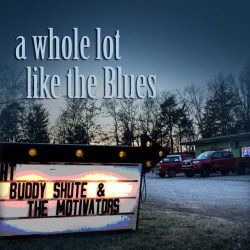 Eureka Springs

Blues Weekend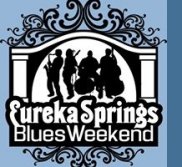 The annual Eureka Springs Blues Weekend will be June 15 – 18, 2017, and is a fundraiser for the Turpentine Creek Wildlife Refuge, along with several other area charities.
The Ozark Blues Society greatly appreciates our partnership with ESBW. The Band
and Solo/Duo winners of our annual
Blues Challenge receive a coveted slot
on the festival's Main Stage as part of their prize packages.
find out when The Sister Lucille Band and Jackie B & Me will be performing.
Gospel Brunch


Benefit for 7Hills Shelter

Join your favorite local blues and gospel artists for not only some great music, but also a chance to support local homeless in our community.
Flying Signs Gospel Brunch benefiting 7 Hills Homeless shelter of Northwest Arkansas is being presented by Ozark Mountain Records. Read on for all the info.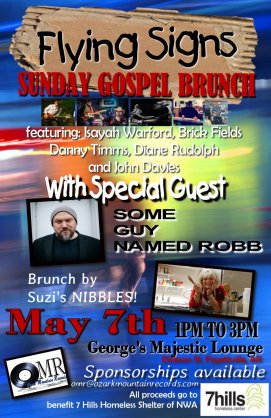 When: Sunday, May 7, 2017

Where: George's Majestic Lounge 1-3 pm
Music by The Flying Signs which inludes: Isayah Warford, Brick Fields, John Davies and Diane Rudolph with special guest, singer/ songwriter/ speaker

"SOME GUY NAMED ROBB"
Brunch: George's will be serving Mimosa's and Bloody Mary's.Suzie's Nibbles will be serving brunch. (menu to be announced)
$5 suggested Donations at the door
For reserved tables, call: (479) 527-6618
Giving Community Partners a Hand

How did Ozark Blues Society end up with a huge bundle of bath towels and wash cloths? John Lee Hooker Jr. requested them at our blues festival a few years ago and they were never used. Our board decided they should be donated and voted to give them to Saving Grace in Rogers. Cherri Rodriguez, their spokesperson, explained that "Saving Grace provides transitional housing for young women who are aging out of the foster care system or who have been orphaned by their critical supports. We are a privately funded, faith based ministry, with a big focus on mentorship, education, and life skills training. Our main objective is to equip these young women
with the relationships, skills and resources
that they often lack, so that they can break
the cycle of poverty (and reliance on government programs) in their families." (Along with the towels we donated Ozark
Blues Society T shirts. )
Our primary mission is about promoting blues. Our board members also are
involved with many other projects and organizations focused on supporting and improving Northwest Arkansas.
If you are a member of our society Thank You for your support ! If not, please consider joining us by going to www.ozarkbluessociety.org ! You will find all of our membership benefits on the web site.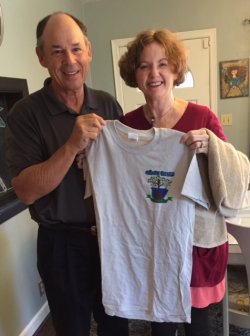 Picture – Bill Baird, OBS President, presenting towels and shirts to LaDonna Shub,volunteer at saving Grace.
Rule Changes

for

Local Blues Challenges
Please Note the following rule change:
Each act wishing to compete

MUST

enter the local/regional affiliate sponsored competition

GEOGRAPHICALLY CLOSEST

to their listed home location

FIRST

before they may enter other regional contests. Failure to follow this rule puts acts at risk being disqualified. Please visit our website www.ozarkbluessociety.org for a chance to review the complete Blues Foundation document or contact OBS Board President Bill Baird
for more information.
Ozark Blues Society of Northwest Arkansas
(
please use our official Bentonville address for reference
)
will hold their 2017 local Blues Challenge in late October.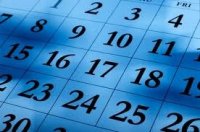 4/21- 4/29

Please enjoy the following listings comprised of bands, venues, and/or organizations supportive of Ozark Blues Society. Always check with individual venues for event details and schedule changes.
4.21
Leah and the Mojo Doctors and Full House for Happy Hour at Georges Majestic Lounge in Fayetteville

Jimmy Wayne Garrett and the Liberty Bell Rhythm Band at Mojos Pints and Pies in Fayetteville

Dr. NOLA and the Soul Shakers at Meteor Guitar Gallery in Bentonville

Voxana at Bike Rack Brewing in Bentonville

Rozenbridge at Two25 Wine Gallery in Bentonville

Melody Pond at Bentonville Brewing in Bentonville

Choir, Choir, Choir at Walmart Museum Roof in Bentonville

Jesse Dean at the Cathouse Lounge in Eureka Springs
4.22
Buddy Shute and the Motivators CD release at Bear's Place in Fayetteville

Blink 182/The Naked and Famous/Wavves at the AMP in Rogers

Junction 80 at Ramo d' Olivo in Bentonville

Tony Alvarez at Two25 Wine Gallery in Bentonville

Eric Mathews at Warren's Rec Room in Alma
4.23
Isayah's Allstars at Mojos Pints and Pies in Fayetteville

The Cerny Brothers at The Meteor Guitar Gallery in Bentonville
4.25
Boston at the AMP in Rogers
4.26

Brick Fields Blues Therapy at Bears Place in Fayetteville

Richard Burnett at JJ's Grill and Chill in Fort Smith
4.27
Roger Thomas for Notes at Night at Ramo d' Olivo in Bentonville




Power of Music Festival in 8 venues in Bentonville
4.28
4.29
Ocie Fisher at JJ's Grill and Chill in Rogers

Power of Music Festival in 8 venues in Bentonville

The Time Burners at Bike Rackc Brewing in Bentonville

Tony Alvarez at Ramo d' Olivo in Bentonville
Mark Your Calendar
5/7 Flying Signs Gospel Brunch/Benefit at George's Majestic Lounge in Fayetteville

5/13 Lucious Spiller Band at The Founders Room in Alma

5/27 Victor Wainwright at Warren's Rec Room in Alma

Today's show features music owned by Dick Clark and performed by Janis Joplin
Read more at: http://www.brainyquote.com/quotes/quotes/s/sonnyterry211910.html
You have to open your mind. I like the ability to express myself in a deep way. It's the closest music to our humanity - it's like a folk music that rises up out of a culture.
Read more at: http://www.brainyquote.com/quotes/quotes/s/sonnyterry211910.html

"Music is the soundtrack of
your life."
I was always singing the way I felt, and maybe I didn't exactly know it, but I just didn't like the way things were down there-in Mississippi.
Read more at: https://www.brainyquote.com/quotes/quotes/m/muddy
Blues Education Supporters
Thanks to the following for their support of blues education.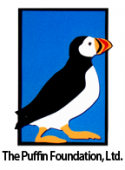 Check Out these regular local radio programs

"The Generic Blues Show" hosted by Paul Kelso airs every Friday night at 9pm on KUAF 91.3FM
Rockin' Hog Radio presents "Sunday Morning Blues" from 8am to 10am every Sunday
LINK
Get Involved with the Ozark Blues Society

Annual membership levels begin at $15 and give you so much in return, including meeting new friends while enjoying the best blues artists in the area.
By being a member of The Ozark Blues Society of Northwest Arkansas, you are helping to support the Arts and to preserve the Original American Art Form known as The Blues.
Membership Benefits Include:
Weekly E-newsletter
Opportunities to win tickets to events
VIP seating at events (when available)
Discounts on OBS merchandise
Social networking – meeting other people who also love the blues
Opportunities to volunteer on OBS committees and at events
Ability to attend board meetings and vote on upcoming organizational issues and elections
Visit our Website to renew or join! Ozarkbluessociety.org