Feria en Sevilla
30 de abril-7 de mayo

Pedro El Granaino con Patrocinio Hijo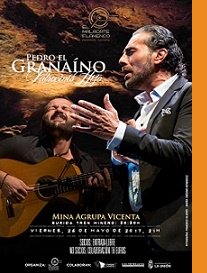 El 26 de mayo a las 21h en el interior de la Mina Agrupa Vicenta de La Unión, será el nuevo evento de la Asociación El Malacate Flamenco
Flamenco "Jerez Gran Reserva" con honores a Moraíto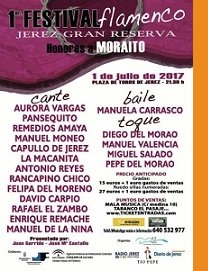 La cita tendrá lugar en La Plaza de Toros de Jerez el próximo 1 de julio, a las 21.30 horas.

Finalistas II Certamen de Cante Flamenco Ciudad de El Puerto - 29.04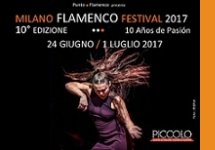 "10 AÑOS DE CULTURA Y PASIÓN"
Dal 24 giugno al 1 luglio 2017

28 giugno: MANUEL LIÑAN
29 giugno: OLGA PERICET
1 luglio: ROCÍO MOLINA

10ª Noche Blanca del Flamenco de Córdoba

17 de junio de 2017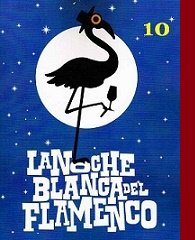 III Concurso Nacional De Cante Flamenco "Chiclana De La Frontera"

Sevilla Congress & Convention Bureau

Contact us! Our team will assist you to ensure the success of your event in Seville.

Belén Maya Flamenco Workshop in Long Beach ~ May 6-7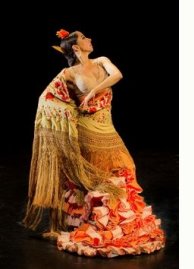 12 Days!
BELÉN MAYA WORKSHOP
in Long Beach, CA
Sat., May 6 & Sun., May 7
"Belén is spectacular! Maya has forged a new direction within the genre of flamenco" Dance Insider ~ Considered one of the most important contemporary flamenco artists in the world, Belén Maya has pushed the limits of this art form through her constant quest for innovation. This workshop series also includes a Lecture & Demonstration with Q&A. Spaces Limited, ENROLL HERE! // Work in Progress Video ~

A Vida Flamenca Production //

vidaflamenca.org


#flamenco #flamencodancer #arte #baile #pasion #batadecola #flamencoworkshoplosangeles #losmayas #longbeachdance #santabarbara #belénmaya



Belén Maya Flamenco Workshop in Santa Barbara ~ May 4-5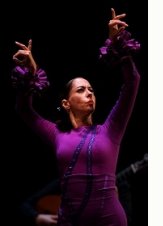 10 Days!
Thurs., May 4 & Fri., May 5
Zermeño Dance Academy, 5575 Hollister Ave, Ste A, Goleta, California 93117
Join us at Zermeño Dance Academy for 2 days of intensive masterclasses with Belén Maya who is considered one of the most important contemporary flamenco artists in the world. Don't delay in reserving your spot as this workshop will fill up quickly! Limited space. RSVP Required!
Contact: Danny@zermenodance.com ~ VIDEO!
A Vida Flamenca Production // vidaflamenca.org
#zermenodance #flamencosantabarbara #belénmaya
TONIGHT: Encuentros Flamencos
@ El Cid in Hollywood

Sunday, April 23 @ 7pm
El Cid, 4212 W Sunset Blvd, Los Angeles, CA 90029
From Huelva, Spain Cantaor Senén Sentío López
With the superb guitarist Ricardo Diaz; dancers La Gitane & Alejandro Vega
The natural state of Flamenco is an Encounter, it's expressions spring from the unique elements of Flamenco's language...
singing, dance and guitar. From diverse origins with their unique stories to tell, these people come together this Sunday to share this emotion of love... Flamenco.

Make your Reservation Here for El Cid: https://www.opentable.com/r/el-cid-los-angeles

Feria! in Los Alamitos ~ April 23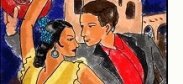 Welcome to the Feria!
A Spanish festival from Sevilla in Los Alamitos California.
$20 presale tickets includes $10 off food and drink but NOT paella. $25 at the gate. Savory Roads yummy Paella has to be pre-ordered by Weds. the 19th. Fundraiser for St Isidore Historical Plaza. Sevillanas and Flamenco performances all day! Join our community members to celebrate and experience Andalusian culture here in Los Alamitos. Enjoy PRE-SALE TICKETS HERE!

Forever Flamenco - Noche en Triana III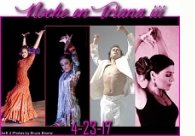 Sunday, April 23 @8pm
Starring Antonio Triana, Fanny Ara, Reyes Barrios, Alice Blumenfeld, Oscar Valero, Jesus Montoya, Kai Narezo
Tickets Here!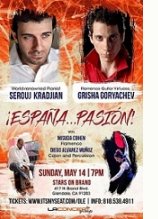 Serouj Kradjian & Grisha Goryachev & Friends
Experience Masterful Fusion of Flamenco, Classical, & Folk Music
Sunday, May 14 @7pm

World-renowned pianist Serouj Kradjian & Flamenco Guitar Virtuoso Grisha Goryachev
Also Featuring: Misuda Cohen - Flamenco Dancer; Diego Alvarez Munoz - Cajon & Percussion
Tickets and infromation: http://www.itsmyseat.com/Ole
Presented by La Hermandad de Las Americas de N. Sra. del Rocío
Sun, June 4 at 12:30 - 3:30 PM
St Casimir Lithuanian Catholic Church, 2718 St George St, Los Angeles, California 90027
Join us for our Annual Brunch Celebration- with Paella and Flamenco & Spanish Dances featuring: Claudia de La Cruz Flamenco Institute, Palomas Rojas, Carolina Russek Dancers & Guests. All proceeds to benefit: L.A. Catholic Worker's Soup Kitchen ~ TICKETS HERE!

Adela Campallo Dance Intensive in Miami ~ July 7-13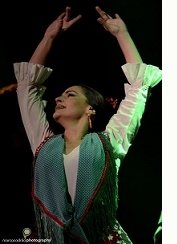 July 7th - 13th
Furia Flamenca's Summer Intensive Program
"Veranos Flamencos 2017" From Sevilla, Spain:
ADELA CAMPALLO
She will be the first, out of three artists, invited to our summer intensive dance program. Stay tuned to find out the rest of the teachers coming this year! VIDEO REGISTER NOW and get 20% Discount - Contact us at: info@furiaflamenca.com

Cuban Pianist

Chucho Valdés

at the Luckman ~ May 20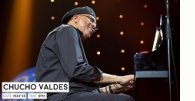 Saturday, May 20 at 8pm
The Luckman Fine Arts Complex, 5151 State University Dr, L.A. 90032
Winner of five Grammy Awards and three Latin Grammy Awards, a Cuban pianist who launched his celebrated group Irakare in 1973. ~ CHUCHO VALDES Band: Yaroldy Abreu Robles (Percussion), Dreiser Durruthy Bombalé (Batas & vocal), Gastón Joya (Bass), Rodney Barreto (Drums), Reinaldo Melián (Trumpet), Mayra Caridad Valdés (Vocal) Tickets Here!

Cihtli Ocampo Flamenco Classes

Tuesdays: Bata de Cola
Wednesdays: Technique & Choreography
Madlyn Clark, N. Hollywood
Juan Talavera Flamenco Classes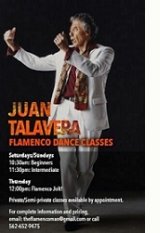 In Whittier: Flamenco Classes Now In Full Swing!!
Studio Danza 13015 Bailey Street
Whittier, Calif.

Saturdays: Beginners 10:30am
Intermediate: 11:30am

Sundays: Performance Class: 2pm//Adults/Kids 12 1/2 or Older.
Information: 562-652-9475,
Theflamencoman@Gmail.Com
Let Your Gypsy Out!!!

Paco & Yolanda Arroyo Flamenco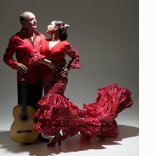 Classes with the Arroyo's Paco: (818) 974-3208; Yolanda: (818) 507-4426 ;

ArroyoEmail

-

Direct from Barcelona each provides one-on-one professional training in Flamenco guitar and dance, Paco and Yolanda Arroyo combine discipline and artistry with a unique sensitivity to the needs of each guitarist or dancer. Visit: FlamencoArroyo.com
Angelita Agujetas @ Costa Brava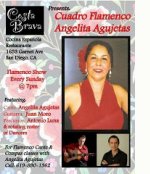 Sundays at 7pm

Costa Brava Restaurant is proud to present Aires del Sur Flamenco!


1653 Garnet Ave, San Diego, CA 92109 -- Hours: 11:00am to 12am