August 2017
MRG Engineer goes to great heights to take grease samples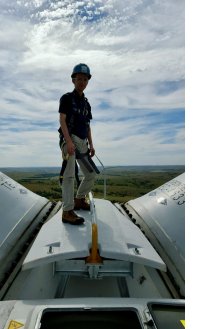 MRG Engineer, Evan Bupp, recently visited a local wind farm in
Pennsylvania to take grease samples using the Grease Thief. Evan helped the customer develop sampling methods using the Grease Thief Slim for main, pitch and generator bearings on the turbines. The Grease Thief Slim product line is designed to accommodate smaller size drain ports down to 0.28" in diameter. The grease samples were returned to the laboratory for analysis and logged into our Navigator system for screening analysis. Our low-cost, efficient screening test slate includes wear and physical properties testing to quickly evaluate each grease sample. There were a few samples that were identified in the main bearings as needing further wear tests performed. Analytical ferrography was performed on these samples and it was determined a large quantity of wear chunks were present in the grease. This information was later used by the customer in an insurance claim for bearing replacement.

Benefits of Grease Analysis with Grease Thief:
Wear Debris Monitoring

Identify Grease Mixing, possible incompatibility and contamination

Determine Optimal Lubrication Frequency
MRG Labs recently launched Navigator to monitor and trend in-service grease sample data. The sleek web design allows for barcode identification and rapid turnaround time through low-cost analysis methods outlined in ASTM D7918-17. Users can track results as they are moving through the lab and receive notification upon completion. MRG Labs recently hosted a webinar to demonstrate the new technology. You may view the full webinar here.
View the full article on LinkedIn: Streamlined Grease Analysis Methods using ASTM D7918 and MRG Navigator.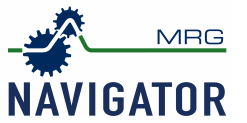 Take the Challenge! The Grease Cleanliness Challenge!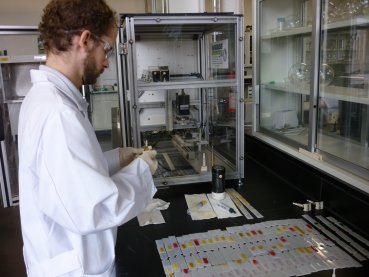 For many years, those in industry have understood that dirty oil is a real problem. Moisture and dirt in oil are a leading cause of wear and premature bearing failure, causing fatigue, abrasion and erosion. By addressing the cleanliness of new oils, filtering oil before putting it into the machine, and protecting the machine from further contamination has demonstrated huge savings and return on investment.
But what about grease? We place grease into the same types of machines, lubricate the same bearings with grease that we lubricate with oil, yet little thought is given to the contaminants present in the grease and what that is doing to the life of our machines. Perhaps this is due to two reasons: one, its hard to do anything about dirty grease other than throwing it away or purging it out (you can't easily filter it); and secondly, there has been no easy way to quantify the presence of contaminants in greases. That is about to change, as ASTM just recently published a revision to ASTM D7918 that includes the first Standard Method for quantifying particulate and moisture levels in greases.
With SKF stating that damage to bearings can be significant with as little as 400 ppm moisture, without knowledge of the condition of the new grease being pumped into your machines, there is no way to know how much money you are wasting on bearing replacements.
But rather than just raise the alarm, we are going to do something about it. We are performing a study of new greases to characterize their cleanliness and share the results on LinkedIn. The first 30 customers that contact us will be sent
three grease sampling sleeves with the goal of collecting a sample from a new unopened container, a second from a previously opened container, grease gun, or autoluber reservoir, and the third from an operating machine. They should all be the same grease so that the cleanliness of grease throughout the end-user custody process can be evaluated. If that isn't possible, we will accept multiple new grease samples as well.
Pick something that is used in your most critical equipment to find out whether you are lubricating with grease, dirt, water, or all three. We will analyze your sample and share the results with you, and then show you where your grease stands when graphed against the other samples that were submitted. Our goal is to change the way folks treat their grease lubricated equipment by providing the data that can lead to better maintenance decisions. Please make sure all samples are returned to MRG Labs by August 31, 2017.
Highlights from our Metals Industry Maintenance Workshop
June 6 & 7
On June 6 & 7, MRG Labs and AMRRI hosted a Metals Industry Lubrication Workshop at MRG's facility in York, PA. The training focused on hand-on learning in the laboratory, lecture-based workshops and a networking dinner at Heritage Hills on the evening on June 6. Attendees from Metso, IWM International, RH Sheppard, Cartech and several others joined us for the two day workshop. MRG Labs offers many opportunities for training throughout the year including Laboratory Lubricant Analysis Training, Infrared Thermography, Root Cause Failure Analysis and Machinery Lubrication.
Food Processing Industry Workshop October 4 & 5, 2017
Our next industry workshop will be October 4 & 5, 2017 at MRG Labs in York, PA.

The workshop will focus on the challenges and opportunities in industries involved in Food Production and Processing.

To register please visit our website or contact MRG Labs at 717-843-8884.
Check out the rest of the photos for the Metals Workhop on Flickr
Explore others training opportunities at MRG
MRG Visits SGS Herguth Labs to talk ASTM Standards for Grease Analysis

In June, MRG's Vice President, Lisa Williams, visited SGS Herguth Labs in Vallejo, CA to discuss grease sampling and analysis using the Grease Thief. SGS Herguth is a full service grease analysis laboratory utilizing grease sampling and analysis methods outlined in ASTM D7918 and ASTM D7718. If you are already utilizing SGS Herguth laboratories for your oil analysis, why not ask them about grease analysis as well? They are prepared to help you overcome your reliability challenges on grease lubricated components.
Congratulations to our intern, Ashlynn Cornelius, for her recent graduation from York College of Pennsylvania. Ashlynn graduated in May 2017 with her BS in Forensic Chemistry. In July, Ashlynn took a full-time position with Ventura Foods in Chambersburg as a quality laboratory technician. Congratulations Ashlynn and we wish you much success and happiness!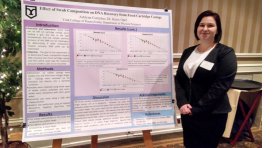 Earlier this summer, the MRG Labs team took the afternoon to focus on team building at The Escape Room in Downtown York, PA . The MRG team worked together to "Escape the 70's" and had one hour to escape the locked room. MRG successfully escaped and even made it out with time to spare! Thank you to Escape Room York for a great afternoon of team building!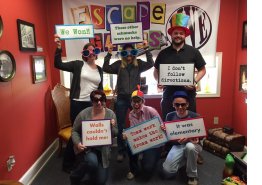 MRG provides ICML Certification Training at our laboratory in York, PA. The courses are interactive and hand-on. Students work along-side our engineers and scientists in the laboratory observing and working with bearing test stands and analytical testing equipment.
MRG follows
ASTM D7918
for testing all in-service greases to monitor for wear, consistency, contamination and oxidation.
Meet Our Team

Rich Wurzbach,
President of MRG Labs
With more than 25 years of experience in the development of Predictive Maintenance Programs, Mr. Wurzbach is certified by ICML as a Laboratory Lubricant Analyst (LLA-II, Machine Lubricant Analyst (MLA-II), Machinery Lubrication Technician (MLT-II) and STLE as Certified Lubrication Specialist (CLS).

Lisa Williams,
Vice-President of MRG Labs
Has been with MRG Labs since 2007, and currently manages business operations. Lisa is certified by STLE as a Certified Lubrication Specialist (CLS) and by ICML as a Laboratory Lubricant Analyst (LLA-II), Machine Lubricant Analyst (MLA-I) and Machinery Lubrication Technician (MLT-I).
MRG Labs
410 Kings Mill Road
York, PA 17401
(717)843-8884
info@mrgcorp.com