ARTIE AND DENISE

Summer Symposium

Las Vegas! July 25-26, 2017


Registration now open!
Information - USA teachers . Canadian Teachers - Info
The workshop is at a school this year - we'll help to arrange UBER for teachers to shuttle. Cost is $8-11, so if 4 share, $2-3 each.
All teachers attending, get a year's subscription to www.musicplayonline.com!
It's like having a free workshop!

SPECIAL OFFER - renew your subscription to or subscribe towww.musicplayonline.com . before May 31st, and we'll give you 3 months free!




Why Teach Solfege?



In music solfège or solfa is a method used to teach students to sight-sing. Syllables - do, re, mi, fa, so(l), la, and ti - are assigned to the notes of the scale and enable the musician to audiate, or mentally hear, the pitches of a piece of music which he or she is seeing for the first time and then to sing them aloud. In North America (except for parts of Quebec)movable do is used. The syllables are assigned to scale degrees. Do is always the first degree of the major scale. When you sing so-mi, the "sound" of the interval is the same, whether you sing A-F#, C-A, or A-F. The teaching of solfa is part of both Kodaly and Orff pedagogies, and is a standard to be taught in almost every elementary music curriculum.

I often compare teaching solfa in music to teaching children phonics when they learn to read. In reading, if you know the sounds the letters make, you can sound out words. c - a - t when sounded out gives you the word cat. When you know the sound that so-mi makes, you can sing a song using those two notes at sight - without having to play the notes on a piano. When children learn to sing solfa patterns and to sing simple songs using solfa, they develop the ability to pick up a piece of music and know how it sounds. This is excellent ear training! This gives ALL children - including those who's parents will never be able to afford private music lessons - the ability to read music. What a gift to give our students!



The other method of teaching children to read pitches in musical notation is the use of absolute letter names or C, D, E, F, G, A, B, C. I compare this to the use of sight words when teaching children to read. Some words - bought, through - can't be sounded out, so we teach children to memorize the entire sequence. In music, the letter names are useful in teaching instruments. When you see the note B, you put your thumb and first finger on the recorder.





In Musicplay, Solfa is used for melody reading in K-3, and absolute note names (CDEFGAB) are introduced in Grade 4. It's worked well for me. I ran into a parent not long ago who's children I'd taught many years ago. When they left my elementary program, one went into guitar lessons and two went into band programs. Her comment was that it was a really easy transition for all of them because they'd learned to read music in my classes.



Not everyone teaches solfa, but if you do, there are many tools at www.musicplayonline.com to help you.

The Solfa Practice section at www.musicplayonline.com has hundreds of movies. For each tone set (So-mi, La-so-mi, so-mi-do, mi-re-do, la-so-mi-re-do) there are multiple movies:


Echo




Poison Melody - for added challenge, have kids close their eyes or turn around




Read Handsigns




Read Notation




Listen and Sing




Assessments . (melodic dictation)




If you use one movie per day, by the end of the year, your students reading ability will greatly improve! The Solfa Practice movies and the Rhythm Practice Movies are great warmups to use to start every music class.



NEW!!! Note Highlight Movies - NEW at www.musicplayonline.com


We've created note highlight movies for every reading song in K-4. (Gr. 5-6 note highlight movies are in development)





In the note highlight movies, a yellow shape highlights each note as it's sung. Even if you don't teach solfege, the note highlight movies will illustrate for your students how to follow the notes as they go higher and lower on the staff.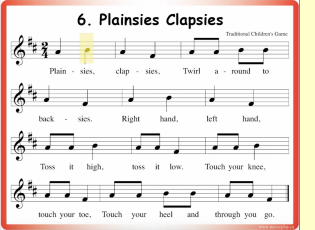 In the note highlight movies, the first time the song is sung, the lyrics are sung slowly, and each note is highlighted.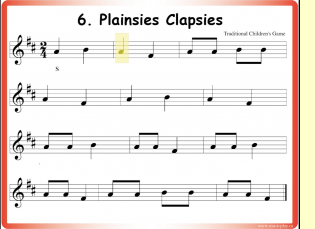 The second time the song is sung in solfege, and the notes are highlighted. If you are new to using solfege in your music classes, this is a great way for you to learn to sing in solfa.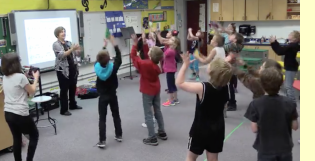 Many of these reading songs are singing games. Use the Note Highlights movie to teach the song, then use the Kids Demo movie to teach them how to play the game! Kids LOVE this game!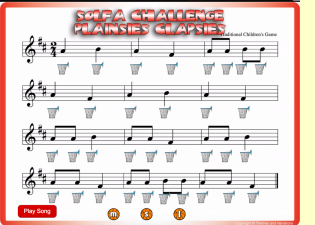 When it's time to assess student learning, we have Solfa Challenge activities online.



In this activity, drag the basketball to the hoop to name the solfa notes. Be sure the basketball touches the upper left edge of the hoop - this is where the anchor for the note is - and this will make the note stick, and it won't fly away.





If you do one solfa reading exercise every music class your students will become sight-singers by the end of the year!!!

Mother's Day is coming soon!
Use the search engine at www.musicplayonline.com to find some very cute songs for your students.
Musicplay for Kindergarten - #143 Moms are Special
Musicplay 1 - #97 That's My Mom
#84 Train my Parents - also a cute song for Mom and Dad
Musicplay 2 - #83 Mom You're the Best

If you don't have Musicplay, these songs are available as $7.99 Single Song Kits - you get the piano/vocal, vocal or lyrics reproducible and mp3s of performance and accompany. You'll find them on our store site in Single Song Kits
USA Site - Themes & Variations Canadian Site - Themes & Variations


We've been adding many new songs to preK - our new Mother's Day Song for PreK is called My Mom is Special, but it isn't recorded yet - so it will be new for next year. All the Alphabet Songs are online in PreK, Elephant songs, and many new fingerplays.






ARTIE AND DENISE Summer Symposium


Las Vegas! July 25-26, 2017


Registration now open!
Information - USA teachers . Canadian Teachers - Info

You need inspiration too! And that's why workshops and inservices can be so valuable. Every summer for the past 7 years, Artie Almeida and I have done a workshop together that is one of the most exhausting, rewarding, fun, inspirational sessions that I get to all year. (And I get to attend many conference sessions!) . This years workshop is in Las Vegas. The conference fee is $150 USD - and every teacher that attends will get a year's subscription to www.musicplayonline.com - worth $150! It's like having a free workshop. Hotel rooms at Treasure Island are $69 ($89 with resort fee), and I got my flight from Calgary-Vegas for $350. We'll be at a school this year, so will Uber from hotel to workshop. Simple lunches will be brought in - last year we had Pizza and Subway. We're being joined by Thom Borden who is a wonderful presenter.

The workshop is at a school this year - we'll help to arrange UBER for teachers to shuttle. Cost is $8-11, so if 4 share, $2-3 each.
All teachers attending, get a year's subscription to www.musicplayonline.com!
It's like having a free workshop!



Artie and I work and plan to provide new content each year. We have one teacher who has come every year for 7 years --- and she says there's always new ideas for her. If you can get to only one workshop this year - this is by far the best one to attend!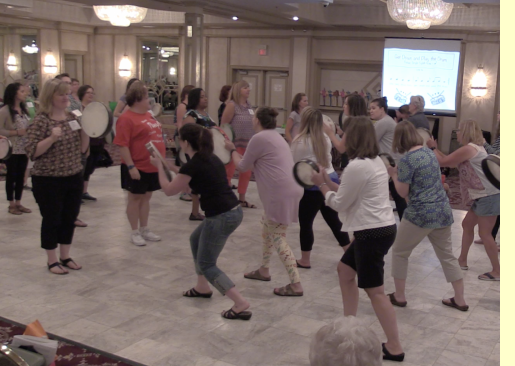 International Kodaly Symposium - Aug. 8-13, 2013 in Camrose, Alberta!
This is going to be an amazing conference, with beautiful choir performances and many internationally renowned Kodaly speakers, including Lois Choksy, Dr. Laurel Trainer, Jill Trinka, and many more.


New at www.musicplayonline.com . Beat/Rhythm Activities for Gr. K-1-2! Coming soon, beat/rhythm for Gr. 3.

Did you know we have an EXTRA Listening section? Go to Listening on the left menu. Select the Extra tab. There are instrument demo movies, So-me Storybook movies (all 12 stories!) and for band teacher, movies explaining how to care for your instrument.



How to assemble the clarinet





An introduction to the flute




On the right: So-me story book




Denise Gagne
denise@musicplay.ca
(blog) www.denisegagne.com