A Note from Emöke: A Life in Books
Reading, writing, publishing, and selling BOOKS is a gift of life like no other. There is a reward in all the aspects of this craft/trade, and one will not be a great success without the other. It is curious that so many of us are pulled into this path and never leave it one way or another. I have been honored to have found this path early on in my life. My parent's library replaced in my life any need for toys or being bored. Just playing in our yard and retreating to the cool and quiet room of books was (I realize now) my safe place.
I realize, at times, that being a bookseller for 47 years is an amazing life. Opening Malaprop's 35 years ago was not a great financial risk at the time since I only had a car and books. I was certain that I could make it as long as I was surrounded by books and readers who had the same commitment to reading as
I had and still have. Not to say that other professions are not as rewarding as this
one I am engaged in, but I am hard put to imagine what that could have been.
Our anniversary sale on June 4th (all day Sunday) offers 25% off the books as celebration to reward you, OUR book people. I am writing this to you at this point, so you do not miss that opportunity. Put it on your calendar, but also I will remind you again...fear not.
Reading as an author is a challenge that I have had the pleasure to experience again. Reading poems with Charles Vess was a thrill, although the feedback was that I spoke too softly. It takes practice, and I am practicing to do better.
Charles Vess has included poetry with his art, and it made a gift book that could be a treasure for any age at any time. Check out signed copies of
Walking through the Landscape of Faerie
. You might know his art from Charles De Lint's
Cats of Tanglewood Forest
and
Seven Wild Sisters
. Some of Neil Gaiman's
books have also been lucky to have his art. I grew up with books that were
illustrated, and I still enjoy that aspect in books. As they would say in a therapy session: It connects with your childhood happiness! Bring it on. Happiness is priceless and can be achieved through DNA or commitment to yourself. Find what makes you happy and be.
Linda-Marie: Book Reviews and a Blog!
I recently rejoined my writing group, The Secret Gardeners. We write books for children, from picture books up to YA. To bring myself squarely back into that world, I sought out good reads in the category and am sharing two of my favorites. I also just launched a blog, Barrett Sisters, with my Irish twin, Diane. We discuss the challenges and rewards of lives filled with love, humor, and endless curveballs. Collaborating as we built Barrett Sisters--discussing our goals, site design, and themes for the posts, brought us even closer together and unleashed creativity in leaps and bounds. What fun!!! I'm so pleased with our first post, "Dressing Room Confessional"; Diane's is hilarious! Please noodle around the site and check out our sisterly wisdom, silliness, and miscellanea. I'd love your feedback! And now onto the book reviews...
"Aren't we a little like tiny gods? To reach up from the ground for the sun, and then when we
can't reach it, to make it ourselves?" -Lenore Allstock,
Midnight at the Electric
In Jodi Lynn Anderson's dazzling Midnight at the Electric
, Adri Ortiz, Colonist-in-Training for a
settlement on Mars, leaves her Miami home for Kansas to prepare for launch. She stays with
her only living relative, a spry and quick-witted 107-year-old Lily Vega. Because of Adri's work
ethic, athleticism, and intelligence, she's chosen to be part of an elite team upon whom
humanity's future depends. But there's one problem: Adri is a loner. Those in charge of the
mission encourage her to resolve any issues that keep her from emotionally engaging with
others.
Between training sessions, Adri explores Lily's home and discovers the journal of a girl,
Catherine, who lived there over a hundred years ago. Tucked into the journal are letters written
by Catherine's mother, Lenore, when she was a young woman. Within their writings lie clues to
a shocking discovery that will give Adri the courage to open up her heart.
Themes of light and electricity flash across Anderson's prose as she immerses each character
in their setting. Readers walk with Lenore across moonlit fields into the "great illumination" of the
Hall of Lights in London. They blink with Catherine at the blasted landscape of Dust Bowl
Kansas to gaze hopefully into the mysterious health-giving electric ball at the Ragbag Fair. And
they will delight in the blend of new and old technology in near-future Kansas, where Adri and
Lily eat printed meals, get drone deliveries, and drive Lily's old gas guzzler.
Anderson's newest tale of self-discovery and healing truly delivers, especially for young women
readers.
In Cornelia Funke's middle-grade
Inkheart Trilogy
, Mo is a book binder who brings characters out of
books by reading their words aloud. Books brim with life, characters long to be set free, to jump into our
world, to take us into theirs. We discover that books change as we interact with them, and we change, too.
For Funke, reading is a process that changes everything.
As
Inkheart
is a book about books, so is The Book No One Ever Read
, a picture book filled with the same
mystery, magic and humor of Inkheart , though this time aimed at younger readers.
Published by her own publishing company, Breathing Books, Funke's newest work features a book called
Morry, short for Maurice Sendak. His face peers out from his cover, an homage to
Where the Wild Things
Are
. Morry is a young book--hip with his red hightops, smaller and thinner than the other books in the
library. He's different from them in another, more important way; he's never been read.
"Every book longs to tell its story," our narrator informs us, though some less than others. The authors of
the other books in the library are content to doze. When they do look at us from their covers, they appear
suspicious, sly, worried. They fret about the damage we readers do to them with coffee, chocolate, and a
casual recklessness with their spines. They've already been read and now they'd prefer to be left alone.
Morry pleads, "I want to be read, until I come apart!"
He sticks himself out from the shelf, and is then pushed off by a red-faced Victor Hugo and a slightly
wicked Jane Austen. Morry survives his fall, leaves the library and finds what he seeks in the sticky fingers of a child dressed in a wolf costume. He will be read!
Funke's elaborate colored-pencil illustrations will entertain caregivers and librarians reading to children
as they recognize the authors peeking out from their illustrated covers. Funke hints at their identities
through Dumas' sword-wielding, Victor Hugo's fierce facial hair, Nietzsche's moustaches, and Jane
Austen's tendrils of hair framing her face. For younger readers, the authors may remain a mystery to be
solved later, but their animated faces and the many details of the library invite viewers of all ages to
explore time and again.
Funke encourages children to reflect upon other questions. What happens to inanimate objects when
we're not looking at them? Do books talk to each other? Do they behave like the authors who wrote them, or the stories within their covers? What risks will a book take to be read, to stand out among the others?
Will it throw itself from a bookshelf, as has happened to many readers visiting bookstores or libraries,
when a book suddenly leaps from the shelf towards them. Is it asking to be read? Is it risking all to tell its
story? Funke suggests this just might be so, and that is a delightful thought.
So, the theme for this month is triumph. Maybe my problem is that I don't read enough positive books to have a triumph-related book to talk about, but I'm just going to use the opportunity to self-promote, and talk about a personal triumph.
Aside from my part-time bookselling, I'm also a translator of Galician (it's a region in northwest Spain where they speak a language similar to Portuguese), and on May 25
th
, my first translated book will officially be out and available to the public (and available at your friendly neighborhood bookstore)! During my time in college, I happened to do a project on the region and ended up establishing a relationship with Jonathan Dunne, who translates from Galician and also operates an independent press with his wife called Small Stations Press. We kept in touch over the years, and he asked me I'd like to translate a novel excerpt (
Chains
, by Xabier López López). Then, this past summer, after I'd completed my second round of a Galician language course in Santiago de Compostela, he e-mailed me and asked if I'd like to translate
Ilustrísima
, by Carlos Casares, one of the best novels by one of Galicia's most beloved authors, and the choice for 2017's "Día das Letras Galegas", a sort of Galician literature lifetime achievement award. Of course, I accepted.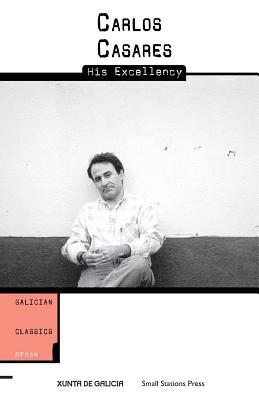 Fast-forward months later, and the finished product is almost here: His Excellency
, a slim, excellent (we hope that my translation is, too) novel about a Catholic bishop, which takes place in a unnamed Galician town in the early 1900s, when a "cinematograph" is installed in a small theater in a poorer part of the town by an Italian family. It's episodic, funny, warm, engaging, and by turns dark, and I've found His Excellency an instructive character these days, for his willingness to stand up for his beliefs (against the dogma and mob mentality of the clergy and community around him) and for his unwavering compassion and love even for those who constantly spite him. It was a wonderful experience for me, as I think it's a great novel, whether for an expert in Galician literature, or anyone (like me) who's relatively new to the region's (literary) culture. And I hope that it can be the beginning of my being able to bring the wider body of Galician literature into the fold!
Links for further reading:
http://galicianliterature.gal/xabier-lopez-lopez
http://intranslation.brooklynrail.org/galician/short-fiction-and-poetry-by-begona-paz
http://smallstations.com/
And I don't want to completely leave out a non-personal book review! I just finished reading an amazing new novel in translation: Inheritance from Mother
by Minae Mizumura (translated by Juliet Winters Carpenter), which is coming out from Other Press on May 2
nd
. It's a long novel that was published over a two-year period in a Japanese magazine, as a homage to earlier Japanese serial novels. It follows a middle-aged woman named Mitsuki and her attempts to rearrange her life upon her realization that her husband is cheating on her, that her mother will soon be dying and leaving she and her sister a sizable inheritance, and her constant ruminations on money and the ways she will fill her time and economize her savings until she, too, dies. If that all sounds morbid and dark, it is, but there is also a subtle humor at work during the novel, with both sisters talking about how they'll celebrate when their mother finally dies—their relationship to her is fraught, to say the least—and the many flashbacks into the past add a lot of depth to the characters and the family history overall, leaving me with the feeling of really knowing these characters and of feeling sad to have to leave them by the end of the novel. Luckily, it's relatively long, and Mizumura's writing style is simple but elegant, not forcing you to get too bogged down in deciphering the beauty of each sentence, and really letting you enjoy the characters and the plot. You can be sure to find it on my staff shelf in the store!
Dear Patty,
I think events have surpassed my capacity to adapt. Some things I just do not see coming. Do you know what I'm talking about?? I recall that adage, "There's nothing permanent except change." Could it be that I just don't *want* to see them? Who is able to read the proverbial tea leaves these days?
Regards,
Befuddled in Brevard
Dear Befuddled in Brevard,
Yes, I know what you mean. You might recall that Bob Dylan wrote that song "The Times They Are A-Changin'" maybe because he sensed some people felt overtaken by events in the 1960s. War, social unrest, inequality, lack of confidence in government and politicians, generation gaps, the Cold War...ahhh the good old days. But, wait, they are *these* days, too. What has changed?
Then I think of his song "A Hard Rain's Gonna Fall," and I conclude that Dylan knew something that a lot of folks did not, maybe something that they did not *want* to see. How did he know this? Was it because he is an artist, a poet, and a musician? Maybe because he traveled the country and saw people from all areas of the nation and overseas, Dylan was able to gain a perspective outside of the little world in his head. However, there's nothing like a person with an unpopular or controversial perspective to ruin your day, your bias, your group cohesion or your empire.
If we recall Plato's Parable of the Cave in The Republic
, this is the phenomenon of prisoners in a cave who do not believe they are prisoners in any way. They are chained to the floor while watching shadows they call The Truth move along the cave wall. It's the person who breaks free, makes the rough ascent out and is, at first, painfully blinded by the light of the sun that gains knowledge. But who is making the rough ascent? Who is that person anyway who's ruining my prison, my illusions and my truths? How rude!
Can you believe I just finished a book called Phenomena
by Annie Jacobsen about the U.S. government's studies of ESP, psychokinesis, and remote viewing? These studies continue to this day and began after World War II. REALLY? Could these folks not do us the courtesy of warning that Milli Vanilli was a hoax?
Join a Malaprop's
Book Club!