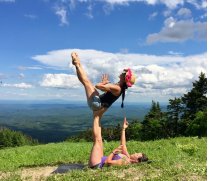 Merriam-Webster/ Collins/ Cambridge dictionaries define "festive" as: "relating to, suitable for a feast or festival"; "joyful, gay"; "special, colorful, or exciting"; "especially because of a holiday or celebration"; "celebratory, happy, holiday, carnival"; "feeling pleasure or happiness".

Summer season is full of festivals ~ I even feel festive about street fairs! Yoga life is also full of festivals, as are many pursuits like dance and AcroYoga. Part of the big challenge of a festival is FOMO, Fear Of Missing Out, because there are so many exciting events simultaneously happening everywhere!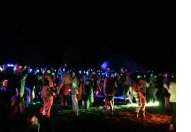 For me that's exactly like life! So many delights to choose from, and with every Yes comes a No for Now to something else. So, my pleasurable practice from one Festival to the next, is (1) remembering life IS "joyful, gay" "feeling pleasure or happiness"; and (2) remembering aparigraha, non-grasping, the 2nd Yama in the 8 limbs of Yoga, which allows me to feel "pleasure or happiness" with just the Yes and No choices that I enjoy having the freedom to choose.

Enjoy your own festival seasons! Both literal, and metaphysical!

Restorative Teacher Training Begins July 14

We fall naturally into our specialty niches. Mine happen to be the opposite spectrums of AcroYoga and Thai, Yin, Nidra, Restorative. My flavor of Restorative includes all five senses enlivened with the sixth sense of imagination, Thai touch, and trance meditation.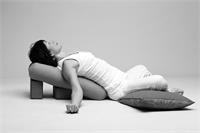 My specialties are where my passions lie. My passion for Restorative comes from delivering the deluxe antidote to stressful living, through a deeply profound yoga practice available to any and all. Whether you are giving it to a seasoned yogi or any co-worker or relative, mastering Restorative yoga teaching enhances your life and your vocation. Join me for these four delicious weekends of increasing levels.

Open to teachers and students alike.

July 14-16 begins Level 1. All four levels come with 30 days' Pure Yoga New York membership. Each weekend is Sat/Sun 9-6, and Friday self-study homework. Details here; email me your questions.

Fall Foliage ~ Sept 22-24 Weekend Retreat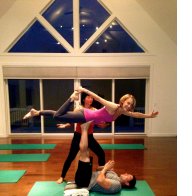 Join me and my dear friend and fellow yoga teacher, our lovely hostess Ora Ramat, at her Catskills home and yoga studio, in Bethel, New York. You have to see it to believe the sweet dreamy home pleasure of being there together.

Fall Foliage 2017 is our #11 weekend retreat together, this Sept. 22-24, which just happens to be my birthday weekend, when I turn an irrepressible, joyful, ever-learning, ever-evolving 58!

The leaves will be gorgeous, like us; and we will regale you with delicious catered meals and wine, and a balance of Yoga styles that include Restorative Yoga, Flow Yoga, Thai Yoga, partner AcroYoga, and Yoga Nidra meditation.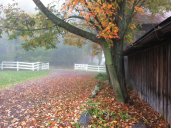 Our space is limited to a dozen, to keep the sweet juicy camaraderie. You will make new friends, relax and revive deeply, learn and enjoy yourself far more in this nature and yoga retreat than you might have thought possible. Early bird pricing ends August 22, but the last two retreats sold out very quickly. Reserve early; do so with a friend and you each receive a $25 Friends discount.

AcroYoga Elemental Immersions ~ Oz in October


An AcroYoga Elemental Immersion is the fastest and deepest way to learn the fundamentals of the practice thoroughly and deliciously. These 30 hours merge the triune lineages of Yoga, Acrobatics, and Thai Yoga Healing Arts.

There is a higher meaning to the words "Acro" and "Yoga" and our lineage aims high at sharing "High Union" in the practice that emphasizes listening, connection, and nurturing touch, in the context of both healing and of play. See

a video taste.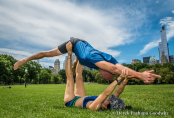 These thirty hours are YACEP eligible for Yoga educators, and fulfill one of the pre-requisites for the AcroYoga International teacher training path.

This year, I'm delighted to co-lead one in

Perth, AUS on Oct. 20-23

, and in

Brisbane, AUS on Oct. 27-30

.



Email me any questions you have!

Festivals, Retreats, Trainings





7/7-7/9

Zouk N Play Fest

~ Atlantic City, New Jersey

Acro + Thai

AcroYoga Fri night & Sat morn, Thai Yoga Bodywork Sat eve

8/11-8/13

New York AcroFest

, Chelsea Piers, NY

Earth to Sky standing flow with Lex Peters, Acrobatic Motion Design

*Each Level includes 30 days' free membership at Pure East & West


7/14-7/16 ~ Level 1 Restorative Basics ~ Teach these for a year
7/24-7/30 ~ Level 2 Restorative Intermediate ~ Multiply your skills
8/18-8/20 ~ Level 3 Yoga Nidra + Thai Yoga in Restorative
9/15-9/17 ~ Level 4 ~ Restorative Trance Yoga + Nidra + Thai


Malinda Wheel intermediate acrobatic flow with Linda Mittel
Thai Ninja Massage therapeutics with Bassam Kubba


with Stefanie Glasenapp, Matt Worley, Victoria Mclarty


30 Hours, YACEP; fulfills an AcroYoga Teacher Training pre-req.
with Stefanie Glasenapp, Matt Worley, Tanya Zappala





Weekly Classes in New York City



Pure Yoga New York Weekly Yoga Classes
Pure Yoga Eastside - 203 E.86th St. (3rd Ave)
Monday: 10:30-12:00 Slow Flow Meditation
Monday: 1:15-2:00 Yoga Nidra Meditation
Tuesday: 12:30-1:30 Restorative
Thursday: 12:30-1:30 Restorative
Pure Yoga Westside - 204 W.77th St. (Amsterdam Ave)
Friday: 11:30-12:30 Restorative

Om Factory Weekly AcroYoga Classes
Friday: 7:30-9:15PM AcroYoga Flow Open Level - Fashion District
~ 265 West 37th Street (8th Ave), 17th Floor
*1st Friday/Month 9:30-11:30PM AcroYoga JAM - Fashion District


Join me in Atlantic City July 7-9 for a delightful Brazilian Zouk dance Festival.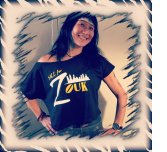 The people are wonderful, the dance style is graceful and mellifluous, and I am thrilled to offer the Zouk community two classes of AcroYoga, Friday evening and Saturday morning, and one class of Thai massage Sunday morning. More here.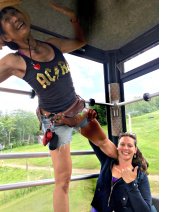 Join the 6th annual New York AcroFest this August 11-13, from the Friday afternoon Acro tour through Saturday and Sunday at Chelsea Piers with multiple teachers and classes in all styles, to Sunday afternoon Jam in Central Park.

Taste this exuberant community; all levels are welcomed!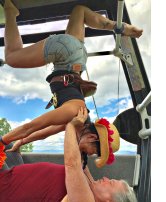 Join the largest annual gathering worldwide of AcroYogis at the 8th Divine Play Festival this October 6-8 in Portland, Oregon. Play, learn, receive, give, support and be supported.

Use my presenter's code: MARY10 to receive 10% discount ~ limited to the first five to use the code.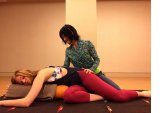 Those who like to plan ahead for my two-hour Chakra tuning Restorative Treat workshops, a feast for the senses with plenty of assistant support and aromatherapy bouquets, mark your calendar for Saturday, December 9, 2-4pm at Pure Yoga East.

A delicious afternoon for self-care, and a great treat to share with friends and family, seasoned yogis or non-yogis. Registration is open now; save a space and ensure your essential oil gift.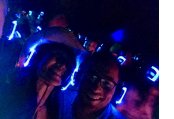 Thanks for photos to: Linda Mittel, Raul Aranas, Ardeana Kirckoff, Derek Pashupa Goodwin, George Lee, Rebecca Claes Roach,
Pure Yoga new York.

I hold your privacy sacred and do not share email lists. Please feel free to Reply, Forward, Subscribe, or Unsubscribe at any time!

See my updated schedule any time: www.maryaranas.com

OMMMMMMMmary