"Rock art" is the collective term for a variety of forms of visual representation made on natural rocky surfaces (boulders, cliff faces, cave walls, etc.) and are found throughout the world. Many of the symbols used in these drawings related to things found in nature, such as animals and plants. In a very abstract way including geometric forms such as grids, circular forms, wavy lines, dots, etc. The placement of the figures also depicted certain human emotions such as fear or
pride.
As we look at our life in an abstract way which of these in the design can you relate to?
Icaro - Calling to the Great Mystery

with Cristina Maria, Arelis, Laura & Irma

Wed. July 12th * 7 - 9:30pm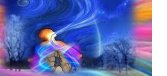 Come and join us as this special group of medicine women lead and guide us to learn their favorite Icaros. Icaro's are ceremonial power calls of light language learned from medicine elders or Healing Spirits, they are practiced during plant medicine healing ceremonies, they open us to see dream visions and useful in healing the soul to bring strength to do cleansings for defenses.
More on Icaro Calling to the Great Mystery
NYSC Presents One Heart Balam Jaguar
with Irma StarSpirit Turtle Woman
Sat. July 15 * 10:30 am - 6:30 pm
You are invited to enter and work with the Balam Jaguar Medicine; the jaguar has the ability to cross between worlds - between the living world (which was associated with the day) and the spirit world (which was associated with the night).
Enter the shifts and realms of personal healing with Balam Jaguar to balance the feminine and masculine energies that guide, awaken to restore your inner power within.
Information On Balam Jaguar
Reiki I & II Certification Program

with Judith, K.R.M.

Sun. July 16th & Sat. July 22 * 10am-8pm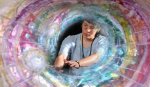 Connect with your Spirit as you learn to relax and relieve stress with Reiki, the energy balancing method that anyone can learn.
This class is for YOU if…You are interested in learning an effective method for relieving stress which also promotes healing OR You are already a Reiki practitioner and would like to enhance your Reiki training & skills...
Learn what Reiki is, how it heals. In class you will review the traditional Reiki hand positions used in a Reiki session for yourself and others.
For More Info on Reiki I & II
SAVE THE DATES

Special Programs & Events: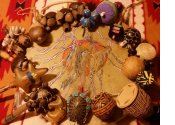 Drum Rattle & Hum with Irma StarSpirit Woman
Sat. Aug. 5th * 1:00-7pm
Enter with the sound ecstasy within the Spirit of the Rattle, Drum, Voice and Ocarina to wrap yourself with the inner wisdom of harmonic sound, as we re-connect to old medicine ways of our elders as sound healers.
Open Link for More Info on Drum, Rattle & Hum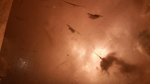 Being Within Dreamtimes Crystal Chamber
with Irma StarSpirit Turtle Woman
Wed. August 9 from 7 – 9 pm
We return to working in Dreamtime, the ancient practice of seers. As we practice with shamanic Dreamtime journey work and learn to access and enter your Dream Crystal gateways to explore vision & lucid dreaming.
Info on Being in Dreamtime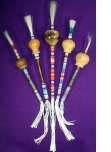 Gourd Rattle Making Workshop with Lili Flaming Feather
Aug. 12 * 11 am to 5pm
The rattle is a powerful tool extremely important to any Shaman, indigenous doctor and healers in general. It can be used­ to summon our Spirit animals and Guide Spirits to assist in healing, prayer and even protection by describing the sacred circle around a sacred circle.
Info & Detail on Gourd Rattle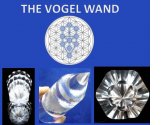 Back by Popular Request
The Vogel Wand Healing Technique
with Irma StarSpirit Turtle Woman
Sat. Aug. 19th * 10:30 - 6 pm
ONLY A FEW SPACES LEFT
In this one day intensive we explore and learn the techniques of the crystal Vogel Wand which emits a vibration which extends and amplifies the power and grasp of the user's mind. Intent used within the laser wand, radiates energy in highly concentrated form, and this extremely benevolent energy may be transmitted into objects or people at will. Discussed also are Marcel Vogel's cuts & design was inspired by the Tree of Life, manifested to help humanity and to assist in the alternative healing world.
Vogel Wand Healing Technique Info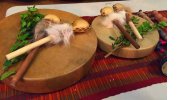 Making of a Healing Drum & Raw Hide Medicine Rattle Workshop with Mia Roman from the Women's Temple
Sept. 23 & 24th * 12:00 am -5:30 pm (You can take both classes as a weekend workshop or come to preferred Drum or Rattle Making separately, Registration Before Aug. 5th)
Come and join us in Sacred Ceremony and birth your own unique and power-full Shamanic Medicine Healing Drum & Rattle. To birth your own drum & Rattle is a truly rewarding experience; putting your love, intent, and energy into this powerful medicine tool will make a truly special friend who will heal you, help heal others, take you on breathtaking journeys and share with you a connection and oneness with all.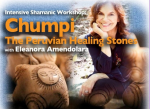 Illuminate Your Reality, Activate your Soul with Eleanora Amendolara
Oct. 22 from 10:00am -5:30pm
Early Bird Special Available Until Oct. 6, $145 thereafter $175
Discover the ground breaking healing system of Chumpi Illumination. Take part of this special opportunity to unlock the mysteries of the Peruvian chumpi stones.
Visit Eleanora's Amendolara's Website,
Sacred Center for the Healing Arts
Register through shamanicfirereiki@gmail.com
More Info on Workshop with Chumpi Stones

View this video on
The Making of Chumpi Stones