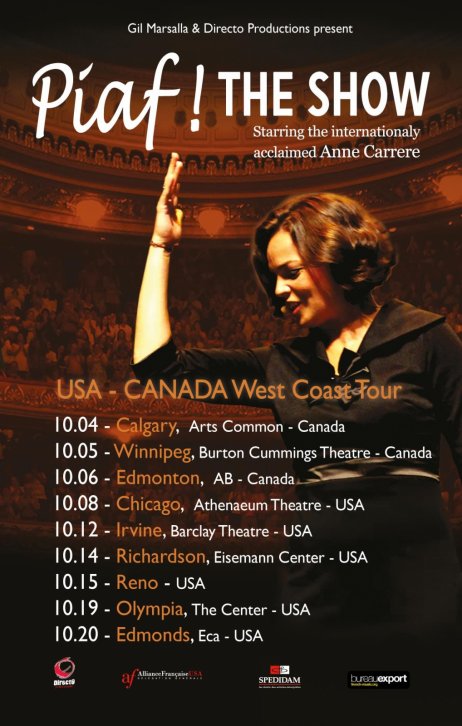 In partnership with Bureau export France et Alliance Française USA

With over a million tickets sold in more than 33 countries and acclaimed reviews world- wide «Piaf ! The Show» – a musical celebration of the life and music of the legendary French chanteuse EDITH PIAF – returns in a extended North America tour October 2017 and April 2018.
The highlight of the American leg of a 300-performance global tour was the special presentation atCarnegie Hall of New York, January 6, 2017 to celebrate the 60th anniversary of Edith Piaf's last performance at the famous venue.
Conceived and directed by the Nice-based theatrical maverick Gil Marsalla and starring Anne Carrere, a young French performer hailed as Edith Piaf's legitimate musical heiress, «PIAF! THE SHOW» premiered in 2015 as a tribute to "The Swallow of Montmartre" on the centennial on her birthday and was inspired by the award-winning movie «La Vie En Rose».
In two 45-minute acts, the show narrates the rags-to-riches story of the Parisian singer's career through her unforgettable songs, complemented by a visual tapestry of previously unreleased photographs and images of famous Parisian locations of the Edith Piaf era.
contact@francerocks.com