Click here for the
MNCH Newsletter Archives

Please send interesting articles via email, Facebook or Twitter
Meseret Desta Haileyesus, Editor
Email - Mesi
Twitter - @mesidesta

Welcome to the 44th edition of our mother and child health newsletter
Our regular newsletters are an easy way to keep up-to-date with all new developments and interesting scientific research in the field. We keep you informed of all our upcoming events and activities so you never miss out.

If you have any comments about this or any other issues, or are interested in contributing content to our upcoming issues, please feel free to contact us at etmnch@ualberta.ca or to contact our Editor, Meseret Desta Haileyesus, at mesidesta@gmail.com.

Project welcomes visiting colleagues and midwives from Ethiopia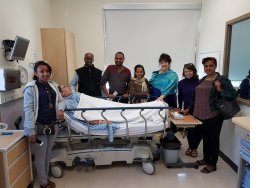 Project staff and partners from Ethiopia benefited from a first-hand look at how the Canadian health system provides care to delivering mothers and their newborns during a visit to Edmonton in June. The visitors were here on observerships to gain insight into ways of improving midwifery education and provision of care, and the referral system in Ethiopia.



Asegedech Befikadu and Yodit Meseret, midwife mentors with the Project, and Zinabua Girmay, midwife educator with our project partner, the Ethiopian Midwives Association, visited Labour & Delivery and NICU wards, birthing centres and midwifery clinics, and simulation centres in Edmonton and Calgary, learning about differences in midwifery education and practice between Canada and Ethiopia. Following their time in Edmonton, the visiting midwives traveled to Toronto to attend the International Confederation of Midwives 31st Triennial Congress, continuing to learn about global trends in midwifery practice.

Abrham Getachew, Project Manager, and Fikereye Beyene, Project Assistant, also visited health facilities in Edmonton to learn about the administration and organization of tertiary level of care facilities in Canada. Beyene appreciated meeting social workers within hospitals in Edmonton and learning of the ways they support families during critical periods, a role that is not present in health facilities in Ethiopia. Project partners in Edmonton also appreciated the chance to learn from our guests through knowledge-sharing opportunities during NICU rounds at Royal Alexandra Hospital and a Lunch & Learn at Misericordia Community Hospital.

In addition to learning from Canadian models, a crucial component of June's visit was to continue transition planning as the Project approaches the end of the five-year initiative in March 2018. While in Edmonton, Getachew and Beyene attended meetings with Canadian partner organizations to plan a workshop in Ethiopia in September 2017 that is to include all project partners in discussions on next steps and commitments to continuing to improve outcomes for mothers and newborns in Ethiopia.

International Confederation of Midwives 31st Triennial Congress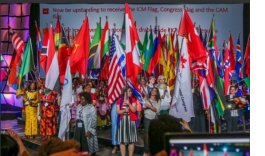 Over 4200 delegates from 114 countries gathered in Toronto, Canada from June 18

th

–

22nd

for the 31

st

ICM Triennial Congress. The theme for this year's Congress was "Midwives – Making a Difference in the World," and highlighted the growing evidence that midwives contribute to improving the health of women and children globally through leadership, partnerships, professionalism, and supporting women's and girl's rights. Following the Congress, the ICM will present a new agenda and set of challenges, beyond the Sustainable Development Goals, for governments, health ministers, policy makers, local champions, and front-line midwifery service providers.



Franka Cadee, the new President of the ICM closed the 31

st

Triennial Congress by addressing midwives from around the world with the main message that it is time to "humanize midwifery care together." She mentioned that many women across the world are at risk of receiving care "too little too late," as many women lack access to qood quality care in timely manner, or "too much too soon," with the increase of unnecessary medical interventions, including episiotomies, enemas, and labour induction.

Take a look at the live Congress coverage from Girls' Globe to learn more about the ways midwives are making a difference in the world.

Investing in contraception and maternal newborn health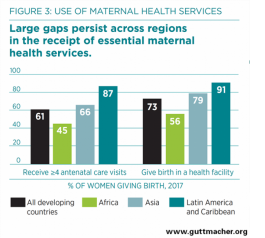 Recent numbers in the 2017 "Adding it Up: Investing in Contraception and Maternal and Newborn Health" report shows the need for and benefit of investing in contraceptive services and maternal and newborn care.

As of 2017, 214 million women of reproductive age in developing regions who want to avoid pregnancy are not using a modern contraceptive method. This includes 155 million who use no method of contraception and 59 million who rely on traditional methods. Of the 127 million women who give birth each year in developing regions, many do not receive essential maternal and newborn care. Overall, just 61% receive a minimum of four antenatal care visits, and 73% give birth in a health facility. Among women who experience medical complications during pregnancy or delivery, only one in three receive the care they or their newborns need.

If all unmet needs for contraception were satisfied in developing regions, there would be approximately a three-quarters decline in unintended pregnancies, unplanned births and induced abortions, and an estimated 76,000 fewer maternal deaths each year. Providing all pregnant women and their infants with the level of maternal and newborn health care recommended by the World Health Organization would reduce maternal deaths by 64%.

Read more here.

Aspirin reduces risk of pre-eclampsia in pregnant women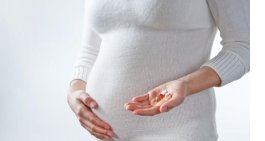 A study, published in the New England Journal of Medicine, found that taking a low-dose aspirin before bed can reduce the risk of pre-eclampsia. The double-blind, placebo-controlled trail of 1776 women at high risk for preterm pre-eclampsia found a lower incidence of developing the disease in women taking aspirin than those taking a placebo. Preterm pre-eclampsia occurred in 13 participants (1.6%) in the aspirin group, compared to 35 (3.4%) in the placebo group. The pregnant women were given a dose of 150mg per day from 11 to 36 weeks of pregnancy.

The results prompted calls for low-dose aspirin to be routinely prescribed to women at risk of the disease. The World Health Organization already recommends low-dose aspirin for the prevention of pre-eclampsia in women at high risk and recommends it be started before 20 weeks of pregnancy.

Pre-eclampsia and other hypertensive disorders of pregnancy are leading causes of maternal and infant illness and death globally. Such disorders are estimated to cause 76,000 maternal and 500,000 infant deaths each year.

Read more here.

Babies' DNA affects mothers' risk of pre-eclampsia in pregnancy, study finds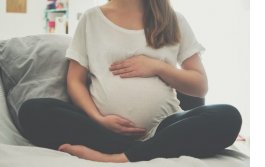 A new international study, published in Nature Genetics, has revealed for the first time that some features in a baby's DNA can increase the risk of its mother developing pre-eclampsia, a potentially dangerous condition in pregnancy.

The 5-year InterPregGen study compared the genetic make-up of 4380 babies born from pre-eclamptic pregnancies with over 300,000 babies born from healthy pregnancies. Dr. Linda Morgan, coordinator of the study from the University of Nottingham's School of Life Sciences, says "We knew that faulty formation of the placenta is often found in pre-eclampsia. As it is the baby's genes that produce the placenta, we set out to see if we could find a link between the baby's DNA and the condition."

The research found DNA variations close to the gene that makes a protein called sFlt-1, with significant differences between the babies born from pre-eclamptic pregnancies and the control group. At high levels, sFlt-1 released from the placenta to the mother's bloodscream can cause damage to her blood vessels, leading to high blood pressure and damage to her kidneys, liver and brain – all features of pre-eclampsia. If a baby carried these genetic variants, it increased the risk of that pregnancy being pre-eclamptic.

Read more here.

Why is one twin smaller than the other? Answer could lie in the placenta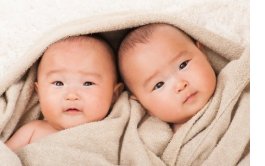 A twin study published in Scientific Reports finds that slower transport of oxygen from mother to baby across the placenta predicts slower fetal growth, as well as a smaller brain and liver. By studying identical twins, the researchers were uniquely able to control for both genetic factors and maternal risk factors. Although identical twins also share a placenta, it is divided into two separate compartments, and one may be healthier than the other.

Using Blood-Oxygenation-Level-Dependent (BOLD) MRI, a non-invasive method that uses MRI to map the timing of oxygen delivery across the placenta in real-time, researchers showed that dysfunctional placentas have larger regions with slow oxygen transport to the fetus. At 29 and 34 weeks of pregnancy, seven mothers, with identical twins in which one was smaller than the other, underwent BOLD MRI while inhaling pure oxygen. Researchers recorded the length of time it took for oxygen to reach its maximum concentration in the placenta, known as the time to plateau (TTP). They found that a longer TTP in the placenta correlated with lower liver and brain volumes, and lower newborn birth weights. TTP also correlated with placental pathology when placentas were examined after birth.

Read more here.

Microfluidic chip predicts risk of preterm birth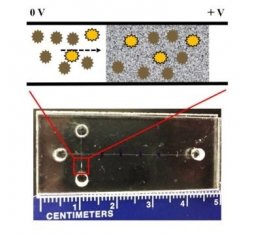 Preterm birth is the leading cause of neonatal morbidity and mortality. Early detection offers the opportunity to begin medical interventions to delay birth, or increase fetus viability to save lives and reduce lifelong disabilities.

Researchers at Brigham Young University have developed a microfluidic chip that performs multiple steps to capture and accurately identify the P1 peptide that predicts increased risk of preterm birth. The solid phase extraction is the first step, which uses the special chemical properties of the preterm birth P1 peptide to concentrate and separate it from most of the other substances in the blood sample. The next step, microfluidic electrophoresis, uses an electrical current to move and further separate the P1 molecules from any other remaining components. Finally, the enriched P1 peptide is detected as it migrates to a specific position in the microfluidic channel.

"We are quickly moving toward a chip that is inexpensive, small, fast and requires only a single drop of blood. Our team is working towards a final product that is easily used by individuals in a range of settings," says Dr. Adam T. Woolley, lead Professor in the Department of Chemistry at Brigham Young University.

Read more here.

Canada celebrates 150 years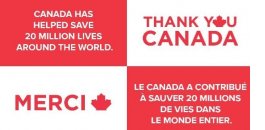 On July 1st Canada celebrated 150 years, and the Ethiopia-Canada MNCH project team would like to thank Canada for supporting global projects that address some of the most urgent needs of women and children around the world, including healthcare, immunization, nutrition, education, emergency relief, and protection from violence and harm. Thank you Canada for putting women's and children's health first!

We would like to invite all Senior Midwife Tutors to share your vision for maternal and newborn health in our next issue. Send all submissions to our Editor, Meseret Desta Haileyesus, at mesidesta@gmail.com.