Life. It is just so so very beautiful! The fact that you can read. Breathe. Move. Smile... Love. Laugh! And above all, learn... keep learning!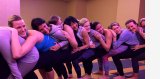 NY AcroFest ~ 6th Annual ~ Aug 11-14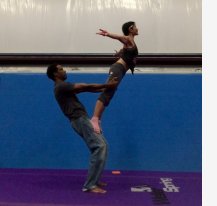 Every summer in New York City we gather AcroYoga clans from East Coast, USA and beyond, and celebrate this community and this practice in the city that never sleeps.

This year the two main days Saturday and Sunday are at the amazing Chelsea Piers on the Hudson River. As before, Friday Acro tours through our wondrous city let us spread wings at the sites of wondrous city landmarks, led by AcroFest teachers and accompanied by AcroFest photographers. Friday eve my open level class will be followed by a special JAM welcoming AcroFest with discounted prices; Saturday we hold a sweet Bodyworks & Dessert party/Thai and therapeutics Jam. And Sunday ends with a giant Sheep Meadow, Central Park Acro Jam open to the public.

There are tiers of pricing including pre-fest and post-fest special workshops. Register with my name MARY for $5 off. I am happy to teach a beginner-intermediate standing flow Saturday afternoon with Lex Peters from Philly, and a cool YogaSlacker Acro flow Sunday morning with Mateo Daniel from Austin! Come Friday, come Sat + Sun, come to NY AcroFest 6th Edition this August!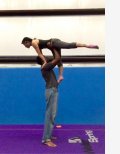 Divine Play Festival ~ 8th Annual ~ Oct 6-8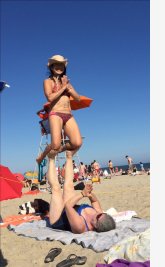 A-a-a-a-nd we're off!
Divine Play AcroYoga Festival in Portland at the huge Oregon Convention Center welcomes annually the largest global gathering of AcroYogis everywhere! This year our 8th Annual, it is October 2-8, with the Main Festival happening over the 3-day weekend Friday to Sunday.
There is free child care, there is therapeutics and acrobatics, there is multiple simultaneous classes of all levels, types, and teachers from the world over!
There are trunk shows with cool merchandise, there is a Saturday spectacular entertainment night, there is break dancing for all, from our own Mendel R. of New York City! There is a therapeutics pavilion where you can go and get your body some much needed healing throughout your day!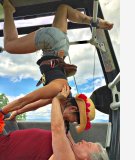 I am delighted to teach with my New York homegirl Linda, our own intermediate acrobatic flow Malinda Wheel, and to wind up the Festival teaching with my other NY homie Bassam, our Thai Ninja flow that dances fluidly around our receiver as we lift and rock and flow their grateful bodies into ease and bliss on Sunday afternoon!

And oh, in case I forgot to say so, in case it escaped me: there is connection. There
is community. If there weren't, it wouldn't be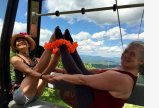 AcroYoga; it would just be acrobatics.

Fine enough for some, sure! For me however, High will always modify Union. Acro will forever uplift Yoga. And the more Yogis practice it, the more so...

Come and make some High Union with me in Portland. MARY10 code gets a 10% discount when you register, for a limited number of registrants! Get yours now!

Australia ~ AcroYoga Elemental Immersions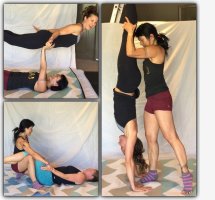 AcroYoga + Travel: what could be better? Do you have air miles or want to earn air miles, and does a hop across the pond to down-under fit into your adventure planning? Say yes!

Oct 20-23 AcroYoga Elemental Immersion Perth, Australia 30 Hours, Friday to Monday. The Elemental Immersion open to beginner and ongoing AcroYogis. Fulfills an AcroYoga Teacher Training requirement, and 30 yours of Yoga Alliance YACEP. With Team OZ Perth: Stefanie Glasenapp, Matt Worley, Victoria Mclarty.





Oct 27-30 AcroYoga Elemental Immersion Brisbane, Australia
30 Hours YACEP. Fulfills an AcroYoga Teacher Training requirement. With Stefanie Glasenapp, Matt Worley, Tanya Zappala.

The Elemental Immersion is the most effective, transformative, and delicious way to become immersed and solid in the full-on aspects of the AcroYoga practice, including acrobatics, therapeutics, basing, flying, spotting, inversions, conditioning, and Thai yoga training. As well, our lineage emphasizes the non-violent communication skills that build a stronger practice, in partnership, and in life. Learn more...

Workshops, Retreats, Festivals, Trainings

Aug 11-13 New York AcroFest, Chelsea Piers, NY Teaching
Earth to Sky standing flow with Lex Peters of Philadelphia
& Fumango Slacktastic with Mateo Daniels of Houston TX
& Friday 8/11 Pre-Fest Class 7:30 + JAM 9:30, Om Factory

100 Hour Mother Mary Restorative Teacher Training
Pure Yoga East, 4 25-Hour Weekend Modules
Each Level includes 30 days' membership at Pure Yoga NY
L1: July 15-16 ~ Restorative Basics
L2: July 29-30 ~ Restorative Intermediate
L3: Aug 19-20 ~ Nidra + Thai Yoga
L4: Sept 16-17 ~ Restorative Trance Yoga Integration

Sept 22-24 Fall Foliage Weekend Retreat
~ Wagging Tail Yoga Farm and Retreat Center
Ora Ramat & Friends, Bethel, Swan Lake, Catskills, NY

Oct 6-8 Divine Play AcroYoga Festival Portland, OR
Teaching Malinda Wheel flow with Linda Mittel
Teaching Thai Ninja therapeutics with Bassam Kubba

Oct 20-23 AcroYoga Elemental Immersion Perth, Australia
30 Hours, YACEP; fulfills an AcroYoga Teacher Training requirement
with Stefanie Glasenapp, Matt Worley, Victoria Mclarty

Oct 27-30 AcroYoga Elemental Immersion Brisbane, Australia
30 Hours, YACEP; fulfills an AcroYoga Teacher Training requirement
with Stefanie Glasenapp, Matt Worley, Tanya Zappala

Dec 9 Holiday Restorative Treat 2-4PM Pure East, 203 E.86 St.


Weekly Classes in New York City:

Pure Yoga New York Weekly Yoga Classes:
Pure Yoga Eastside - 203 E.86th St. (3rd Ave)
Monday: 10:30-12:00 Slow Flow Meditation
Monday: 1:00-2:00 Yoga Nidra Meditation
Tuesday: 12:30-1:30 Restorative
Thursday: 12:30-1:30 Restorative
Pure Yoga Westside - 204 W.77th St. (Amsterdam Av)
Friday: 11:30-12:30 Restorative

Om Factory Weekly AcroYoga Classes:
Friday: 7:30-9:15PM AcroYoga Flow Open Level, Fashion District
~ 265 West 37th Street (8th Ave), 17th Floor
*1st Friday/Month 9:30-11:30PM AcroYoga JAM, Fashion District

Private Sessions by Appointment:
Thai Yoga * Restorative * Meditation * AcroYoga * ISHTA Yoga

I value your privacy and I do not share email lists. Please feel free at any time to Reply, Forward, Subscribe, Unsubscribe. I honor the privilege of having you to be a cyber-sangha, an ether community of adventurers and journeyers. Om Shanti ~ Summer peace & joy!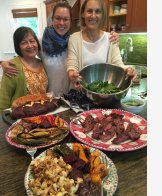 Sept 22-24 weekend, 2017 ~ Leaves are falling, air is crisp, it is my birthday! And we are loving our #11 delicious Yoga Weekend Catskills Retreat at Wagging Tail Yoga Farm in Bethel, NY.



Our unique blend of Yoga styles from Restorative to Vinyasa to AcroYoga to Thai to Slackline Yoga to Nidra meets all levels with delight, ease, challenge, and balance.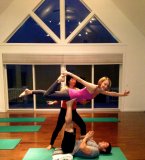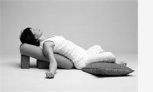 Imagine a flotation tank of tranquility, and a directed dream sequence where you may rest deeply your physical body, and clear and balance your mind for more refreshed and energized living.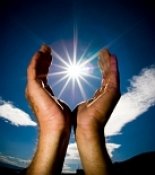 Yoga Nidra is an ancient tantric science of meditation in savasana led just by a teacher's voice. My Monday Nidra classes are 1:00-2:00 starting in August. Come taste; if you are not a Pure East member, email me for a guess pass.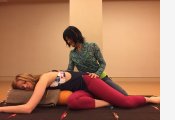 Restorative Yoga is a magic bullet antidote to the stress of modern living.

I recommend a weekly Restorative practice for a busy life, and more if you need it.

For a deluxe hit of restoring, come join one of my 2-hour seasonal restorative treats. We balance all 7 chakras through gentle poses, meditation, music, aromatherapy, nurturing touch. and you have a takeaway aromatherapy gift.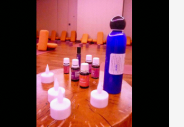 The next one on the schedule,
Restorative Holiday Treat, is December 9th at Pure East, 2-4PM. Restore with a friend and get even more happiness through mutual connection!

Reserve your spots now.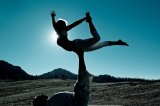 Photo thanks this issue to: Derek Pashupa Goodwin, New York AcroFest, Pure Yoga New York, Wagging Tail Yoga Center, Ora Ramat, Acrobatic Yoga Motion Design, Lex Peters, Linda Mittel, Raul Aranas, Ardeana Kirckoff, Zouk N Play Festival, Chris Martucci, Lesley Kennedy, Tanya Zappala, Stephanie Glasenapp, AcroYoga International, Raul Aranas, Raphael Aranas.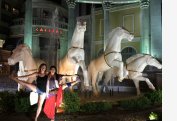 Here is the beautiful Atlantic City boardwalk where the first Zouk N Play Festival took place this summer, and my assistant Ardeana who helped to make our two AcroYoga classes and one Thai Yoga class hugely successful and fun.



Thanks must also go to those who make me Mother Mary; for every mother there is a father; and for every mother a child. Thank you my family for being you....