Puppies and kittens are without a doubt some of the most adorable things on the planet. Parenting a new young pet however, may even be more stressful than caring for a newborn human. When the time comes to finally bring your new pet home you can count on a major lifestyle adjustment. A growing pet needs much more than a food bowl to thrive. And while it may be a lot of work initially, it's well worth the effort.
Here are 8 Tips to help guide you with your new pet:
1. Schedule an Appointment with Dr. Daniels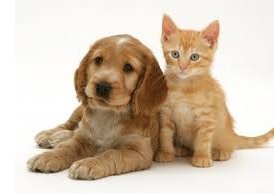 The first place you and your new pet should go together is, you guessed it, straight to the vet for a checkup. This visit will not only help ensure that your pet is healthy and free of serious health issues, birth defects, etc., but it will help you take the first steps toward a good preventive health routine.
2. Make a plan with Dr. Daniels
Ask for foods recommendations how often to feed, and what portion size to give your puppy or kitten.
Set up a vaccination plan. Discuss safe options for controlling parasites, both external and internal.
Learn which signs of illness to watch for during your pet's first few months. Ask about when to should spay or neuter.
3. Shop for Quality Food

Your puppy's body is growing in critical ways which is why you'll need to select a food that's formulated especially for puppies as opposed to adult dogs.



Feed multiple times a day:




Age 6-12 weeks – 4 meals per day




Age 3-6 months – 3 meals per day




Age 6-12 months – 2 meals per day


Best Puppy Food

Growing kittens need as much as three times more calories and nutrients than adult cats. A name brand food, formulated for kittens, is the simplest way to ensure that your kitty gets the proper nourishment without supplements. Also, check to make sure your kitten's food includes a statement from the Association of Animal Feed Control Officials (AAFCO) displayed on the packaging, ensuring the food is nutritionally complete. Best Kitten Food

4.
Establish a Bathroom Routine/
Litterbox Training
Puppies: According to the experts the best ways to house train your puppy are patience, planning, and plenty of positive reinforcement. In addition, it's probably not a bad idea to put a carpet-cleaning battle plan in place, because accidents will happen. Make sure to give lots of positive reinforcement whenever your puppy manages to potty outside and, almost equally important, refrain from punishing her when she has accidents indoors. Knowing when to take your puppy out is almost as important as giving her praise whenever she does eliminate outdoors. Here's a list of the most common times to take your puppy out to potty.
When you wake up.

Right before bedtime.

Immediately after your puppy eats or drinks a lot of water.

When your puppy wakes up from a nap.

During and after physical activity
5. Watch For Early Signs of Illness
For the first few months, puppies and kittens are more susceptible to sudden bouts of illnesses that can be serious if not caught in the early stages. If you observe any of the following symptoms in your new pet, it's time to contact Dr. Daniels.
| | |
| --- | --- |
| Lack of appetite | Poor weight gain |
| Vomiting | Swollen of painful abdomen |
| Lethargy (tiredness) | Diarrhea |
| Difficulty breathing | Wheezing or coughing |
| Pale gums | Swollen, red eyes or eye discharge |
| Nasal discharge | Inability to pass urine or stool |
6. Teach Obedience (Pups)

By teaching your puppy good manners, you'll set your puppy up for a life of positive social interaction. In addition, obedience training will help forge a stronger bond between you and your puppy. Teaching your pup to obey commands such as sit, stay, down, and come will not only impress your friends, but these commands will help keep your dog safe and under control in any potentially hazardous situations. Many puppy owners find that obedience classes are a great way to train both owner and dog. Classes typically begin accepting puppies at age 4 to 6 months.
7. Prepare a Room (Kitten)

Before you bring your kitten home, it's best to designate a quiet area where the kitten can feel comfortable and safe. In this base camp, you'll need to put a few essentials like food and water dishes, a litterbox (preferably one with low sides), and some comfortable bedding. Remember, cats don't like their food and litterbox too close together. So place the food dishes as far away from the litter as possible within the space.
8. Socialize Your Young Pet

Puppies: Just like obedience training, proper socialization during puppyhood helps avoid behavioral problems down the road. At approximately 2 to 4 months of age, most puppies begin to accept other animals, people, places, and experiences. Socialization classes are an excellent way to rack up positive social experiences with your puppy.

Kittens: Once Dr. Daniels has cleared your kitten as free of disease and parasites, it's safe to let your new kitten explore its new surroundings and other pet roommates. Handling and playing with your kitten at least once a day will help him form a strong emotional bond with you. If you have children, monitor their introduction to the new kitten to make sure it's a positive experience for both the kitten and child.