VIII Festival de la Guitarra De Sevilla

14 - 21 Octubre 2017
El Festival de la Guitarra de Sevilla anuncia que su octava edición tendrá como línea artística y temática la unión entre la "Guitarra y la Voz humana".
http://www.guitartfestivalsevilla.com/

Semifinal del Cante de las Minas 2017

Cante Grande - El Viso del Alcor

Fiesta de la Buleria de Jerez 2017

El precio de las entradas es de 20 euros. Todos los espectáculos comenzarán a las 22:00 de la noche.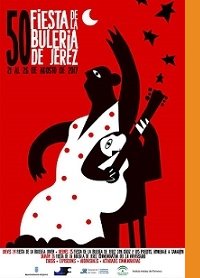 ¡Oh, Cuba! Lorca y Granada en los Jardines del Generalife

Flamenco on Fire - Pamplona 2017

Sevilla Congress & Convention Bureau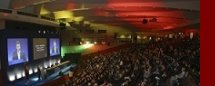 Contact us! Our team will assist you to ensure the success of your event in Seville.

Olga Pericet at Repertorio Español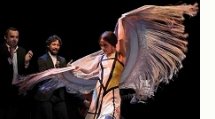 Wed, August 16 —Sun, September 03, 2017
Repertorio Español, 138 E 27th St, NYC 10016
Olga Pericet includes interludes of song and instrumental guitar solos featuring guitarist Antonia Jiménez, and singers Manuel Lago and Miguel Lavi. Supported by the Consulate General of Spain in New York ~ MORE INFO & TICKETS

María Juncal Flamenco Workshop in Los Alamitos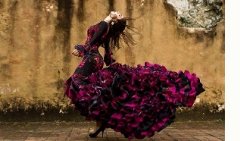 Vida Flamenca's 'FALL INTO FLAMENCO' SERIES presents dancer Maria Juncal - one of Spain's top Flamenco artists Sept. 11-17.

LOS ALAMITOS: SEPT. 15, 16 & 17
EFDC, 3257 Katella Ave, Los Alamitos, California 90720
Level 1: Beginning/Technique & Guajira
Level 2: Intermediate/Advanced Farruca Choreography

Class size is limited to only 15 students, classes will fill fast.
Enroll Here!
María Juncal Flamenco Workshop in Hollywood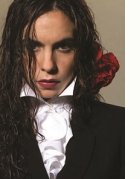 Vida Flamenca's 'FALL INTO FLAMENCO' SERIES presents dancer Maria Juncal in Hollywood - one of Spain's top Flamenco artists
Tues., Wed., Thurs.,
September 12, 13 & 14
IDA Dance Studios, 6755 Hollywood Blvd #200 Hollywood CA 90028 ~ Level 1: Beg./Tech. & Guajira
Level 2: Inter./Adv. Farruca
REGISTER HERE!


Forever Flamenco @Barnsdall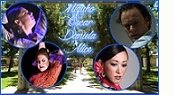 Sun., Aug. 20 @ 8pm
Barnsdall Theatre, Hollywood
Antonio Triana returns to the Forever Flamenco helm with an incredible world-class show at Barnsdall Park. Join us before the show for a VIP Gala and feast on delicious artisan tapas while slaking your thirst on fine wine and our famous sangria, curated by Chef Baltazar. Featuring Antonio Triana, Mizuho Sato, Oscar Valero Daniela Zermeño, Alice Blumenfeld, Antonio De Jerez, Joey Heredia, & Gabriel Osuna. Tickets!

Roberto Amaral's 'Fuego Exotico'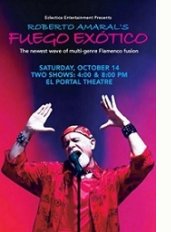 Sat., October 14, 4pm & 8pm
The passion of Flamenco...The soul of R&B...The fire of Latin
A music and dance event like no other! Roberto Amaral's long awaited world debut of his dream project "FUEGO EXÓTICO " features an all star cast of musicians, singers and dancers.
For full show details, artist lineup and ticket info please visit
http://elportaltheatre.com/fuegoexotico.html
Goyescas by Enrique Granados

Sat., September 09, 8:00pm ~ FREE
Centro Cultural Espanol de Cooperación Iberoamericana, 1490 Biscayne Blvd, Miami, FL 33132
CCE Miami, in collaboration with Joaquin Achucarro Foundation, presents the piano concert "Goyescas" written by Enrique Granados and inspired by the paintings of Francisco Goya. Goyescas combines the best of Spanish art and music, highlighting Spain's rich influence in the world of the Arts. Three pianists, Yumi Palleschi, Victor Diaz and Marco Antonio Cuevas, from Joaquin Achucarro's studio will perform the piano suite Goyescas, op.11, written by Enrique Granados and inspired by the paintings of Francisco Goya. More Info

LA Drom Festival Los Angeles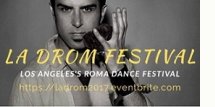 Aug. 18-20
Movement Art Space
3326 Verdugo Rd, Los Angeles, California 90065
Aubre Hill Productions is honored to present~
the first LA DROM festival~ Los Angeles's Roma dance festival!!! Including workshops and performances with incredible guest artists Meera of India, Ozgen of Turkey, Sonia Ochoa of Spain, and much more!!! Info Here!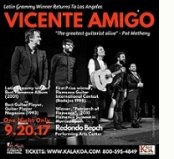 Wed., September 20, 8pm
Redondo Beach Performing Arts Center, 1935 Manhattan Beach Blvd., Redondo Beach, CA 90278
World-renowned flamenco guitarist Vicente Amigo returns to Los Angeles.
~ Latin Grammy Award-winner Vicente Amigo is known as one of the most dazzling flamenco guitarists of his generation. Get ready for the Maestro's return to L.A.!
www.kalakoa.tix.com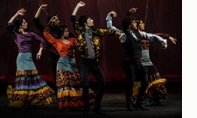 Friday, Sept. 8 @8:30pm
Celebrated flamenco dancer Jesús Carmona makes his Ford Theatre debut with the West Coast premiere of his newest piece. Jesús and his company of 11 dancers, musicians and vocalists will perform this innovative and emotionally charged program, titled Impetus ("bursting with energy"). The piece stars Jesús, who directs this powerful dance interpretation of the most famous scores from Spain's beloved composers, including Albeniz, Riqueni y Escudero. Tickets: $35, $55, 75


Sept. 9, 14, 17, 20, 23 & Oct. 1
The dazzling Ana María Martínez returns to Los Angeles as opera's most seductive temptress. Nobody—not even a lover—can tame Carmen, who bursts into life onstage with an intoxicating whirl of thrilling choreography, vivid orchestrations and heart-stopping drama along with Bizet's unforgettable score. Tickets!

Flamenco Legends by Javier Limón: The Paco de Lucía Project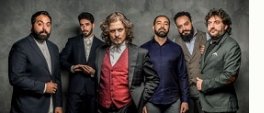 Sat. Nov. 4,

8pm

at Valley Performing Arts Center, Northridge
Tickets Here!



Sun., Nov 5, 4pm

/ Chapman University; Flamenco's mystique and beauty come alive as the music of legendary artist Paco de Lucía is recreated by his original band and punctuated by the staccato footwork of a fiery dance soloist. Led by 10-time Latin Grammy Winner Javier Limón, this production evokes the spirit of the man often called Spain's greatest musical export. INFO: Musco Center's site
Musco Center for the Arts, Chapman University, One University Drive, Orange, CA 92866; (844-626-8726)

Paco & Yolanda Arroyo Flamenco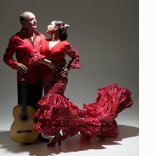 Classes with the Arroyo's Paco: (818) 974-3208; Yolanda: (818) 507-4426;

ArroyoEmail

-

Direct from Barcelona each provides one-on-one professional training in Flamenco guitar and dance, Paco and Yolanda Arroyo combine discipline and artistry with a unique sensitivity to the needs of each guitarist or dancer. Visit: FlamencoArroyo.com
Cihtli Ocampo Flamenco Classes

Tuesdays: Bata de Cola
Wednesdays: Technique & Choreography, Madlyn Clark, N. Hollywood
Angelita Agujetas @ Costa Brava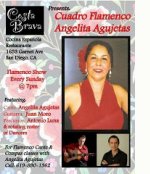 Sundays at 7pm

Costa Brava Restaurant is proud to present Aires del Sur Flamenco!


1653 Garnet Ave, San Diego, CA 92109 -- Hours: 11:00am to 12am