VIII Festival de la Guitarra De Sevilla

14 - 21 Octubre 2017
El Festival de la Guitarra de Sevilla anuncia que su octava edición tendrá como línea artística y temática la unión entre la "Guitarra y la Voz humana".
http://www.guitartfestivalsevilla.com/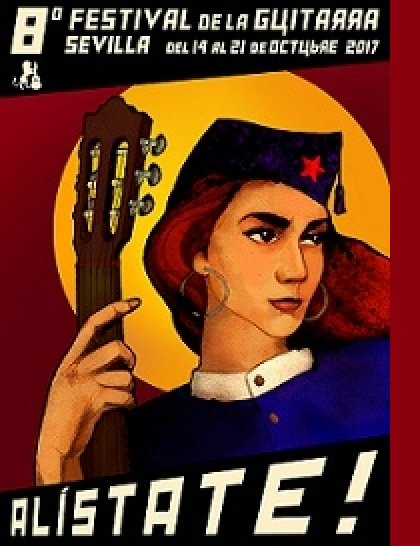 Pepe Habichuela 60 aniversario en los escenarios

Andrés Marín - Bienal de Arte Flamenco de Chaillot 2017

Del 7 al 25 noviembre en el Teatro Nacional de Chaillot que cuenta con el estreno de "D. Quixote" de Andrés Marín. {Más}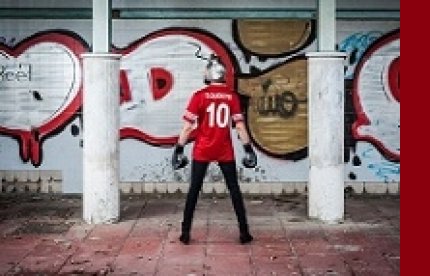 El Capullo de Jerez en Madrid

El artista El Capullo de Jerez estará actuando en Madrid el próximo sábado 21 de octubre. El concierto tendrá lugar en el Café Berlín a las 23:00 h y la apertura de puertas será a las 22:45 h.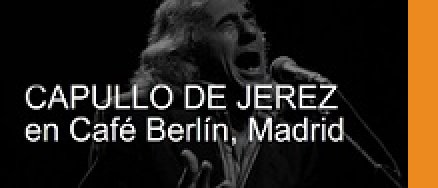 Huerto Pío // Encarnación Fernández

21 de octubre de 2017 - Nueva Velada Flamenca en Huerto Pío // Encarnación Fernández, la reina del cante minero, dos veces ganadora de la Lámpara Minera (1979 y 1980), acompañada al toque por su hijo, Antonio Muñoz Fernández, Bordón Minero del Festival Internacional del Cante de las Minas en el año 1989.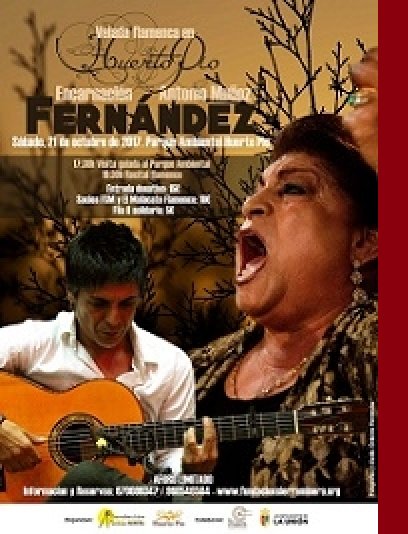 En Paris en el Teatro Salle Ravel
El Concurso de Cante Flamenco Ciudad de San Sebastián

El Concurso de Cante Flamenco Ciudad de San Sebastián está organizado por el Centro Socio Cultural Peña Flamenca La Paquera de Jerez, impulsado, a su vez, por la Asociación Camelamos Adiquerar. En el mismo País Vasco se puede comparar con el Festival Bilbao Flamenco, uno de los más fuertes e importantes del norte.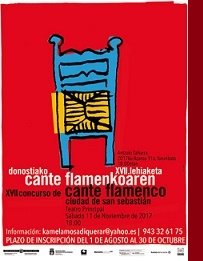 Sevilla Congress & Convention Bureau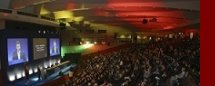 Contact us! Our team will assist you to ensure the success of your event in Seville.

Roberto Amaral's 'Fuego Exótico'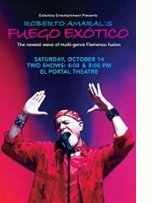 Sat., October 14, 4pm & 8pm
The passion of Flamenco...The soul of R&B...The fire of Latin
A music and dance event like no other! Roberto Amaral's long awaited world debut of his dream project "FUEGO EXÓTICO " features an all star cast of musicians, singers and dancers.
For full show details, artist lineup and
ticket & info!
Cristóbal Reyes Workshop in Alhambra at Arte Flamenco Dance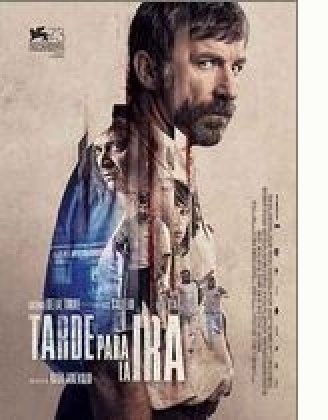 October 19-22
The emblematic Egyptian Theatre on Hollywood Boulevard hosts the 23rd edition of Recent Spanish Cinema, featuring appearances by leading figures in the Spanish film industry, who have contributed significantly to put "Made in Spain" productions at the vanguard of filmmaking worldwide. More information here!

Arte Flamenco with Inesita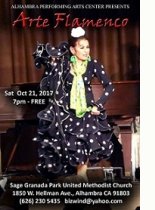 Sat., October 21, 2017 at 7 P. M. at the Alhambra Performing Arts Center. (APAC) in collaboration with William Yee, Aristic Director.
Admission is Free. Donations accepted during Intermission.
The performance will feature Miguel Bernal, brilliant flamenco dancer and singer, the charismatic dancer and singer, Clarita, La Nubia, flamenco dancer, and the solid guitar flamenco of Stamen Wetzel and Benjamin. Inesita will offer six solo dances of her own and will participate in a musical interlude as pianist with the guitarists.

Forever Flamenco by Leilah Broukhim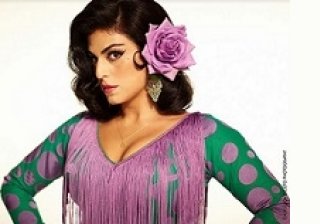 October 22 @ 8pm
Fresh in from NYC, it's Fountain audience favorite Leilah Broukhim! Marvel at her beauty, grace, and skill as she blows the roof off our Theatre for one tremendous night. She brings the wisdom of the master and the passion of the arté into one swirling cauldron of exquisite Flamenco power. TICKETS

Flamenco Legends by Javier Limón: The Paco de Lucía Project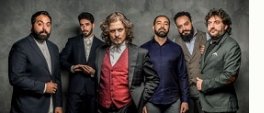 Sat. Nov. 4,

8pm

at Valley Performing Arts Center, Northridge
10-time Latin Grammy winner Javier Limón reassembles the original band that toured with Paco de Lucía in this tribute performance, The Paco de Lucía Project. Tickets Here!

Sun., Nov 5, 4pm

/ Chapman University. INFO: Musco Center's site, (844-626-8726)


Leilah Broukhim, Dejando Huellas (Traces)

Sun., Jan. 21, 2018

, 7:30pm ~ Flamenco powerhouse Leilah Broukhim returns to VPAC with Dejando Huellas (Traces), a personal story about her own Jewish and Persian heritage. Tickets!

Angelita Concierto Flamenco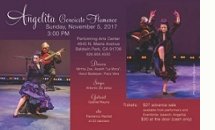 Sunday, Nov. 5, 3pm
Performing Arts Center, 4640 N. Maine Ave., Baldwin Park, CA 91708 ~ 626.856.4550
$27 Advance; $30 Cash at Door - Eventbrite search "Angelita"

VOCES feat. Cihtli Ocampo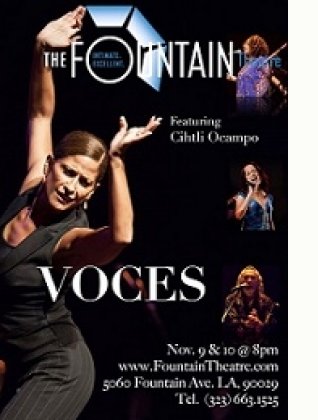 November 9 & 10 @8pm
VOCES proposes a daring, yet danceable journey through the vocal styles of Latino Boleros, Gypsy Flamenco and African-American Jazz and Blues. Authentic vocalists from these diverse cultural backgrounds will construct a soulful pathway for the dance of acclaimed Spanish dancer, Cihtli Ocampo. Anything is possible when cultural awareness becomes a true life priority. TICKETS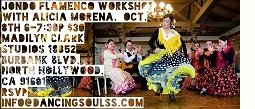 Visiting Artist - Alicia Morena DiPalma
Sun., October 8 @6-7:30pm, Madlyn Clark Studios, Burbank
Take yourself on a trip to India and Spain and discover UNESCO's World Heritage Dance at its source of inspiration.
Learn its cultural philosophy through ritual movements, attitudes, and sentiments resident in traditional dance stories or choreographies. Move to the rhythms of the Rom-people-in-Spain, called compas. Rsvp: info@dancingsoulss.com
Juan Talavera Flamenco Classes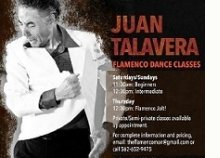 In Whittier: Flamenco Classes Now In Full Swing!! Studio Danza 13015 Bailey Street
Whittier, Calif.
Saturdays:
Beginners

10:30am


Intermediate:

11:30am


Sundays: Performance Class:

2pm

//Adults/Kids 12 1/2 or Older.
Information: 562-652-9475,
Theflamencoman@gmail.com
Let Your Gypsy Out!!!

Paco & Yolanda Arroyo Private & Semi-private Flamenco Classes


Get the basics or advance your professional skills. Beginner, Intermediate & Advanced Flamenco & Classical

Yolanda: (818) 507-4426;
Paco (guitar): (818) 974-3208;

ArroyoEmail

-

Direct from Barcelona each provides one-on-one professional training in Flamenco guitar and dance, Paco and Yolanda Arroyo combine discipline and artistry with a unique sensitivity to the needs of each guitarist or dancer.
Cihtli Ocampo Flamenco Classes

Tuesdays: Bata de Cola
Wednesdays: Technique & Choreography, Madlyn Clark, N. Hollywood
Angelita Agujetas @ Costa Brava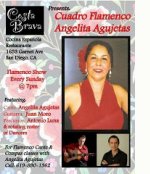 Sundays at 7pm

Costa Brava Restaurant is proud to present Aires del Sur Flamenco!


1653 Garnet Ave, San Diego, CA 92109 -- Hours: 11:00am to 12am