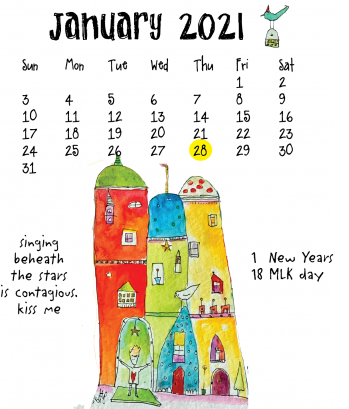 Dear Creative Friend.
TAKE ADVANTAGE OF FREE POSTAGE UNTIL DECEMBER 15, 2020
One of my favorite labors of love is bringing together my recent art into calendars. I've been doing this for about 10 years now and as I do, I'm adding love to each and every day of the year. I've always had a thing for calendars because the way the numbers fall under the days of the week is kind of comforting. Plus, seeing holidays gives me something to look forward to.
These calendars are CD sized and come with a little stand to display each month separately. If you have one from past years, you can order the calendar without a stand. If this is your first one, you swing the case open in the opposite direction, and it becomes the stand.

All the days are included this year, as are full moons and a little garden or village for you to visit since vacations may still be difficult. An original one or two line story goes with each image

The calendar is endowed with special powers so as you go about your year, you will effortlessly feel more creative.
This year I'll be sending a percentage of the proceeds from these calendars to St Jude's Children's Hospital.
This is my favorite calendar of ALL of the ones I've made!
(Full disclosure: I say that every year but I really mean it this year. It's got a consistent theme)
Thank you for reading this far, and thank you EVEN more if you buy one (great holiday gift!) and there are no words for how much I thank you if you buy more than one so consider yourself kissed.
Production will be finished and calendars will be on their way around Dec 8, 2020

$20.00 2021 Calendar with Stand -

Postage free until 12/15/20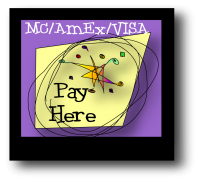 $18.00 2021 Calendar without Stand-
Postage free until 12/15/20