UNLIMITED/FLAMENCO.CROM
En el Tablao Flamenco Las Tablas de Madrid, se ha presentado estos días la Exposición fotográfica que denominan "UNLIMITED/FLAMENCO.CROM" de los fotografos Diego Gallardo y Alberto Romo impulsada por Antonia Moya.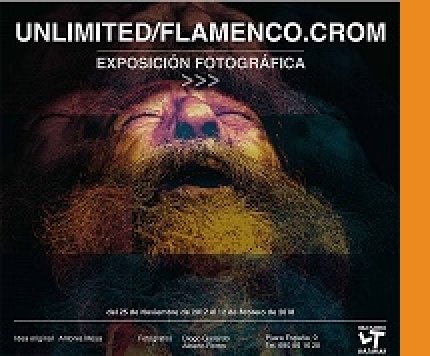 El Pele en el Café Berlín, Madrid

Disfruta del concierto que ofrecerá El Pele el próximo 15 de diciembre de 2017 en el Café Berlín de Madrid. El concierto comenzará a las 23:00h y las puertas se abrirán a las 22:45h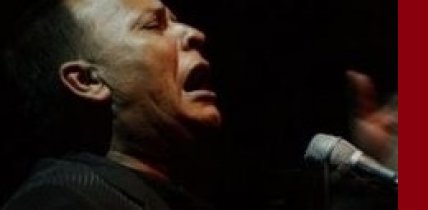 Flamenco Festival Antwerpen 2018


Para éste gran acontecimiento del Festival, estarán presente dos grandes artistas y jóvenes maestros del mundo flamenco: ANDRÉS PEÑA (Jerez de la Frontera) y PILAR OGALLA (Cadiz) actuando juntos en el escenario del Teatro Zuiderpershuis (www.zuiderpershuis.be) y presentando el espectáculo "Sal de Cadiz y Vinos de Jerez" Sábado 3 Febrero 2018 a las 20:30h.
Carretera N-430 km 119
Valdivia 06720 ~ 924832835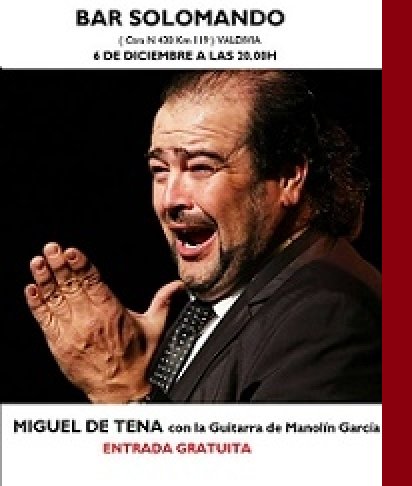 "Divino amor humano", de Fuensanta La Moneta, se podrá disfrutar en el Teatro Góngora de Córdoba, el día 16 de diciembre.
Sevilla Congress & Convention Bureau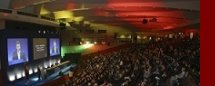 Contact us! Our team will assist you to ensure the success of your event in Seville.

Forever Flamenco: Night on Triana IV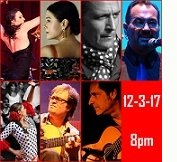 Sunday, December 3 @8pm
The powerhouses return! The brilliant, Fanny Ara, plus the artistic stylings of the tremendous trio Alejandro Vega, Daniela Zermeño, and Reyes Barrios. Accompanied by the great Kai Narezo and Antonio Triana, this is going to be a monster of a show showcasing the hottest Flamenco talent around.

Gurumbé: Afro-Andalusian Memories - NYC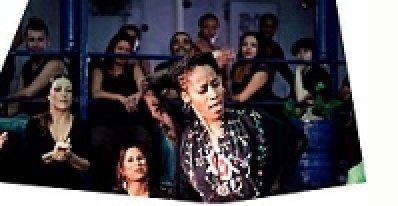 Sun, December 03, 2017, 7:00 pm – 9:30 pm
La Nacional-Spanish Benevolent Society, 239 W 14th St, New York, NY 10011 ~ A screening and a Flamenco performance explore the fundamental contribution of Afro-Andalusians to Flamenco. Flamenco is synonymous with Spanish culture. Yet, since its inception, theorists have sidelined the fundamental contribution of Afro-Andalusians to this art form. More Here

Con El Alma Flamenco Concert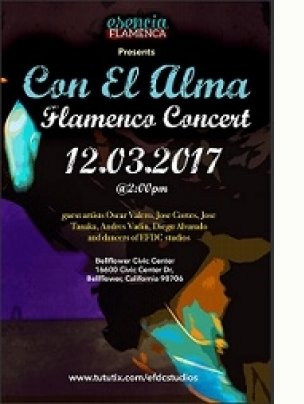 Sunday, December 3, 2017 @2:00pm
Bellflower Civic Center, 16600 Civic Center Drive, Bellflower, CA 9o706
Guest artists Sarah Parra, Oscar Valero, Jose Cortes, Jose Tanaka, Andres Vadin and Diego Alvarez along with the EFDC studio dancers! Tickets!

Vahagni-Stars on Brand, Glendale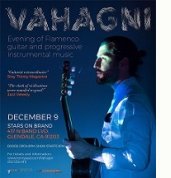 Saturday, December 9, 9pm
(Doors Open @ 8pm)
Stars on Brand, Glendale
VAHAGNI is back and performing at Stars theater on December 9th! Including the exceptional musicians: Gavin Salmon - drums, Diego Alvarez - Percussion, Artyom Manukyan - cello, Sam Barsh - keys, Ross garen - hamronica & keys, Manuel Gutierrez- flamenco dancer, Ruben Harutunyan - Duduk & Zurna. Hope to see you then

💙

Tickets and additional info available at www.itsmyseat.com/vahagni

A Flamenco Connection Xmas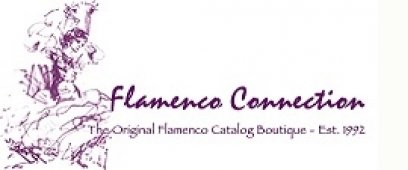 Just in time for the Holidays...or anytime of the year! At Flamenco Connection you can choose from 1000's of titles, all in stock and ready for immediate shipment. CDs, Performance & Instructional DVDs, Printed Music & Methods, Books in Spanish & English. ~ Enter "ViernesNegro" as a coupon code at checkout, and you will receive a 20% discount on everything in your order. You can use this code as many times as you like, share it with friends. Click Here y disfruta!

Zermeño Dance Academy Annual Winter Recital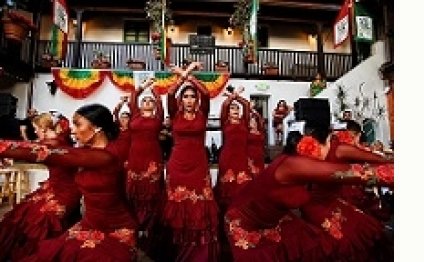 Saturday, December 9 3 - 5 pm

Dos Pueblos, 7266 Alameda Ave, Goleta, California 93117
Zermeño Dance Academy presents its Annual Winter Recital!

Tickets: $10 Pre-Sale; $12 At the Door; $20 VIP seating
For Ticket info please contact Danny@Zermenodance.com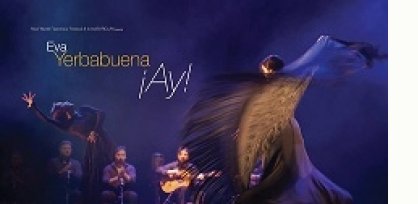 Sat., March 3 @ 8pm & Sun., March 4 @ 4pm
Irvine Barclay Theatre, Irvine, CA ~
International flamenco superstar, Eva Yerbabuena, returns to the Barclay with ¡Ay! a series of captivating dramatic solo dance monologues performed with live music accompaniment.
Tickets Here!
Andalusian Voces y La Farruca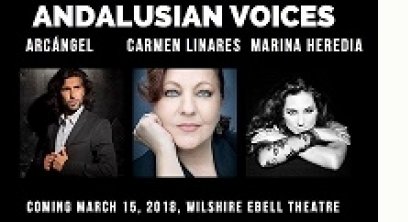 Thurs., March 15, 2018 Wilshire Ebell Theatre,

4401 West 8th St, Los Angeles, CA 90005

~ Andalusian Voices featuring CARMEN LINARES, ARCÁNGEL, MARINA HEREDIA on sale now! http://kalakoa.tix.com/

Friday, March 16, 2018 ~ Rosario Montoya "La Farruca" is coming to L.A.! Tickets Click Here!

Flamenco Amaral - Winter session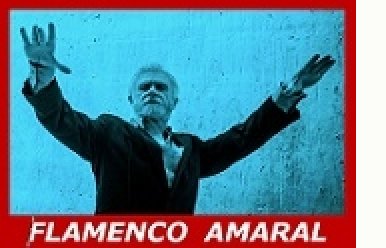 Saturday Nov 18 - Sunday Dec 17
New content taught every week, all classes!
Thurs.: 7:30 - 9pm / Interm.2 - Adv. Cuadro Skills Bootcamp
Saturdays: 11am - 12pm / Beg.2 - Interm.1 Flamenco Foundations
12:15 – 1:45 pm: Interm. 2 - Adv. Bulerias de Jerez choreography (w/gypsy styling)*guitar Antonio Triana
Sundays: 11:30 am – 1:30 pm / Interm. 1 - 2 Rhythmic Technique (11:30am - castanets, 12pm - footwork, palmas, Bulerias combinations) (optional 12pm – 1:30pm w/o castanets) ~ Contact Ana Maria Suarez

Juan Talavera Flamenco Classes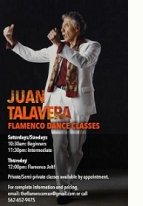 Professional Flamenco Performers now available for your Flamenco Fiestas!
Saturdays:
Beginners
10:30am
Intermediate:
11:30am
Sundays:
Performance Class:
2pm
//Adults/Kids 12 1/2 or Older.
Information:
562-652-9475
,
Theflamencoman@gmail.com
Let Your Gypsy Out!!!
Paco & Yolanda Arroyo Private & Semi-private Flamenco Classes


Get the basics or advance your professional skills. Beginner, Intermediate & Advanced Flamenco & Classical

Yolanda: (818) 507-4426;
Paco (guitar): (818) 974-3208;

ArroyoEmail

-

Direct from Barcelona each provides one-on-one professional training in Flamenco guitar and dance, Paco and Yolanda Arroyo combine discipline and artistry with a unique sensitivity to the needs of each guitarist or dancer. Visit their new website: http://flamencoarroyo.com/
Cihtli Ocampo Flamenco Classes

Tuesdays: Bata de Cola
Wednesdays: Technique & Choreography, Madlyn Clark, N. Hollywood
Angelita Agujetas @ Costa Brava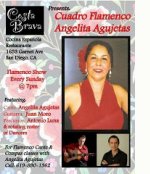 Sundays at 7pm

Costa Brava Restaurant is proud to present Aires del Sur Flamenco!


1653 Garnet Ave, San Diego, CA 92109 -- Hours: 11:00am to 12am