New Year Blessings to YOU
A blessing is defined as something conducive to happiness and welfare. A blessing is also an action or words that bestow upon a person or thing the intention of happiness and good welfare. We are upon the threshold of a new year in which we can learn our way into new experiences and meanings for both offering and receiving the blessings this precious life has in store for us.
January at MBR is excited to learn into a new year of blessings with you. Our classes, workshops, and private sessions begin January 1st and will keep us all thriving throughout the year. The annual mailing is on it's way, and below you can check out highlights for January. As always, please see our website for further details.
With blessings of peace, strength,
deep joy, healing of the most impossible circumstances,
and
warm-hearted happiness,
Mary Abrams &
All at Moving Body Resources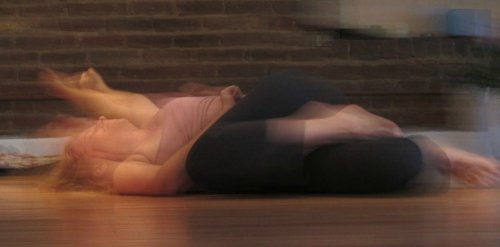 MOVING BODY INNOVATIONS
Taught by Mary Abrams
Tuesdays 11 am - 1 pm Ongoing
Thursdays 10 am - 12 pm Ongoing
Fees: $30/single class
$130 / 5 class series
See info below.
ALL ABOUT ATTENTION
Two Fridays this December:
Jan 26, Feb 23
SOMATIC SOLSTICE MAT
MARTIAL ARTS LAB with Gregory Soon
Beginning January 15, 2018:
Power Yoga Challenge & Condition
Wednesdays 6:30pm to 7:30pm
HEART-CENTERED TOUCH FOR MEN
Led by Adam Brown
Thursdays 8 - 10:00 pm (pre-registration required)
212-366-9025
adam@heartcenteredtouch.com
Saturdays 4:30pm to 5:30pm
UPCOMING

WEEKEND EVENTS & WORKSHOPS
MOVING BODY NEW YEAR'S DANCE!
January 5-7

Taught by Mary Abrams & Colleagues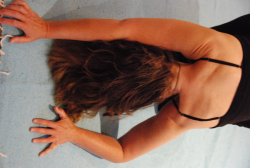 These classes are an amazing opportunity to awaken your senses, experience your body as movement, interrupt your habitual ways of thinking and feeling, and to develop new clarity, awareness, strength, and liveliness in your entire being. We will explore with breath and sound play, sensing, feeling, micro-movement, expressive movement, and deep stillness.
Beginners are welcome anytime.
Tuesday eves, 6-8 pm Jan 2-Mar 6 (No class Jan 16)
Every Thursday 10 am-12 pm
Drop-ins welcome to ALL classes.
Fees for 2018:
$30/single class
$130/ 5 class series
Pre-registration via email or phone 24 hours in advance is appreciated but not necessary.
TO REGISTER via email or phone contact:
mary@movingbodyresources.com

or 212-206-7542
Somatic Solstice Mat classes emphasize the subjective experience of embodiment by inquiring into the potential space inside and outside of the body with playful awareness. Through this approach we lean into greater connectivity, fluid resilience and functional integrity. Simple user-friendly exercises elicit healthy movement patterns that stimulate, massage and hydrate the soft tissues and the nervous system. This class cultivates a level of body intelligence and fitness that will continue to support your agility throughout life. Drawn from diverse movement forms including Ballet, Pilates, Yoga, Dance, Laban Movement Analysis, Bartenieff Fundamentals, Sounding, Continuum Movement, and Connective Tissue Therapy, there is balance of specific form-based exercise and non-judgmental free moving improvisational work. IT SHOULD BE FUN and FEEL GOOD!
No prior experience required. This is appropriate for all levels, ages and body types.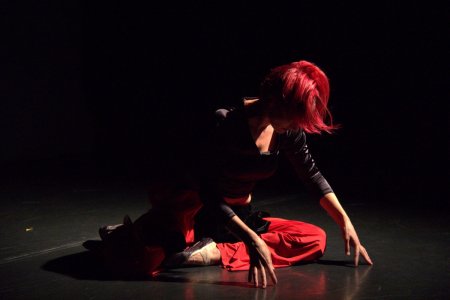 To register, or for more information:
646-241-8254
laura@lauravward.com
http://www.lauravward.com/classes.html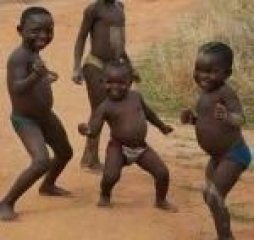 Breathing, sounding, feeling your fluid authentic dance from within, dance your celebration, dance your personal sacred ritual, dance your dreams, dance your wildness, dance your tenderness in community.
MOVING BODY SILENCE
WEEKEND

January 5-7, 2018
Fri 2pm – Sun 5pm
Fee: $225

During this weekend of silence, we will deepen our awareness of inner silent body experience with breath, sound, and movement, to facilitate our dreams and intentions, and open to a new year of life. Letting go of words, we will dwell with the inner pulsing, murmuring, oozing, and soft vibrancy of our living bodies.

We gather on Friday afternoon to review and practice a sequence of breath, sound, and movement that becomes our mantra for diving into silence. We will have a dinner break and return without words to commence our silent exploration which lasts until Sunday between 3-4 pm (2 nights & almost 2 days!). We will emerge from silence back to words, sharing reflections from our journeys and cultivating support for what comes to life from our silent level experiences.

TO REGISTER via email or phone contact:
mary@movingbodyresources.com or 212-206-7542
MARTIAL ARTS LAB
with Gregory Soon

BEGINNING MONDAY JANUARY 15th

Taught by Gregory Soon
Mondays 6pm – 7:30pm
Fee: $20 per class
Please pre-register:
(646) 209-5373
Email: soonaiki@gmail.com
This class is based on the Martial Arts of Boxing, Wrestling
and Aikido:
The Martial Arts Lab is designed introduce self-defense techniques and skill to new students and may enhance the training and practice of experienced martial artists.
This class is non-competitive and open to men and women of any age.
(If you are able to perform a squat and to bend down to touch your toes you will be able to do the techniques in this class!).
Curriculum:
Mindset / philosophy of martial art training;
Joint-locks;
"Ma-ai": The Art of Timing & Distancing;
Striking / blocking & Pad-work;
Partner Drills;
Footwork and body movement that creates powerful technical skill.
Videos:

https://youtu.be/x8cMKnUz_4I
https://youtu.be/4-PMRaTc-fU

https://youtu.be/rFFhUw_oFl0
Each class will focus on a different theme and technique.
Techniques will be broken down to clear step-by-step detail.
Everyone will get to practice the technique with a training partner.
For more information visit:
http://www.gregsoon.com
MBR has wonderful spaces
for teaching
and healing arts
of all kinds.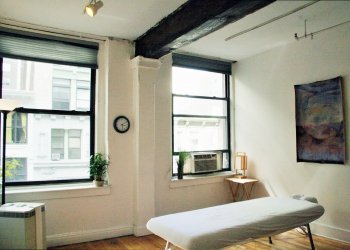 MBR has 3 office spaces and 2 group spaces available by the hour and by the day. Any space can be rented for one time, one hour, a few hours, a full day, an entire weekend, or for ongoing classes.
Our 3 offices are ideal for a variety of private practice sessions. Our 2 group studios -- 400 sq. ft. Small Studio and 1300 sq. ft. Large Studio -- are great for classes, workshops, and other group events.
The more you rent, the better your deal!
Office rates begin at $30/hr for 2018.
Movement Studio rates range from $47 to $130 / hour.
Email:

services@movingbodyresources.com


or
call Greg at (212) 206-7542 - Mailbox option 2
Please Note: If you contact us after

7 pm

, on weekends, or at short notice please email rather than call.
Photo by Barbara Schaefer
112 West 27th Street. Suite 402.
New York, NY 10001.
(Between 6th and 7th Ave)
Phone: (212) 206-7542

services@movingbodyresources.com