SFR is proud to present our dear friend
Robert Levy,
Shamanic Reiki
Empowering Both You & Your Client
Sat. April 28th * 10am - 5pm
Last holiday season, did you give everyone the same present? I'll bet you didn't because each gift should be a specific one selected for a specific person.
Shouldn't the same be true for Reiki? Reiki is Universe's gift to us, to all of us, everyone, in every country, and all living in different cultures with different traditions. Do you think that Universe expected everyone everywhere to do everything regarding the transmitting of Reiki energy in the same way? Well, I don't.
The first sentence in my book, "Reiki, Empowered By It, Embraced By It, Claimed By It" is "Beware – you are about to read a book on Reiki like no other you have read before because I may blatantly blaspheme some of the tenants of Reiki taught by many Reiki Masters." I believe that when a person is attuned, the gift of Reiki they receive is a personal gift, a gift given to them by Universe meant to be used in harmony with who they are. And that belief is not included in most Reiki attunement classes.
When I claimed Reiki as my own, I felt far more empowered by the gift I was given than I was when I stood silently over a client and felt the energy as it flowed through me.
In the brief time of our workshop, you will learn how to combine Reiki with the Shamanic Journey. You will learn to include in your healing sessions not just the Universal Energy, but how to make your client (with their permission, of course) an intragyral part of their own healing process. This not only empowers you, but it will empower your client. Traditional Reiki fails to do that. Shamanic Reiki does.
Having knowledge of both Reiki and the Shamanic Journey will be very helpful.

This class does not teach or attune people to Reiki nor is it a class in learning the basics of Shamanism.
Location will be given to registrants
About Robert Levy, Co-Author of Shamanic Reiki & Shamanism; The Book of Journeys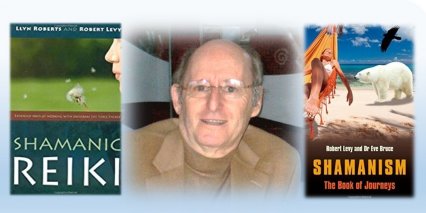 Robert Levy began climbing the shamanic mountain in 1995, learning from such western shamans as Eve Bruce, Lynn Roberts, Michael Harner, John Perkins, Tom Cowan, and Alberto Villoldo.





He studied with indigenous shamans Ipupiara Makunaiman from the Ure-e-wau-wau tribe of Brazil and his wife, Peruvian shaman Claicha Toscano. It was they who first named him Shaman. He was a co-founder of the New York Shamanic Circle and that circle has become one of the most important shamanic communities in New York City. His books include: Shamanic Reiki: Expanded Ways of Working with Universal Life Force Energy, Co-authored with Llyn Roberts and Shamanism, The Book Of Journeys, Co-authored with Eve Bruce; Shamanism for Teenagers, Young Adults and the Young at Heart; Reiki: Empowered By It, Embraced By It, Claimed By It.

.