About this time of winter I start longing for comfort. The season feels long, cold, and sparse, endless at times. I start to dream about warm sometimes hearty comfort foods, tropical scenes, and soft cozy environments.

When the season starts to wear on you what's your favorite recipe for comfort?

A cup of tea, your favorite coffee, mashed potatoes, a hearty stew? Cookies? A soft blanket or warm sweater? Snuggling up with your favorite loved one -- four-legged or human?

One of my ongoing favorite recipes for comfort is a squash, carrot, beet "marinara sauce" perfectly flavored with onions, garlic, oregano, and basil. Over a pile of brown rice pasta or spread on my favorite homemade pizza crust, this rich and soft sauce is the perfect tummy comfort all winter long. I make a big batch to eat now and freeze for the next snow storm or cold snap.

During February at MBR we would love to add to your recipe for comfort. Our classes, workshops, and private sessions are here to to support and give you exactly what you need. Please check out highlights for this month. As always, please see our website for further details.

With heart, belly, and soft sighs
of comfort,
Mary Abrams &
All at Moving Body Resources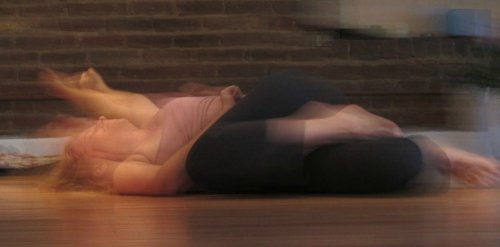 MOVING BODY INNOVATIONS
Taught by Mary Abrams
Tuesdays 11 am - 1 pm Ongoing
Thursdays 10 am - 12 pm Ongoing
Fees: $30/single class
$130 / 5 class series
See info below.
ALL ABOUT ATTENTION
Feb 16, Mar 23
SOMATIC SOLSTICE MAT
See below...

MARTIAL ARTS LAB
Taught by Gregory Soon
HEART-CENTERED TOUCH FOR MEN
Led by Adam Brown
Thursdays 8 - 10:00 pm (pre-registration required)
212-366-9025
adam@heartcenteredtouch.com
UPCOMING

WEEKEND EVENTS & WORKSHOPS
MOVING BODY SALON
Come join us for our first Salon of 2018!

February 9

7pm

TOUCHING THE SURFACE, FEELING THE DEPTHS
Taught by Mary Abrams
February 17
Soma Yoga Center, Highland Park, NJ

See below...

STILLPOINT CST Presents:

Professional Training in Craniosacral Biodynamics
February 21 - 25

See below...
Taught by Mary Abrams & Colleagues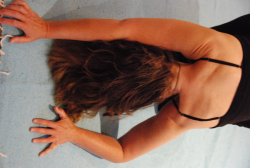 These classes are an amazing opportunity to awaken your senses, experience your body as movement, interrupt your habitual ways of thinking and feeling, and to develop new clarity, awareness, strength, and liveliness in your entire being. We will explore with breath and sound play, sensing, feeling, micro-movement, expressive movement, and deep stillness.
Beginners are welcome anytime.
Tuesday eves, 6-8 pm Jan 2-Mar 6
Every Thursday 10 am-12 pm
Drop-ins welcome to ALL classes.
Fees for 2018:
$30/single class
$130/ 5 class series
Pre-registration via email or phone 24 hours in advance is appreciated but not necessary.
TO REGISTER via email or phone contact:
mary@movingbodyresources.com

or 212-206-7542
Somatic Solstice Mat classes emphasize the subjective experience of embodiment by inquiring into the potential space inside and outside of the body with playful awareness. Through this approach we lean into greater connectivity, fluid resilience and functional integrity. Simple user-friendly exercises elicit healthy movement patterns that stimulate, massage and hydrate the soft tissues and the nervous system. This class cultivates a level of body intelligence and fitness that will continue to support your agility throughout life. Drawn from diverse movement forms including Ballet, Pilates, Yoga, Dance, Laban Movement Analysis, Bartenieff Fundamentals, Sounding, Continuum Movement, and Connective Tissue Therapy, there is balance of specific form-based exercise and non-judgmental free moving improvisational work. IT SHOULD BE FUN and FEEL GOOD!
No prior experience required. This is appropriate for all levels, ages and body types.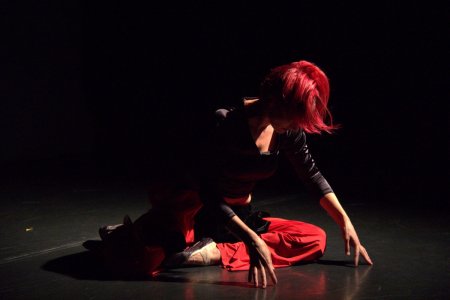 To register, or for more information:
646-241-8254
laura@lauravward.com
http://www.lauravward.com/classes.html
Moving Body Salons of 2018 begin...
Friday February 9
7pm
These evening events create a space for artists and audiences to informally gather,
in real time,
offering and receiving unique expressions of all the ways we create meaning through this wild and precious life.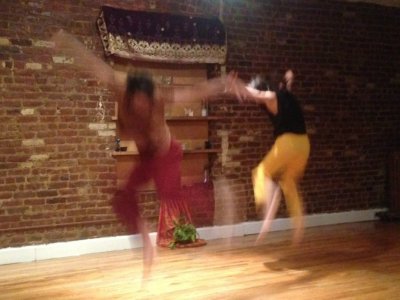 February 9th will include performances by:
Jennifer Moloney, Dance
David Belmont, Reading
Norman Salant, Music
Suggested Donation: $10-$20/person
Bring snacks & a beverage (or more)
TOUCHING THE SURFACE,
FEELING THE DEPTHS:
Continuum and the Joy of Contact
Taught by Mary Abrams
Saturday, Feb 17, 2018
1 – 6 pm
Soma Yoga Center
511 Raritan Ave, Highland Park, NJ 08904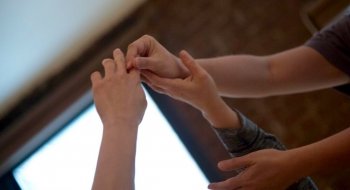 To thrive as humans we are in constant skin contact with our world. We know the support and healing gifts and creative play of touch first with our early caregivers, then with playmates and/or siblings, and eventually as adults with trusted loved ones or bodywork professionals. Deep calmness and satisfaction can awaken in one's nervous system when they experience considerate, listening, and playful touch. When one experiences interested attention through trusted touch, joy and self-recognition can flow freely.
This workshop explores ways to experience integrity and intimacy by developing "body listening" skills through breath/sound and the fluid resonance of Continuum, and by moving with body to body contact. We will explore spontaneous movement expression individually, with partners, and in small groups to awaken our capacity for being with each other in genuine moments of moving, feeling, and expressing. We will also include verbal exchange using compassionate self-reflective awareness, to expand our possibilities for discovering new meaning and for building community through moving, touching, and being touched.
To register contact:
Bobbie Ellis, Somactr@aol.com
732-777-9642
STILLPOINT Presents
Professional Training in
Craniosacral Biodynamics

Taught by Franklyn Sills, Christina Morrow,
Shannon Dailey and Clara Favale
Module 3: The Heart of Healing:
the Neutral and the State of Balance
Feb 21 – Feb 25
http://www.stillpointcst.com/
Stillpoint CST is proud to present this practitioner training in Biodynamic Craniosacral Therapy consisting of ten five-day modules. Franklyn Sills is the course director and will be joining us in person to teach two of the ten modules, teleconferencing additional live lectures. The teaching team for this training will also include Shannon Dailey, Clara Favale and Christina Morrow who have been assisting and teaching with Franklyn since 2007 and have over 50 years combined BCST experience.
Biodynamic Craniosacral Therapy is a deep listening to forces that have effected the client's system from the time of conception onward. Healing can occur in the present moment as the practitioner orients to the forces organizing the human system allowing healing intentions to unfold. Students will learn to hold these process which are based in anatomy and physiology of the human body and the deeper universal forces that support life through clearly defined palpation and therapeutic skills. This training will provide an integrated approach that includes the insights of many innovators in the field, influences from other relevant fields, and the healing principles of the Breath of Life and its manifestation in the human system.
Successful completion of this training leads to a diploma in Biodynamic Craniosacral Therapy and eligibility for accreditation by these associations. The training is also affiliated with other biodynamic training institutions worldwide via the IABT, the International Affiliation of Biodynamic Trainings, and confers the graduate designations of RCST and BCST upon successful completion of the training.
Purpose of the Training
To provide an integrated training in Craniosacral Biodynamics that includes the insights of many practitioners in the field, with influences from other relevant fields, and which clearly orients to the healing principles of the Breath of Life and its manifestation in the human system

To provide an in depth understanding and appreciation of these principles and to be able to safely apply them within a clinical context

To teach, within this context, clearly defined palpation and therapeutic skills with the ability to apply these skills in a clinical context

To nurture and encourage the personal development of both tutor and student alike

To graduate skilled, safe and therapeutically effective practitioners
For more information, prerequisites, and to request an application please contact Clara Favale
cfavale@stillpointcst.com
212.532.8539
Taught by Sherah Sydney


Power Yoga Challenge and Condition
Wednesdays 6:30pm - 7:30pm

Hatha Yoga Mend & Melt
Saturdays 4:30pm - 5:30pm

From the beautiful Island of Barbados, Yogacharya Sherah Sydney began her personal yoga journey as a teenager, then later in the 1990s her curiosity led her to exploring & connecting with yoga teachers & communities worldwide. As her interest grew stronger, her passion took shape on another level in 2004 - when she deepened her connection to the practice - by obtaining her teacher certification - under the skilled guidance & leadership of Kavi Yogiraj Alan Finger- of "Be Yoga's" 5th Ave Studio - which today, is known throughout Manhattan as "Yoga Works".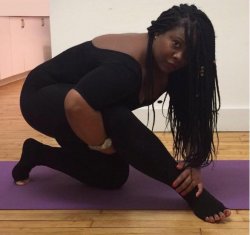 Her yoga interests and studies include Hatha, Vinyasa, Astanga + Iyengar and the base root of her teaching style - affectionately known as ISHTA - was created by Kavi Yogiraj Alan Finger - as a blending of the ancient & contemporary sciences of Hatha, Tantra & Ayurveda. Sherah is a highly spiritual artist and an executive within Manhattan's lighting design industry.


"Life By Yoga" - Is a gentle reminder for us all, to bring into life - into our spaces & exchanges - that same essence and quality one brings to the yoga mat. Focus, sincerity, gratitude, regard, compassion, peace, integrity, kindness, humility. Together Sherah and her special team members create a "no pressure - no pretense" environment - which really supports students in their own process of letting go. Passers by can often hear bouts of laughter behind closed doors while classes are in session. There is never a dull moment and quiet times are savored. Her students describe her classes as exciting, fulfilling & addictive. When asked what she loves the most about teaching yoga? Sherah's response is - "In our classes I gather with some amazing friends to pause, share, teach, laugh, meditate, unplug, learn, love, uplift, reflect, listen and repeat" - followed by her well known 100 watt smile.

For more information contact Elizabeth Polanco / Sherah Sydney:

http://www.lifebyyoga.com/
info@Lifebyyoga.com
(646) 698-8493
MARTIAL ARTS LAB
with Gregory Soon

Taught by Gregory Soon
Mondays 6pm – 7:30pm
Fee: $20 per class
Please pre-register:
(646) 209-5373
Email: soonaiki@gmail.com
This class is based on the Martial Arts of Boxing, Wrestling
and Aikido:
The Martial Arts Lab is designed introduce self-defense techniques and skill to new students and may enhance the training and practice of experienced martial artists.
This class is non-competitive and open to men and women of any age.
(If you are able to perform a squat and to bend down to touch your toes you will be able to do the techniques in this class!).
Videos:

https://youtu.be/4Q6vx454Wi8
https://youtu.be/4-PMRaTc-fU

https://youtu.be/R9XcgJdXBU4
Each class will focus on a different theme and technique.
Techniques will be broken down to clear step-by-step detail.
Everyone will get to practice the technique with a training partner.
For more information visit:
http://www.gregsoon.com
MBR has wonderful spaces
for teaching
and healing arts
of all kinds.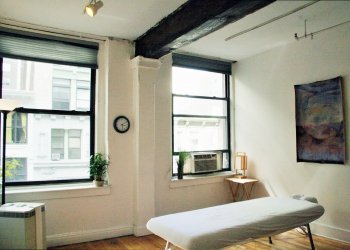 MBR has 3 office spaces and 2 group spaces available by the hour and by the day. Any space can be rented for one time, one hour, a few hours, a full day, an entire weekend, or for ongoing classes.
Our 3 offices are ideal for a variety of private practice sessions. Our 2 group studios -- 400 sq. ft. Small Studio and 1300 sq. ft. Large Studio -- are great for classes, workshops, and other group events.
The more you rent, the better your deal!
Office rates begin at $30/hr for 2018.
Movement Studio rates range from $47 to $130 / hour.
Email:

services@movingbodyresources.com


or
call Greg at (212) 206-7542 - Mailbox option 2
Please Note: If you contact us after

7 pm

, on weekends, or at short notice please email rather than call.
Photo by Barbara Schaefer
112 West 27th Street. Suite 402.
New York, NY 10001.
(Between 6th and 7th Ave)
Phone: (212) 206-7542

services@movingbodyresources.com