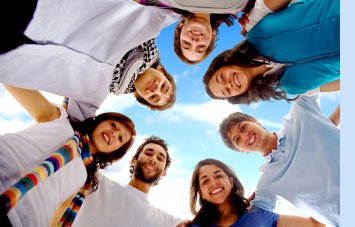 CHURCH SERVICE:
7
:00 - 8:00PM
Our Church Service will be led by Ordained Spiritualist Ministers and/or board-approved Advanced Seminary Students from Holistic Studies Institute of New York. Each of our service is unique with a theme: please visit our website for more details.
FELLOWSHIP TIME:
8
:00 - 8:05PM
Catch up with your friends and meet new members!
MESSAGE CIRCLE (OPEN SEANCE):
8
:05 - 9:10PM (Approximately)
Following the fellowship break, we will hold a Message Circle, which is open to the public. The circle is held in our church sanctuary, where chairs are arranged in a circle. Each week, one or two of our Certified Seance Conductors will lead the circle giving messages to you from those who have crossed over.
In these circles we will learn how to expand our consciousness beyond the physical world to encompass an awareness of the Spirit World and Spirit People. We receive messages, impressions and communication from our spirit loved-ones and friends. If you believe that life goes on, that there is another dimension and that given the right conditions one may receive information from that special place, then our Open Seance is just the right place for you.
The cost for the Message Circle is $20 a person. Please visit our website for complete information. Please also note: we may cancel the circle without notice if the number of attendees is less than 4 people.
VISIT OUR SEANCE PAGE