David Carpio "Con la voz en la tierra"
Daniel Doña Compañía de Danza Española
"No Pausa"
Text: Estela Zatania
Photos: Ana Palma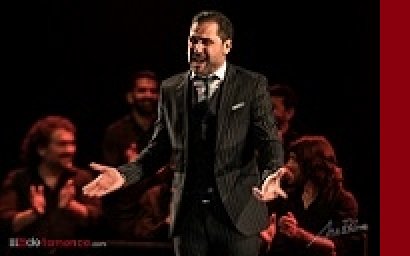 El Malacate Flamenco con Raúl Rodríguez

Cartel del homenaje al bailaor 'Carrete de Málaga' que celebra, el miércoles 9 de mayo de 2018, en el teatro Cervantes de Málaga
Señorialmente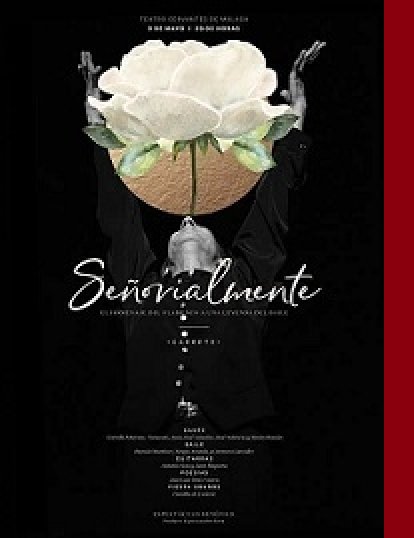 Una cita muy especial con un genio de la guitarra. Será un auténtico placer para mí dar un recital con un artista de la talla de Diego del Morao en Huelva.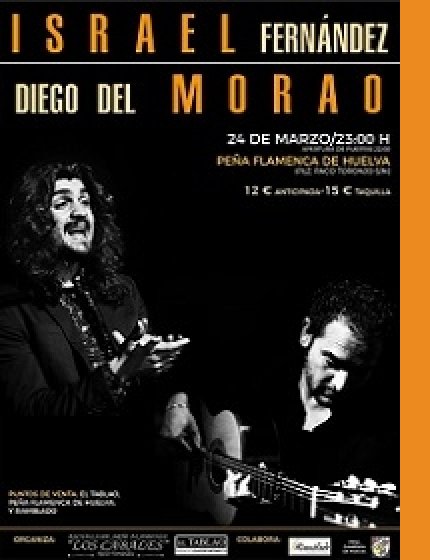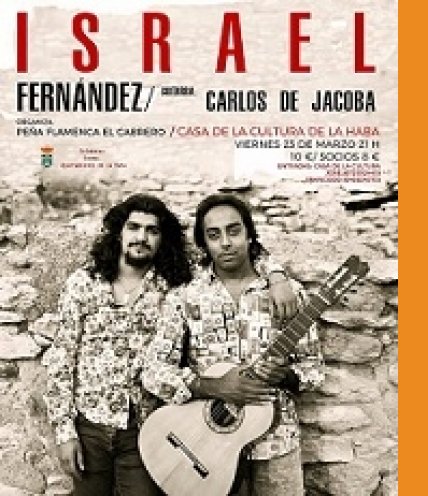 El Baile y el Cante por Bulería

Almería, actuación 17 de marzo en el Audio Maestro Padilla y el 18 curso en la escuela de nuestra amada Ana Alonso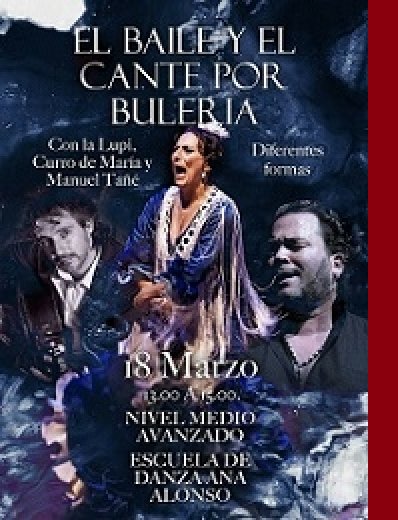 Festival Flamenco Beziers

The North-Coastal Way of Saint James

Sevilla Congress & Convention Bureau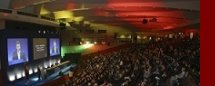 Contact us! Our team will assist you to ensure the success of your event in Seville.

'Andalusian Voces' y La Farruca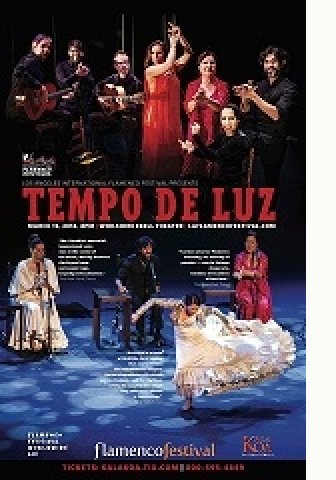 THIS WEEK!
Thurs., March 15, 2018 Wilshire Ebell Theatre,

4401 West 8th St, Los Angeles, CA 90005

~ Andalusian Voices featuring CARMEN LINARES, ARCÁNGEL, MARINA HEREDIA on sale now! http://kalakoa.tix.com/

Friday, March 16, 2018 ~ Rosario Montoya "La Farruca" is coming to L.A.! Tickets Click Here!

Granada Super Star Iván Vargas Comes to San Pedro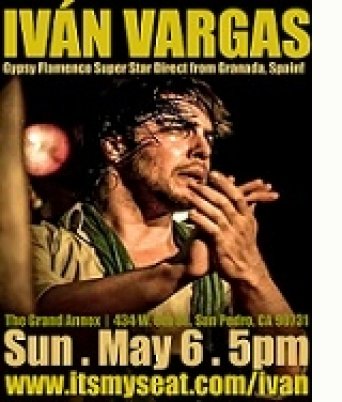 'CUMBRE FLAMENCA'
SUN., MAY 6 at 5:00 PM
The Grand Annex, 434 W. 6th St., San Pedro, CA 90731
Vida Flamenca is proud to present for one show only, Gypsy Super Star IVÁN VARGAS from Granada, Spain for a rare evening of exhilarating flamenco direct from the caves of the Sacromonte deep in heart of Andalucía. TICKETS

Forever Flamenco with La Chimi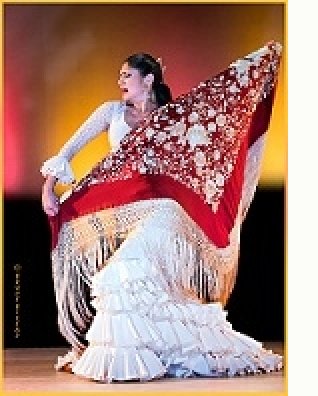 Sunday, March 25, 8pm
The queen of SoCal flamenco herself! Lakshmi Basile "La Chimi" is a huge talent and a lightning rod of Flamenco artistry. An international sensation, Lakshmi performs all over the globe to legions of adoring fans. Don't miss this opportunity to see her up close and personal at Forever Flamenco. Fountain Theatre, 5060 Fountain Ave., L.A., CA 90029 TICKETS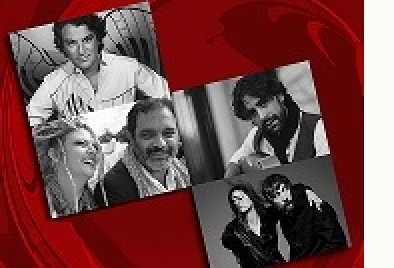 Sunday, March 25, 6pm
The program features several of Spain's most celebrated talents in the Flamenco genre: master pianist Dorantes, as well as acclaimed contemporary artists Daniel Casares, Naike y Paquete, vocalist Rosalía and guitarist Raül Refree with the support of AC/E at Miami Dade County Auditorium. Tickets!

'Herencia Flamenca' with Paco & Yolanda Arroyo in Los Angeles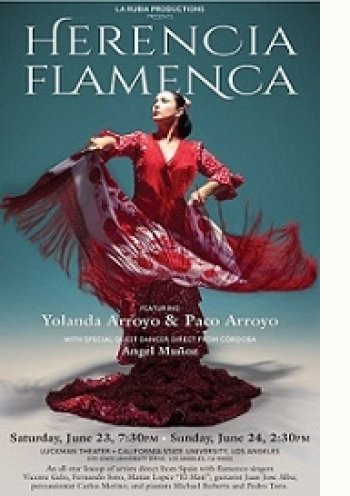 Save-the-Dates!
HERENCIA FLAMENCA
With Paco & Yolanda Arroyo
Guest Dancer Angel Mu

ñ

oz
Sat., June 23, 7:30pm
Sun., June 24, 2:30pm
Full company from Spain!
Luckman Theatre, Cal State L.A.
STAY TUNED!
Private Flamenco Instruction/Glendale Studio. More Information contact:

Yolanda: (818) 507-4426;
Paco:
(818) 974-3208;
ArroyoEmail
Website: http://flamencoarroyo.com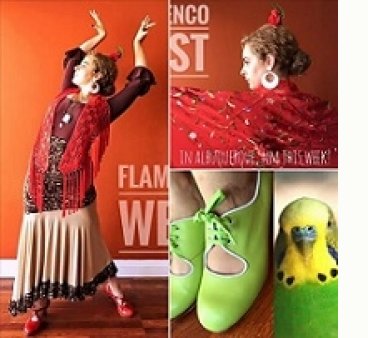 Flamenco West is proud to be the exclusive U.S. distributor of Senovilla Artesano flamenco dance shoes. In addition, we carry an full selection of flamenco dance clothing and accessories including skirts, shawls, castanets, and more.

We are located in Playa del Rey and are open by appointment only. Visit us HERE or call 310.305.7661 to schedule a visit.

Juan Talavera Flamenco Classes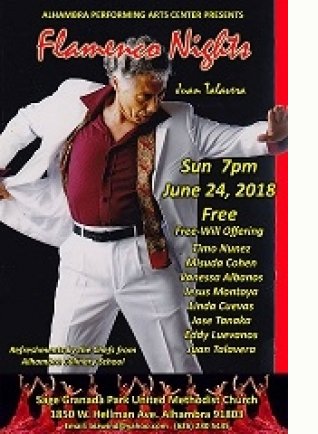 Professional Flamenco Performers available for your Fiestas!
Saturdays:
Beginners

10:30am


Intermediate:

11:30am


Sundays: Performance Class:

2pm

//Adults/Kids 12 1/2 or Older.
Information:

562-341-3738

,


Theflamencoman1@gmail.com



Flamenco Nights Show
Sun., June 24, 7pm / Free

With Maestro Juan Talavera
Guest Dancer Timo Nu

ñ

ez
Sage Granada Park Methodist Church, 1850 W. Hellman Ave., Alhambra, CA 91803 / Call for info: 626.230.5435

Flamenco Amaral 2018
New Classes! Jan. 6 - Mar. 31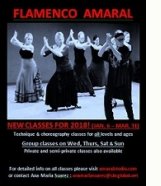 NEW CLASSES FOR 2018! *Technique & choreography classes for all levels and ages
*Group classes on Wed, Thurs, Sat & Sun
*Private and semi-private classes also available

For detailed info on all classes please visit amaralstudio.com or contact Ana Maria Suarez Here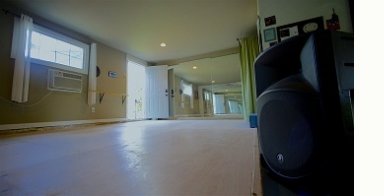 The preferred studio by Maria Juncal!
This beautiful North Hollywood studio was built with Flamenco in mind! The perfect space for rehearsals, semi-privates and small groups.
- 250 sq ft WHOLE WOOD FLOOR
- THUMP 15 SPEAKER
- DON'T SWEAT IT, WE HAVE A/C!
- OPEN 24/7, AMPLE PARKING IN A FRIENDLY NEIGHBORHOOD
- AFFORDABLE PRICES
Angelita Agujetas @ Costa Brava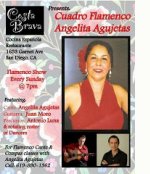 Sundays at 7pm

Costa Brava Restaurant is proud to present Aires del Sur Flamenco!


1653 Garnet Ave, San Diego, CA 92109 -- Hours: 11:00am to 12am