April 27:
Hairball Awareness Day
Why do Hairballs Get a Day?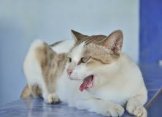 Yes, there's a whole day dedicated to undigested fur, gross. For most cats, especially the longhaired variety, a hairball every now and then is normal, and there's no need for alarm.

When your cat grooms himself his barbed tongue pulls out loose hair, which is eventually swallowed. The fur can then collect in the stomach or intestine, forming a hairball. It will typically pass through the digestive tract without incident.

You should be concerned, if your cat repeatedly goes through the motions of hacking up a hairball, without anything to show for it.

Cats with obstructions may vomit clear or yellowish stomach fluids or bring up undigested food several hours after eating. They can also have diarrhea, refuse to eat and become lethargic. If your cat shows any of these signs, call us immediately to schedule an appointment with Dr. Daniels.

Another thing to be aware of is
if you're finding more hairballs than usual (more than two to three a week) it may be a sign that your cat is grooming excessively, which can result from underlying skin conditions, parasites or behavioral conditions. This also warrants an appointment with Dr. Daniels.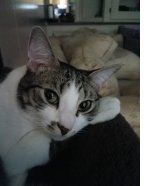 I am a two-year-old who beauty who was happily adopted by my mom. My favorite things to play with are mom's toes! She says I am very good at playing hide and seek in the shower. So, you want to know my most embarrassing moment? I can't think of one for I am a warrior feline! Shhh...don't tell Dr. Daniels but my favorite treat is liver sausage. Mom admits that I am so spoiled that I get to sleep anywhere I want, so there!

We would love to save you some time. If you need a refill for your pet's medications please call or email ahead of time and we will have the medications filled and ready for faster pick up.
Why is Flea Prevention Important?
As the weather heats up the flea population increases too. Fleas and ticks unfortunately find their forever homes on our pets. Preventing fleas and ticks has come a long way with topical products that can be applied as often as monthly or oral pills that are both tasty and effective at eliminating many life stages of the flea and tick.

What are Fleas? Fleas are tiny parasites that require the blood meal of a mammal or bird to survive and reproduce. They need warm, humid temperatures to thrive, which is why we have to be diligent with prevention in Florida.

At Largo Veterinary Hospital we recommend:

Advantage Multi which is flea & heartworm prevention in a topical for both dogs and cats and last for 4 weeks.
Trifexis which is chewable tablet for fleas & heartworm prevention for dogs.
Bravecto for flea prevention. It is a chewable chew tab for dogs and topical for cats. It last for 3 months. We are having great success with this product, but the pet will need additional prevention for heartworms.
Remember over the counter products, like flea collars, can not only be ineffective but dangerous to pets. Effective flea preventatives work by sterilizing the adult flea, others work via overstimulating the flea central nervous system. Treated hairs can also work to kill larva and eggs in the environment.

Signs of a flea problem are itching or biting near the tail base and evidence of a black pepper-like granule (flea poop) in the fur that turns reddish on a damp paper towel. That red coloration is digested blood. Fleas can cause an allergic response to their saliva in some dogs; one bite can cause severe hair loss and scratching. A heavy infestation can lead to low red blood cell count, transmission of tapeworms, or deadly diseases.


3 Actions for Pet Owners on
Earth Day
Earth Day is celebrated by over a billion people in hundreds of countries around the globe. By celebrating Earth Day we join with others and share our common reverence and respect for this beautiful but fragile planet.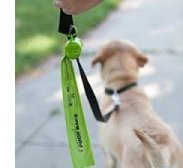 WASTE NOT
America's dogs and cats produce approximately ten million tons of waste per year. A lot of it ends up in landfill sites, tied up in plastic bags that won't break down for years. Cat owners can invest in a biodegradable litter such as wheat, corn or pine Basically, avoid traditional clay products. Dog owners should look for eco-friendly poop bags that will decompose naturally. Also, consider investing in a green waste digester that you bury in your yard like a septic tank. These products reduce dog waste to a ground absorbing liquid.

GET FESTIVE
Celebrate Earth Day this year by participating or organizing an environmental event! On April 21, St. Petersburg will celebrate Earth Day with a community celebration to be held in Historic Williams Park. 10A-5P This free event is hosted in hopes to present a true community event with a focus on green businesses, environmental activists, and family focused activities that foster a deep appreciation for the planet we call home. http://www.earthdaysp.com/

Spring Ecofest Saturday, April 7 at 10 AM - 3 PM
Celebrate Earth Day early at this free event with children's activities, music, wildlife exhibits, information on recycling, guest speakers, a free tree give-a-way and food vendors. George C. McGough Nature Park, 11901 146th St. N, Largo.

CLEAN GREEN
Commercial household cleaners often contain chemicals that are extremely harmful to Mother Earth, not to mention you and your animals. Preserve the planet and protect your pets by buying all-natural products, or make your own cleaning concoctions with ingredients such as vinegar and essential oils. When it comes to cleaning your pet, commercial shampoos are hard on his skin – and the water table. Use non-toxic, organic shampoos and conditioners.


How to Transition Your Cat to Using a New Litter
Cats can be set in their ways and getting them to use a new cat litter may not be easy. The best way to transition to a different litter is to do it over a period of 7-10 days by adding small amounts of the new litter to the old until you have transitioned over completely.

Fill the clean, empty cat litter box with 2" of new biodegradeable litter.
Pour 1" of the old litter on top
Let your cat mix the litters until pleased.
Next time you clean the litter box entirely, fill more of the new litter with less of the old on top until your cat has adjusted to the change.
If your cat stands firm and starts litter box avoidance, allow your cat to "audition" litters by simultaneously putting down three or four boxes with different litters in each one and see if she prefers one over another. It's a good idea to use biodegradable throwaway litter boxes for this exercise.