Meet Lucy Campbell Our 2018 Pet of the Month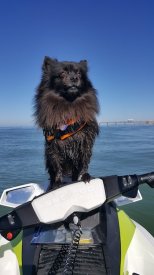 My name is Lucy and I am a 7-year-old Pomeranian and I was rescued by my dad Dennis. My most favorite thing to do is ride on the Jet Ski. That's right I am a jet skiing pup! Dad takes me out for rides often and I am a pro rider. I am kind of a big deal, all the regulars at Clearwater Beach know me. I get my own bar stool and a cup of whipped cream at each stop that we make. Don't tell Dr. Daniels about the whipped cream cups or that dad gives me a little bite of most of his food. At home I can be mischievous and determined. I have to tear out those darn squeaky pods inside my toys! Dad spoils me so much that I can sleep anywhere I please.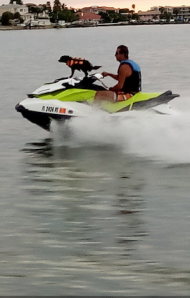 Are you signed up for our FREE REWARDS program?
Are you signed up for our
1000 points = $25 credit to your account
Activating your account automatically gives you 200 points. Every dollar you spend on services or products = 1 point
There are more ways to earn points too, once you sign up we'll email you all the details! How do you sign up? Activate your VetScene Portal here:

Join the Fun & Follow Us On Social Media

The Perks to Having Pet Insurance
There's no denying that most of us consider our pets part of the family. We take time to consider is they like their food, their beds, their toys and much more. Being able to get them any care they might need is certainly something that matters to us too. There are many benefits of pet insurance. Check out the insurance perks below and decide if it make sense for you and your pet?

Peace of Mind
There will be no guilt when you know your pet needs medical attention but you're worried about cost. Pet insurance gives families peace of mind because they can take their beloved pets in for the care they need, and families don't have to choose cheap care that may do more harm than good. Most pet insurance policies reimburse families 80% of costs after the deductible is met, and some even reimburse 90-100%.

You Can Pick Your Own Vet
This is helpful for those who travel with their pets, and it's also helpful for those who move often for work. Regardless of why you might change vets, with pet insurance, you can do so without worrying about being charged more for out-of-network visits.

No Age or Breed Restrictions
You should insure you pet as soon as possible to limit any denied preexisting conditions. Also prices vary based on breed and age, for example many purebred dogs and cats are more expensive because they are susceptible to hereditary conditions. If you're adopting a pet, have your vet check them out, and then once you get the clean bill of health, insure them.

Pet Care Costs Easily Budgeted
Pet insurance policies can be paid monthly, quarterly, semi-annually, or annually, and you can decide which payment plan works best for you. Because you get to decide, it's easy to budget those costs. Based on your preferences, you'll know exactly how much to pay, when to pay, and how to pay. There are also options to help lowers costs, as well. For example, most insurance companies offer discounts when you insure more than one pet with them.


For costs and comparisons visit the links below.


At Largo Veterinary Hospital we recommend:


May 12th is Disaster Preparedness Day
Living in Florida we need to be prepared for Hurricane Season and that includes making sure our pets are prepared too. Get your pets caught up on vaccines for boarding/travel/hurricane evacuations. You can sign up for Vetscene and have access to your pets medical records at all times. Other important preparations include:

Stock Up on Survival Gear:

Assorted bandages, gauze rolls and pads
Antiseptic
Pet carrier
Towels and blankets
Pet food
Bottled water
Collapsible pet bowls
Leash or harness (Even for cats!)
Medications
Medical, microchip and adoption records, in a Ziploc
Numbers for local shelters, vets
Current photo of your pet
Practice Makes Perfect:

During a natural disaster, tensions will be running high. In an emergency situation or natural disaster, stress and emotions run high. Know where to go if an evacuation order is given and what to pack; use this tool to find your nearest Red Cross emergency shelter . "If you evacuate your home, DO NOT LEAVE YOUR PETS BEHIND!" says FEMA. "Pets most likely cannot survive on their own and if by some remote chance they do, you may not be able to find them when you return."

Visit our website for a review of your evacuation zone, pet friendly shelters, and how to keep your pets calm during a storm.


5 Beach Safety Tips for Pet Owners
Is your dog a beach bum? Take the right precautions to keep your pet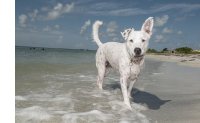 safe on land and water.
Not all dogs are natural swimmers: Although some dogs seem to be natural swimmers, flat-nosed and barrel-chested breeds, like Bulldogs, have a hard time staying afloat. Consider a life vest, and never leave your pup unsupervised in or near the water.
Don't skip the sunscreen: Dogs with pink or light-colored noses or thin, short coats are at a higher risk of developing sunburn and skin cancer. Dogs who have hair loss or who expose the bare skin of their bellies to the sun could use a little sunscreen too. Since human sunscreens can contain ingredients that shouldn't be ingested by dogs, look for a fragrance-free pet sunscreen or a sunblock with broad spectrum UVA and UVB barriers. Apply the sunscreen to vulnerable areas, such as the nose, ear tips and belly. Also, try to keep your dog from licking it off before it fully soaks in.
Dead fish, not a safe snack: Don't let your dog eat dead fish that have been washed up on the beach. These may contain potentially deadly toxins.
Beware of strong tides and rolling waves: Even for dogs that are strong swimmers, be careful on windy days when the waves are high and make sure your dog doesn't venture too far out. Consider buying a life vest for your dog.
Salt poisoning: If you notice your dog lapping up sea water, stop them! The salt, bacteria and parasites in the water can make them sick. To prevent your dog from drinking salt water, make sure you have plenty of fresh water on hand to give them throughout the day.