So.... you just jumped in here the read the "blues news" but I am mixing it up saying "New Blues." What the heck does THAT mean? Well, as Ozark Blues Society Strives to "Keep the Blues Alive" we most certainly want to support and admire the blues greats of the past as well as the shrinking number of older masters we still have among us today. However, for the blues to stay alive we need an infusion of young talented musicians who L-O-V-E and live the blues. This weekend at the Meteor Guitar Gallery in Bentonville you will find an event that brings in just such a touch. Read on below for information about the amazing artists who will be performing as well as ticket options.
Last week I shared about decisions made at the board level relating to Newsletter content. One additional part of that topic I did not cover is our ongoing desire to engage our readers, musicians and fans by inviting submissions for publication. Do you have a band or album you would like to review? What about a local, regional, or national event you attended? Or, maybe you have a piece of blues history you would like to share. Our readers would love to hear about it! Please consider how you might contribute. For more information about how to get involved, email SANDY
We LOVE our readers and want to see your ideas included!
As always,you can email me anytime at:
STARTS TONIGHT!

Blues Weekend

Some things just come together to become a don't miss event. This weekend YOU have the opportunity to be a part of such an event. Interested? Read on....


METEOR GUITAR GALLERY HOSTS BENTONVILLE BLUES WEEKEND
The blues arrives in Bentonville this weekend with a two-night showcase highlighting local, Texas, and Mississippi Delta blues talent at the newly renovated Meteor Guitar Gallery.
Tonight, May 11, opener Tony Redman, a fixture on the Austin, Texas blues scene and winner in the solo/duo category of the 2017 Ozark Blues Society's Blues Challenge, will deliver deep roots blues from his own hand-made steel body guitars.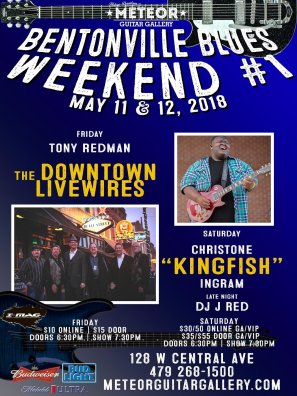 Later, Bentonville's own Downtown Livewires, band category winners of the 2017 Ozark Blues Society's Challenge, promise to set the weekend off with a high-energy show featuring fiery originals and well-chosen covers.
Tickets for this show are just $10 online
or $15 at the door.
The music continues Saturday night with a very special appearance by Clarksdale, Mississippi's newest blues sensation, Christone "Kingfish" Ingram. Ingram cut his teeth as a young teenager backing Bill "Howl-N-Madd" Perry at the venerable Ground Zero club in Clarksdale, and is widely regarded as a premier voice in
the next generation of blues artists. Ingram has been prominently featured in Living Blues magazine and just last year, played the Chicago Blues Festival, headlined the North City Jazz and Blues Festival in Kosovo, and opened shows for the legendary Buddy Guy. VIP tickets for this show allow for early entry, a meet and greet with the artist, and first choice of floor or balcony seating.
Tickets for Saturday start at $30, with doors opening at 6:30 and show at 7:30.
These shows at the Meteor Guitar Gallery promise a nice warmup for next month's Eureka Springs Blues Festival and are certain to ignite the region's budding music scene. More information and tickets available at: http://www.meteorguitargallery.com
The International Songwriting Competition (ISC)
April 20, 2018 -- The International Songwriting Competition (ISC), widely recognized as the most prestigious and respected songwriting competition in the world, is pleased to announce its 2017 winners. Created in 2002, ISC received more than 16,000 entries from almost 140 countries. Total prizes include more than $175,000 in cash and merchandise, including a Grand Prize consisting of $25,000 in cash (USD) and over $35,000 in additional prizes.
The Grand Prize winners this year are Nicholas Miller (better known as Illenium), Annika Wells, Kate Morgan, and Michael Biancaniello for the EDM song "Crawl Outta Love Ft. Annika Wells."
Taking home First Place in the Blues category are Thornetta Davis, Brett Lucas, and Phillip Hale (Detroit, MI, USA) for the song "I Believe (Everything Gonna Be Alright)." Second Place is awarded to Jeff Schroedl and Jeff Taylor of The Altered Five Blues Band (Waukesha, WI, USA) for "Cookin' In Your Kitchen," and Third Place goes to Jimmy Zee (The Jimmy Zee Band) (Vancouver, BC, Canada) for "Backroads."
"All of the winners are so accomplished, and we are proud to honor them and celebrate the traditions of the Blues genre," says ISC Founder and Director, Candace Avery. "These artists will will inspire younger artists and are destined to become a part of the legacy of Blues music."
ISC winners hail from all over the world (61% of this year's winners come from outside the USA) and range from talented amateurs to seasoned songwriting veterans. The 23 categories include all genres of contemporary music, from EDM to rock to pop to jazz to R&B/Hip-Hop and more.
Judges Include John Mayall, Walter Trout, Joe Louis Walker, Booker T. Jones, Bruce Iglauer (Founder/President, Alligator Records), And More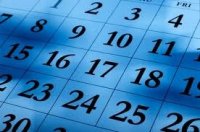 5/11 - 5/19

Please enjoy the following listings comprised of bands, venues, and/or organizations that support Ozark Blues Society. Always check with individual venues for event details and schedule changes.
5.
11
5.12
Tony Redman at Core Public House in Springdale

Primus and Mastodon at the AMP in Rogers

Bentonville Blues Weekend featuring Christone "Kingfish" Ingram at The Meteor Guitar Gallery in Bentonville

Dane Joneshill at Bike Rack Brewing in Bentonville

Tony Alvarez at Ramo d' Olivo in Bentinville

Candy Lee at Bentonville Pub in Bentonville
5.13
Gospel Brunch with Brick Fields at Hoppin' John's in Fayetteville
5.14
Pickin' Circle at Bentonville Pub in Bentpnville

Copelin Bates at JJ's Grill and Chill in Bella Vista
5.15
5.16
Blues Therapy with Brick Fields at Moranos in Fayetteville

Opera Fayetteville: Opera in Bloom at the Fayetteville Public Library


Sound of Music at WAC in Fayetteville
5.17
Isayah's Allstars at Kingfish in Fayetteville

Roby Pantall Jazz Duo at Sassafras Vineyard in Fayetteville

Paa Kow at The Meteor Guitar Gallery in Bentonville

Fett's Folly for Notes at Night at Fred's Hickory Inn in Bentonville

Rock and Splash with School of Rock at Splash Park/Lawrence Plaza in Bentonville
5.18
Earl and Them for H

appy Hour at George's Majestic Lounge in Fayetteville

Rachel Field at Ramo 'd Olivo in Bentonville

Dance Night-Salsa Beats at Crystal Bridges in Bentonville

Rozenbridge at ALOFT Hotel in Rogers/Bentonville

Steve Dimmitt at JJ's Grill and Chill in Fort Smith

5/18 Brandon Santini at Warren's Rec Room
5.19
Brick Fields at Kingfish Bar in Fayetteville

The Lark and the Loon

at Ramo d' Olivo in Bentonville

Kirk Brown Band at Dead Cow Saloon in Carterville Missouri
6/7 Crusade and The Big Hog Band at Sunrise Stage in Fayetteville

Creed Bratton at the Meteor Guitar Gallery in Bentonville

6/9 Funky Knuckles at Sunrise Stage in Fayetteville

6/19 Ozark Regional Songwriters Assoc. Showcase at Sunrise in Fayetteville

6/29 David Starr with special guest Ben Harris at Sunrise Guitars in Fayetteville

7/5 Crusade and The Big Hog Band at Sunrise Stage in Fayetteville

Today's show features music performed by Victoria Spivey,
Louis Armstrong, and Henry Gray

"There are some people that if they don't know, you can't tell 'em.
"
Blues Education Supporters
Thanks to the following for their support of blues education.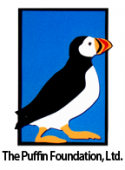 Check Out these regular local radio programs

"The Generic Blues Show" hosted by Paul Kelso airs every Friday night at 9pm on KUAF 91.3FM
Rockin' Hog Radio presents "Sunday Morning Blues" from 8am to 10am every Sunday
LINK
Get Involved with the Ozark Blues Society

Annual membership levels begin at $15 and give you so much in return, including meeting new friends while enjoying the best blues artists in the area.
By being a member of The Ozark Blues Society of Northwest Arkansas, you are helping to support the Arts and to preserve the Original American Art Form known as The Blues.
Membership Benefits Include:
Weekly E-newsletter
Opportunities to win tickets to events
VIP seating at events (when available)
Discounts on OBS merchandise
Social networking – meeting other people who also love the blues
Opportunities to volunteer on OBS committees and at events
Ability to attend board meetings and vote on upcoming organizational issues and elections
Visit our Website to renew or join! Ozarkbluessociety.org