Illuminating the Mysteries of the Heart
with Sacred Oils, Sound & Journey
with Maya, Irma & Judith
Aug. 8th * 7 pm - 9:30 pm
The Art of Anointing through Oil, Sound & Cosmic Journey.
Pure essence oils of flowers offer us illuminating sacred tools for the Heart in this time of Awakening our Humanity, with Earth & Greater Mysteries.
In this Sacred Circle we will explore the art of anointing ourselves and each other with 3 precious floral oils: Violet, Rose & Blue Lotus. These powerful plant spirit essences have offered their deep healing wisdom since ancient times.
We journey within our inner temple of light and our heart chamber to assist us with the relationship of ourselves as well as others. We will extend our light body and activate alignment to our passions and their meanings to our precious self and our cosmic relationships. As we enter within our hearts to become transparent and allow sacred alchemy to begin to blossom and explore that which is unexplained be revealed.


We are grateful to have these oils and receive their gifts for assisting us as expand our awareness and align body, heart & soul.
We may also be calling on several sacred blends for the Heart including Oil of Mary & Oil of Magdalene.
* There will be also a set of oils for purchase, if you would like to take some home with you.
To Register: email shamanicfirereiki@gmail.com
Location:
SFR Soul Haven,
56 West 45th Street, Suite 1703
Cost: $40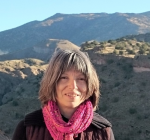 Maya Minwah is the creator of Mayasblends Aromatherapy for Awakening, inspired by her passion for working with the vital energy of plants and trees.
She is certified in aromatherapy, and a practitioner of shamanic aromatherapy energy healing for over 20 years. A poet and mystic, she has traveled on sacred journeys to Bimini, the Yucatan, Northwest & Southwest US, and Peru, and currently lives in Northeast PA, where she offers consultations, sessions and sacred circles. Contact: maya@mayasblends.com