Herbal and Plant Spirit Medicine
With Cristina Maria RojasFernandez, Humming Bird Medicine
Do you desire to learn the language and spirit of plants? Want to gain this consciousness through your unique understanding and traditional ways? Are you called to receive the healing magick and wisdom of Earth Medicines…
Spirit Medicine Making Workshop ~ NYC
S

at. & Sun.

Nov. 10th & 11th
10:00 am - 5:00 pm
Cost: $333
Indigenous, Earth Spirit & Shamanic Traditions
Energy & Vibrational Medicines
Ascension Medicine & Social Sciences
Herbs, Plants & Tools Included
Rattle, Prayer, Journey, Sound/Icaros/Song
*Bring your Medicine Rattle*
You leave with a clear understanding &
connection on how to practice the sacred ways of
Herbal
and
Plant Spirit Medicine.
The teachings invoke the
Wise One
within deepening the power of your
Healer – Medicine Woman/Medicine Man.
They integrate with & expand your ancient knowing & wisdom of
Spirit Medicine & beyond!
About: Cristina Maria RojasFernandez, Humming Bird Medicine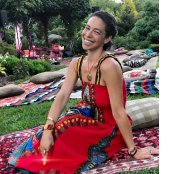 Cristina Maria, Humming Bird Medicine, is a Medicine Woman integrating the Ways of Spirit with 16 years of clinical social work experience. She is initiated in Herbalism, Earth Spirit Teachings and Shamanic Medicine. Her background is rooted in a diverse collection of Earth Centered Traditions and those of Other Realms.
She offers Healing Work with Herbal Medicine, Shamanism, Witchery, Body Work, Energy/Vibrational & Ascension Medicines and Plant Spirit & Amazonian Medicines - Kambo & Grandmother. Cristina Maria is a Licensed SW in NJ/NY and Wedding Officiant. She offers in-person and remote sessions, facilitates circles, workshops and ceremonies. Connect: spiritmedicineways@gmail.com, About Me or Spirit Medicine Ways FB page.