Angels Inside: Anointing the Divine Within
with Maya Minwah, Judith & Irma
Fri. Nov. 30th * 7 pm - 9 pm

Healing begins with the Heart, inviting our Highest Awareness to reignite the Divine spark that brought us here to Self-Heal and share.
In this mystical workshop, we will anoint ourselves with high vibrational blends – Mayasblends Angelic Infusions. These sacred anointments created by Maya – inspired by the very special request of Judith Caban many years ago – contain precious essential oils and clear crystal infusions to open our hearts to the Angelic Realm.
8 Angelic Infusions
Maya will introduce us to 8 Angelic Infusions: Gabriel, Raphael, Uriel, Phuel, Cassiel, Zadkiel, Metatron, Melchisadek. Each person will then select 1 Angelic Oil to work intimately with, as Maya holds the space with tonal sound & guidance. Judith & Irma will support our Heavenly co-creation, weaving together inspired sounds of crystal bowls, bells & drum.
Each participant will take home the Angelic oil they worked with. Several additional Angelic oils and other Mayasblends will be available to purchase. (To order in advance, please contact maya@mayasblends.com)
Location: SFR Soul Haven
56 West 45th St. Suite 1703
Midtown, Manhattan
Please arrive Early, Lobby Door opens at 6:45 - 7:00 afterwards Lobby door will be closed.
Cost: $50
To Register: email shamanicfirereiki@gmail.com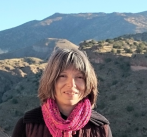 Maya Minwah is the creator of Mayasblends Aromatherapy for Awakening, inspired by her passion for working with the vital energy of plants and trees.
She is certified in aromatherapy, and a practitioner of shamanic aromatherapy energy healing for over 20 years. A poet and mystic, she has traveled on sacred journeys to Bimini, the Yucatan, Northwest & Southwest US, and Peru, and currently lives in Northeast PA, where she offers consultations, sessions and sacred circles. Contact: maya@mayasblends.com