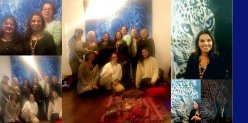 Thank you to Eleanora & all the beautiful healers that joined us in Chumpi Illumination.
SFR is proud to present our workshop of the Month & welcome back our dear sister,
Cristina Maria RojasFernandez, Humming Bird Medicine working with
Herbal & Plant Spirit Medicine
Sat. Nov. 10th & Sun. Nov. 11th - 10:00 am - 5:00 pm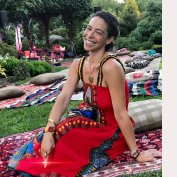 Indigenous, Earth Spirit & Shamanic Traditions
Energy & Vibrational Medicines
Ascension Medicine & Social Sciences
Herbs, Plants & Tools Included
Rattle, Prayer, Journey, Sound/Icaros/Song
*Bring your Medicine Rattle*
You leave with a clear understanding & connection on how to practice the sacred ways of Herbal and Plant Spirit Medicine. The teachings invoke the Wise One within deepening the power of your Healer – Medicine Woman/Medicine Man. They integrate with & expand your ancient knowing & wisdom of Spirit Medicine & beyond!
More Info on Herbal and Plant Spirit
View Video on Herbal Plant Medicine
Celebration of the Day of the Ancestors
/Day of the Dead
with Irma StarSpirit Turtle Woman
Thurs. Nov. 1 * 7 pm - 9 pm
Celebrating the Day of the Dead we joyfully honor our ancestors, relatives, loved ones that have transitioned to the stars by creating a beautiful breathing community altar of remembrance, sharing stories and memories.

We invite you to bring your favorite mask to speak as council and share the knowledge and strength through this celebration. Welcomed are crystal skulls to represent, and help us connect to our ancestors, children, friends and animal companions, that reside in the other world

More Info on the Celebration of the Day of the Ancestors/Day of the Dead

Mitote Dream-Time (An Overnight) Celebration
with Irma StarSpirit Turtle Woman
Sat. Nov. 3rd * 9 pm - 5 am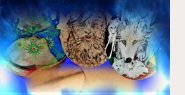 What Is MedicineWay Mitote Medicine? It is a dream over-night celebration in which healers and all community come together to pray, sing, drum, dream, cleanse, heal, share stories and dance together. A silent knowledge that replaces chaos with order in your life.

It has been passed down through Toltec Lineage to transform ones dreams into wakeful dreams, living dreams.


As you know we usually have this ritual twice a year, we are celebrating the last of the year, and all that we leave behind to clear energy for the New Year. We welcome the Winter months and recapitulating year.


More Info on the Overnight Mitote Dream Celebration

Gentle Restorative Yoga Gong
with Andrea & Judith
Wed. Nov. 7th - 7:00 pm - 8:30 pm

Come explore gentle and therapeutic yoga poses,deep releasing stretches with deep breathing and supported restorative poses with the sound and healing vibration of the crystal bowls and gongs.


We combine physical movement with sound and frequencies to penetrate into all the layers of our bodies to release stuck energies .The result is a deeply relaxed body and mind filled with healing vibrations and a deeper sense of connection to Spirit.

More Info on Gentle Restorative Yoga Gong

The Art of the Seer's Series
This Month Egg Cleansing, Diagnostic & Reading
Thurs. Nov. 8th- 7:00 pm - 9:30 pm

Join us this month to learn how to work with an Egg cleansing, diagnostic and reading.

The egg can help locate loss of energy and extract the energy and find it's core findings. These energies can cause disconnection with the physical, spiritual, mental and emotional body.

The egg removes heavy energy, you will explore the meaning to different forms that develop in the egg, position and the overall look of the egg to help you with situations regarding health, prosperity, and the root cause of heavy energy and understanding the source of which or where it originated.
More on the Art of Seers Series

Gong Sound Harmonics Circle
with Judith & Friends
Fri. Nov. 9th* New Time 7:30 pm - 10:00 pm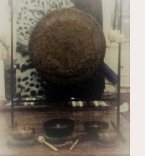 We welcome you to come and relax in a Sacred Space of harmonic Sounds with Sacred Gongs, Tibetan Bowls, bells, Chanting and other instruments.

Enter and let your Spirit Breathe, Relax, Receive, go into a deep meditative state of relaxation and serenity, which allows healing to come into the Mind, Body and Spirit.

More Info on Gong Harmonics Sound Circle

NEW!

The Art of Stalking Series;
Awakening the Vital Life Force of Spirit
with Irma StarSpirit Turtle Woman
A Six Once-A-Month Series
Begins Nov 13th * 7:00 pm - 9:30 pm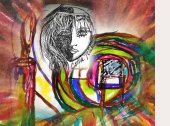 An in depth exploration of Soul Fragmentation through Perception, Regression, Release and Integration.

Enter a place of healing and freedom from emotional scars which you may still continue to suffer from the past. Emotional scars from this life, past life or from our lineage and ancestors, Learn and understand where they come from and how to clear them, tapping into a new system of belief.

Awaken your inner knowledge of the recordings of past responses, habits and patterns that have been created. Clear the roots of issues where you get stuck emotional and create unwanted behavioral patterns. It is time you stop blaming external circumstances. Recognize the heavy energy that you carry and feel, based on your past conditioning. Realize, you must take responsibility for yourself now to be able to have access to a clear
future.
More Info on The Art of Stalking Vital Life Force Spirit

FREE ReikiZen Circle with Judith, KRM
Wed. Nov. 14th * 6:30 pm - 7:30 pm

The ReikiZen circle is opened to all levels of Reiki practioners; everyone is welcomed to exchange in giving and receiving a Reiki share session in a peaceful and comfortable setting.

Involve yourself with the light of Reiki touch, to balance health and well being as you stimulate your mind and body. All are welcome to chant and tone your favorite mantras and symbols.


Donations are welcomed.

Info on Free ReikiZen Circle

Save The Dates & Now Open for Registry