Ancestral Cacao Medicine


Delve Into the Dance & Sound
of the Fifth Elements
with Farez & Irma

Sat. Dec. 1st * 6:30 pm - 9:00 pm

For the Maya, among many indigenous civilizations,

sacred cacao allows an open communication from the soul. Called Theobroma-- Food from the Gods, many indigenous cultures use cacao medicine as a facilitator and partner to amplify the connection with the language of the heart and expand and heal it with harmonious vibration.



The Maya have used sacred cacao for millennia, to work with the heart's wisdom and enhance the heart to be open and receptive. Cacao is an ancient plant medicine, guardian of knowledge, a teacher who does not push you, it invites you to join it on a journey and connect through it but only if you allow it.

Cacao creates a unique balance between polarities. It awakens the energy and strength needed to expand and at the same time relaxes the body and mind, creating stillness to find inner peace within your spirit. Cleanses fear that separate us from love. Receive this medicine with joy and enthusiasm in knowing the guardians of the ancestors, we know and become the protectors of these sacred lands. Connecting with the loving energy of Mother Earth, the Elements and Spiritual Community.

We will dance the rhythm of the fifth elements guided by the spirit of cacao, letting our bodies and soul thrive. As we activate sound, dance and breathe to heal and open our personal path. The path to find internal strength, connection with your higher self and spirit guides.

Join us to connect with ancestral medicine and wisdom.
We are looking forward to have a waste free ceremony, we ask you to bring your personal mug.

To Register email shamanicfirereiki@gmail.com
Cost: $35
Location: SFR Soul Haven, 56 West 45th Street, Suite 1703


New York, NY 10036

Bwt. 5th and 6th Avenue, Midtown, Manhattan

*Please Arrive by 6:25-6:40 afterwards Lobby Doors will close.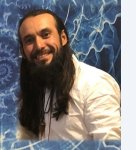 Farez is a Mayan descendant, abstract artist, and
co-founder of Shamanic Community Gathering. He has connected with his ancestors, remembered past lives as a healer, and gained knowledge from many other ancestral traditions. From an early age he had many out of body experiences that made him see life from a different perspective. Growing up surrounded by nature, he felt deeply connected with plants and animals that made him feel like an organic part of the entire universe, giving him inner joy and fulfillment in life.
His heart's calling in this life is to help others to remember that we are divine beings and children of the Earth, and if we wish to live happily we have to connect with her.
To Reach Farez email
farezabstractart@gmail.com
Farez Abstract Arts
About Irma StarSpirit Turtle Woman


Irma StarSpirit Turtle Woman is a Medicine Woman honoring the ways of her Maya and Taino lineages of the curanderas and medicine elders. Walking the path of medicine for 20 years, although Spirit has trained her since the age of 3.
She is a (shamanic) MedicineWay healer/teacher & Karuna Reiki Master, Certified Crystal healer/teacher, Toltec Dreamweaver and Otorongo, Cholom Balam Medicine (Jaguar). Irma currently has several shamanic programs opened. She is on her 7th year of the MedicineWay Apprenticeship Year Program, and other courses being offered are Being in Dreamtime, Seer's Series & The Art of Stalking Series; Awakening the Vital Life Force of Spirit.
She uses sound, energy work, Karuna Reiki, crystals, dreamtime and works with the "poderios", the elemental forces we need to keep an open channel of communication. Her style is accompanied by prayer work and traditional indigenous ceremonies to heal her community with heart.
To Reach Irma email shamanicfirereiki@gmail.com
Shamanicfirereiki.com