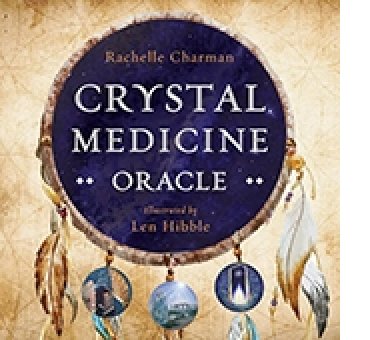 CRYSTAL MEDICINE ORACLE (33-card deck & guidebook)
by Rachelle Charman & Lee Hibble
$23.95, ISBN13:9781925682359

As you connect with these sacred Crystal Medicine Oracle you will be taken on a potent journey of self-empowerment and mastery. These 33 magical cards work on all levels of your being, mind, body, and spirit and apply 5 different aspects of medicine, making them holistic in their application and approach. The first aspect of the cards is the oracle or essence, which is then backed up by an ancient Earth medicine and a crystal that align to the energy and meaning of each card. The gorgeous images have been channeled and infused with energy and medicine for the soul. This deck is unique in that it also offers a ceremony that allows you to integrate and embody the energy for a deep and potent healing experience. Also included is a beautiful color booklet that offers an abundance of shamanic wisdom.
Publisher: Rockpool Publishing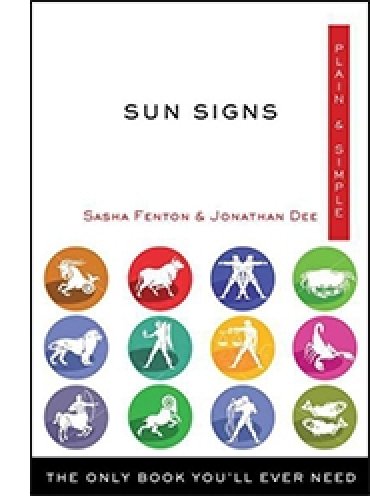 SUN SIGNS PLAIN & SIMPLE: The Only Book You'll Ever Need
by Sasha Fenton & Jonathan Dee
$14.95, ISBN13:9781571747914

Jonathan Dee and Sasha Fenton, two of the most dynamic and established writers on spiritual subjects, join forces to create the ultimate guide to sun signs. By using the decan system, which demonstrates variations between people born in different parts of each sign (i.e., early, middle, or late)--to assess your birth placement, you can get detailed answers to any question you want to ask. This encyclopedic reference explains everything about your sign's characteristics, from your ideal home to your ruling planet, from your weaknesses to your best days. Handy charts for both your sun and decan sign show your compatibility with others for love, friendship, and work and list those signs with which you are unlikely to harmonize.
Publisher: Hampton Roads Publishing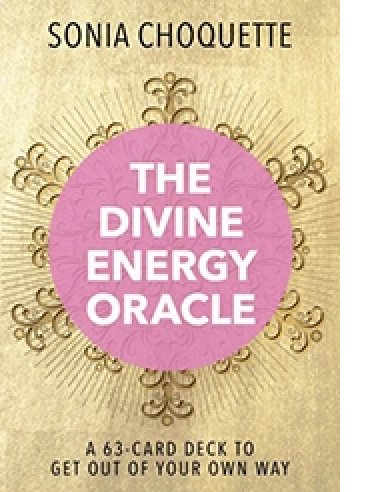 DIVINE ENERGY ORACLE (63-card deck)
by Sonia Choquette
$19.99, ISBN13:9781401954574

From the guidebook: "This oracle card deck is designed to connect you with your Divine Energy, the part of you answering the deepest, most profound personal questions that we all share: 'What is my soul's desire?' and 'What am I here to learn?'"
"Each of the 63 cards offers a specific personal invitation to become more Divinely awakened and empowered, in addition to addressing the particular soul shift necessary to achieve that possibility. Every invitation you accept helps you advance your soul's growth and move toward both inner peace and outer success. By following the guidance on the card you pick, you'll find the answer you need to best meet every situation in life. Each card offers small, manageable steps that you can achieve day by day, steadily advancing toward your highest goals on a spiritual level. In the process, you'll get out of your own way and begin to experience the personal success and satisfaction that you seek in your life, as well as bring your special gifts and energy to the planet."
Publisher: Hay House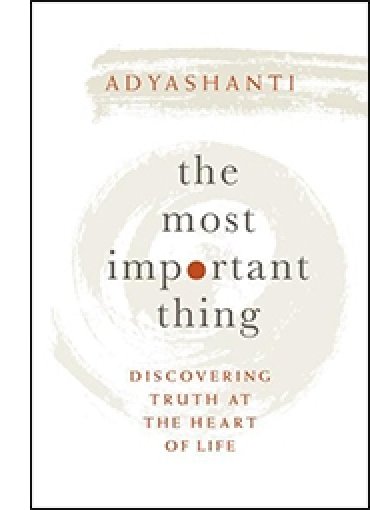 MOST IMPORTANT THING: Discovering Truth At The Heart Of Life (Hardcover)
by Adyashanti
$24.95, ISBN13:9781683641919

We all define ourselves through the lens of stories. Whether we see ourselves as heroes or victims, good people or bad, everyone lives according to interwoven strands of narrative. "And yet," teaches Adyashanti, "the truth is bigger than any concept or story." In The Most Important Thing, Adya (as his students call him) presents an anthology devoted to the search for the most resonant truths that exist beyond the reach of storytelling. In a series of deep explorations unafraid to delve into the realities of the spiritual path, this celebrated teacher encourages you to question the limits of your own stories, open to the possibility of grace, and embrace those aspects of life that call you to serve. In the end, the most important truths are ones that propel us toward our highest calling. With The Most Important Thing, Adya offers a path toward discovering your deepest intentions in a way that only he can–direct, intimate, and alive with the possibility of awakening.
Publisher: Sounds True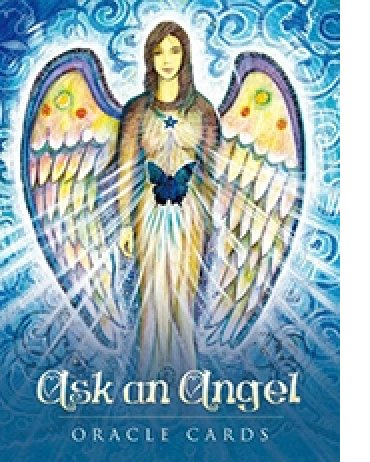 ASK AN ANGEL ORACLE CARDS
(42 cards & 124 pg. gdbk, boxed)
by Carisa Mellado & Toni Salerno
$23.95, ISBN13:9781925538533

Illuminated, benevolent beings have been part of humanity's spiritual traditions since time immemorial. Angels are always present, walking beside each of us, ready to help – no matter what we believe. With Ask an Angel Oracle Cards you can meet and commune with a host of safe and welcoming guides for higher insight, practical direction and loving counsel. This 42-card set invites you into a peaceful space of love and light through the celestial artwork of Toni Carmine Salerno. The 124-page guidebook includes instruction on how to use the cards, information on 28 angels and visionary card interpretations so you can receive spiritually conscious answers from your heavenly messengers. Now you can Ask an Angel for in-depth readings, self-awareness and greater guidance.
Publisher: Blue Angel Gallery Pty Ltd.




•
Check Out This Month's Special Deals!
•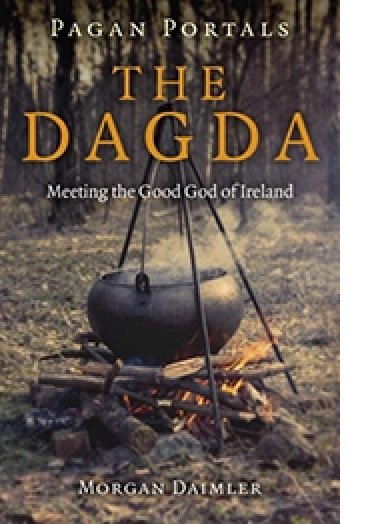 DAGDA (THE): Meeting The Good God Of Ireland--Pagan Portals
by Morgan Daimler
$10.95, ISBN13:9781785356407
Get to know the Good God of Ireland through mythology, history, and modern worship. The Dagda is one of the most well-known of the Irish Gods, a king of the Tuatha De Danann and mediator between the Gods and mortals after the Gaels came to Ireland. A popular God among Irish and Celtic pagans, the Dagda is a powerful figure who reaches out to us from myth and memory. For those seeking to honor him today finding information can be difficult or confusing. Pagan Portals - the Dagda offers a place to begin untangling the complex history of this deity.
Publisher: Moon Books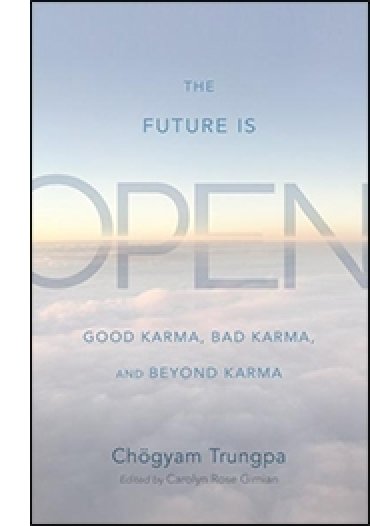 FUTURE IS OPEN: Good Karma, Bad Karma & Beyond Karma
by Chogyam Trungpa & James Gimian
$16.95, ISBN13:9781590309537
Karma has become a popular term in the West, often connected with somewhat naive or deterministic ideas of rebirth and reincarnation. It is also often equated with views of morality and guilt. In The Future Is Open, Chˆgyam Trungpa unpacks this intriguing but misunderstood topic. He viewed an understanding of karma as good news, showing us that liberation is possible and that the future is never predetermined. His unique approach to presenting the Buddhist teachings lends itself to an insightful and profound view of karma, its cause and effects, and how to cut the root of karma itself. Topics include: the origin of karma; samsara and the world of ego and how they are shaped by karma; traditional teachings on karma; the difference between karma and fate; individual, group, and national karma; good karma, bad karma, beyond karma; karma and reincarnation; buddha activity and how it relates to ordinary practitioners; and meditation practice as the vehicle to step outside of the normal cycle of karma.
Publisher: Shambhala Publications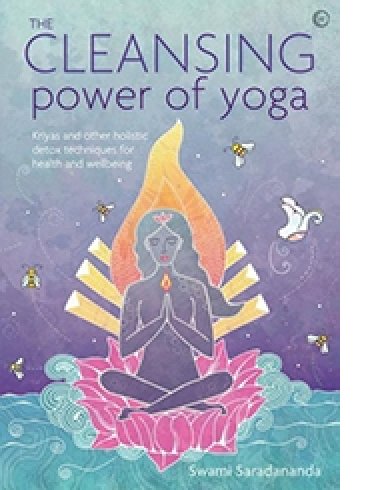 CLEANSING POWER OF YOGA: Kriyas & Other Holistic Detox Techniques For Health & Wellbeing
by Swami Saradananda
$19.95, ISBN13:9781786781673
Swami Saradananda explains in this unique, coloured, illustrated book how removing stuck and toxic energy can have not just far-reaching physical benefits but also emotional and spiritual ones, from increased energy, clarity and focus to a stronger sense of connection with the people and world around you. Purification (saucha) is a central aim of all yogic practices – the first principle of self-discipline (niyama) in Patanjaliís eight-limbed approach – as the ancient yogis believed that impurities in our internal body adversely affect our state of mind and prevent the attainment of true contentment. And kriyas – little-known ancient yoga techniques designed to cleanse the body, mind and emotions – have far-reaching relevance in today's society of over-consumption. After a fascinating introduction, Swami Saradananda presents six main chapters of kriyas and other cleansing techniques relating to our five senses and the mind (which controls our senses), each with a specific aim: clarifying our vision in life (sight), enhancing our communication skills (sound), optimizing our energy and allowing us to breathe more deeply (smell), nourishing us and enhancing our capacity to "digest" life (taste), enhancing our connection with others (touch), and simplifying our life and filling it with sublime thoughts (mind). Each chapter includes at least one yoga pose as well as a breathing exercise, mudra, mantra, cleansing chakra visualization and any more specific techniques relevant to optimal well-being in that area. The book then ends with a chapter of routines for a wide range of conditions, from physical complaints such as headaches or tinnitus, to emotional ones such as sadness, guilt and anger.The end result? Readers will end up with all the holistic detox tools they need to feel overall better, lighter, happier and healthier in their own skin.
Publisher: Watkins/Duncan Baird Publishers.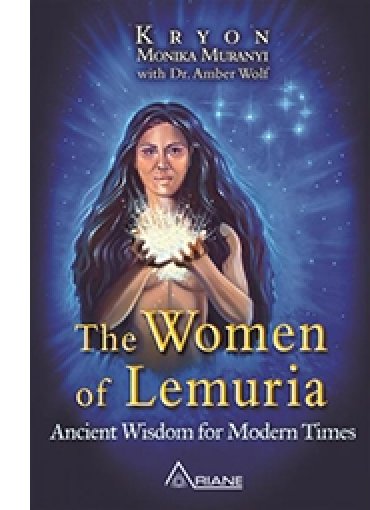 WOMEN OF LEMURIA: Ancient Wisdom For Modern Times
by Monika Muranyi
$17.95, ISBN13:9782896264940
Is it possible that a place called Lemuria existed? What about the missing continent of MU? What does being a Lemurian actually mean for you today? The answer to these questions and more is revealed in this book. Australian author, Monika Muranyi, has compiled everything that Kryon has ever channelled about Ancient Lemuria, and the role of women in that mystical place. Since 1989, the loving messages of Kryon have become known worldwide. The author presents material never before published. In addition, there is a special chapter from Dr. Amber (Mele'ha) Wolf, who is the creator of the Lemurian Sisterhood. Thanks to Monika and Amber, we now have a greater understanding about our Divine Origins and how we can implement this ancient wisdom in today's modern world. How is the Lemurian experience relevant to today? Many of you in those days were taught core spiritual truths from the Pleiadian Star Mothers, and itís still in your Akash! Today that Akashic seed is ready to be awakened and is ready to change who you think you are. – Kryon
Publisher: Ariane Editions
Although the rune renaissance began blossoming in Anglo-American occult circles in the 1970s, the runes have been part of the occult revival in Germany since its beginning in the late 19th century, with roots that go back centuries further. Exploring the history of esoteric runology and the work of the trailblazers of modern rune magic, including Guido von List, Friedrich Bernhard Marby, and Rudolf John Gorsleben, author Edred Thorsson details the secret practices and runic systems of the German rune magicians, including techniques for using runes in unprecedented ways to draw power into your life. Thorsson explores all four of the traditional runic systems: the Older Futhark (24 runes), the Anglo-Frisian Futhorc (29-33 runes), the Younger Futhark (16 runes), and the Armanic Futhork (18 runes), developed by Guido von List. The author explains the similarities and differences between them as well as how they are all facets of the same underlying runic reality. He examines the early history and possible origins of runic symbols and systems, the renaissance of rune magic from 1919 to 1935, the effects of the Third Reich and Nazis on the runic revival, as well as the reemergence of German runology after World War II. Providing an extensive practical section, Thorsson details powerful runework techniques and exercises, including rune yoga and dance, runic hand gestures (mudras), rune singing (mantras), rune yodeling, runic healing, runic tantra and sex magic, group rites with runes, and two powerful methods of engaging transpersonal powers: the Ritual of the Ninth Night and the Ritual of the Grail Cup. He also explores runic divination, the runic theory of crystals, runic symbolism in medieval German buildings, and runic material from the documents of the Fraternitas Saturni, the Brotherhood of Saturn. By immersing yourself in the world of the runic pioneers and the practices they designed, you will emerge with a deeper understanding of runes as well as the magical world from which they emanate.
Publisher: Inner Traditions

Friday,

December 07th, 2018

Vol. 33, No. 47


December

New Leaves
Update Catalog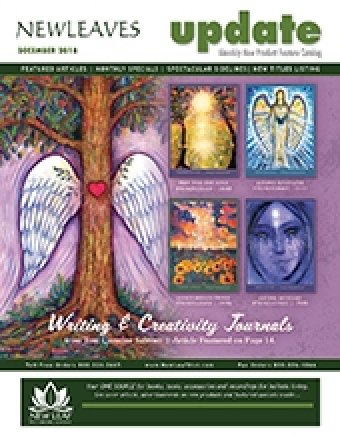 Feature Issue

In the words of Johnny Mathis… "It's the most wonderful time of the year!" We Say "Goodbye" to 2018 with our newest December Updates. Check out all of the best end-of-year deals as well as some great articles and new releases. From all of us here at New Leaf Distributing we wish you a warm "Happy Holidays" and a "Joyous New Year!" We will see you again in 2019!


Our monthly
catalog
New Leaves
Update
features
Available At Quality Paperback Prices.

Also

ads for

New Products!
The printed issue will ship to you.

Log-in and

view the latest PDF,
New Leaves Update catalog.

It'

s searchable, printable and includes links to our web site for all advertised products.
Visit our website

Log-in
to view the latest digital New Leaves Update catalog
Items recently received in our warehouse

Our best-selling products, updated monthly

eLeaves is published every Friday at 6pm eastern time. It features ANNOUNCEMENTS of interest to our customers, COMING ATTRACTIONS featuring frontlist items expected within the next month and FRESH STOCK which focuses on items newly received in our warehouse.

eLeaves is only one of the email communications available to New Leaf customers. To view the full list, subscribe to more options, or unsubscribe, please click

here

.