Winter Solstice Despacho
Celebrating Light in the Darkness
with LinDel Sandlin

Wed. Dec. 19th * 7 pm - 9:30 pm

In ancient times, Winter Solstice, the darkest day of the year, was not feared or fretted over; it was celebrated with lights and evergreens and sacred fires (or fireworks in the case of the Chinese) to remind the people that darkness does not last forever. Today, the holidays around Winter Solstice have become so frenzied that most folks seem more stressed out than "happy and merry". With the added the stress of our current political climate, times may seem even more out-of-balance and darker than usual.
A beautiful way to return to balance is through the ritual of an Ayni Despacho (Andean medicine bundle). Ayni is an Inka Q'ero word meaning "right relationship" or balance. Despacho, a sacred creation similar to a mandala, uses natural elements - beans, chocolate, seeds, rice, etc., that symbolically hold the prayers of the people taking part in it. As the elements and our prayers are added to the Despacho, the vibration of the participants in the room raises. An Ayni Despacho becomes a living prayer especially for restoring balance; it brings energy shifts and healing as it does so.
Come celebrate your inner Light in the Darkness and join us as we build our next community Ayni Despacho the day before Winter Solstice. Give yourself the gift of bringing balance back into your life ~ within yourself, with your family, friends and the world around you, and with Mother Nature. May we all return to the place where these lyrics once again ring true: "All is calm, all is bright…"
Please bring your prayers/intentions for restoring balance to your life as there will be an opportunity to add them to the Despacho bundle. In honor of ancient Winter Solstice traditions, you are welcome to bring a small evergreen offering (no more than 2-3" long) to add to the Despacho. All other materials will be supplied.
All materials will be provided. Please look into your heart and bring your prayers / intentions to place into the heart of the Gratitude Despacho.
Location: SFR Soul Haven, 56 West 45th Street, Suite 1703
Bwt. 5th and 6th Avenue, Midtown, Manhattan
* Please arrive at 6:55 pm - 7:10 pm thereafter lobby doors will close.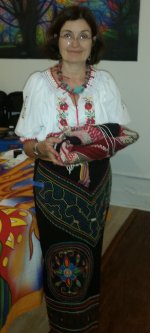 LinDel Sandlin will be facilitating the Despacho this evening. She traveled to South America and participated in numerous Despacho rites with modern-day Inka Q'ero medicine men and women (through her training with The Four Winds' Light Body School) and has continued to bring this medicine forward in her own practice.
LinDel is especially grateful to all the Andean medicine people over the millenia who kept their sacred healing practices alive - often at great peril.
LinDel can be reached at
LinDel.SmilingChi@gmail.com
or visit:
www.facebook.com/TaiChiShaman/
For More Info on Despacho's