ProHeart 6 is a twice-yearly injectable heartworm disease preventative. It's the only heartworm product that provides six months of continuous protection against heartworm disease with a single veterinary-administered dose. What does that mean for you and your dog?

It's one less thing to worry about every month. How great is that?
Convenience

2 doses a year instead of 12. We can even send you a reminder when it's almost time for your dog's next shot.
Assured protection

You can trust that your dog is completely protected against heartworm disease for 6 months with just 1 shot.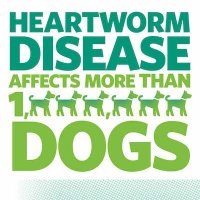 CALL US NOW TO SCHEDULE AN APPOINTMENT FOR YOUR DOG :

727-584-8370

Meet Gabby Richardson Our December 2018 Pet of the Month
My name is Gabby and I am an 11-year-old American Domestic feline who was adopted from the shelter by my mom. My favorite things to play with are feathers, they're just so mysterious! Mom says I am mischievous because I hide in the closet so well. It may be silly to watch but I'm not embarrassed that I love to chase my tail. Shhh...don't tell Dr. Daniels but my favorite treat is grass from outside. Although I eat grass, I am very civilized at other times and mom lets me sleep in the bed.
Your Pet Could Be Our Next
Pet of the Month!
To enter your pet into our monthly drawing to become Pet of the Month: Stop by our office and fill out a quick form telling us why your pet deserves to win. Or email us at info@largovet.com and we'll email you the form.
Winners receive a gift for you and your pet, a gift certificate to Largo Veterinary Hospital, a photo and feature in our newsletter, and your pet's name on our sign in front of the hospital.
6 Ways to Celebrate the Holidays With Your Pets
Often when we think of the holidays we think of time spent with our families. Or we think of the stress of finding the right gift for people in our lives. Most pet owners include their four-legged family members in those thoughts. Some of us prefer our pet family over humans! While pets shouldn't take part in every aspect of the festivities they can still play their part in the fun. Here are 6 ways to include your cat or dog in the celebrations.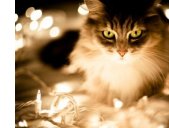 Shop for your pet or make a gift. It only makes sense to give your pet a gift while exchanging all the other presents with your human family. Get creative and make a homemade present, like tasty cat treats or yummy dog snacks. DIY Gift Ideas If you're not the DIY type, here are 35 gifts to buy.
Party with your pet.

If you're the holiday host, let your pet mix and mingle with your guests. While you're busy with hosting duties, ask a close friend to make sure your party animal doesn't get into trouble. If your pet isn't social, set up a warm and quiet place for your furry friend to retreat.

Take your pet traveling.

Bring your pet with you on holiday visits but make sure to check your hosts in advance if they can accommodate your pet and to make sure they don't have any pet allergies.

Include your pet in your holiday card.

If you're planning a holiday family portrait, include your pet in the shot—in a holiday sweater perhaps? And, of course, be sure to take plenty of photos of your pet enjoying the celebrations.

Walk around your block or sniff in a new neighborhood.

Enjoy some quiet time taking in the neighbor's lights and festive decorations Time spent together means the world to your dog, and provides him with important exercise too!

Share local holiday festivities with your pup. Who doesn't enjoy a field trip? Find safe holiday events that are dog friendly.
4 Cat Training Mistakes:

Guilty of Any?

Training a cat might sound impossible, but it's not — cats are smart, and with the right approach you can frequently channel their intelligence in productive ways. Here are the most common mistakes cat owners make:
Overestimating how much time training takes. Many cat owners assume that training their cat takes a significant amount of time and effort. The reality is that cats learn best in short training sessions, typically one to five minutes, spread out through the day.

Ignoring the good behavior and rewarding the bad. Sometimes we take for granted our pet's good behaviors. When your cat uses his scratch post you don't react at all but react and interact with your cat when he scratches the couch. Flip your response and give praise for good behavior and redirect the bad behavior.

Attempting to eliminate instinctive behaviors. Many behaviors we find undesirable, like clawing, pouncing, jumping or climbing, are natural for a cat. Attempts to eliminate these behaviors can be highly stressful for your cat. Try to redirect these behaviors to spaces in your home where they are acceptable. Cat shelving, perches and trees are useful for felines who like to explore high places, while a box or laundry basket can offer a secure place for your cat to relax. Remember to reward her for following her instincts only in the designated areas.

Expecting your cat to listen without training. Your cat's not ignoring you — he doesn't instinctively know what you're asking him to do or why it's worth doing. Don't assume that words like "off," "down" and "stop" mean anything to your cat simply because you say them all the time.
If you get frustrated or feel liked you just can't accomplish the training don't be afraid to ask for help. Dr. Daniels and our Largo Veterinary Hospital team are happy to help you.
Largo Veterinary Hospital
Holiday Hours Dec 2018-Jan 2019
| | |
| --- | --- |
| Monday 12/24 | CLOSED |
| Tuesday 12/25 | CLOSED |
| Wednesday 12/26 | CLOSED |
| Thursday 12/27 | 7:30AM-5:30PM |
| Friday 12/28 | 7:30AM-5:30PM |
| Saturday 12/29 | 7:30AM-12:00PM |
| Sunday 12/30 | CLOSED |
| Monday 12/31 | CLOSED |
| Tuesday 1/1 | CLOSED |
| Wednesday 1/2 | 7:30AM-5:30 PM |
| Thursday 1/3 | 7:30 AM-5:30PM |