January 2019 Pet Holidays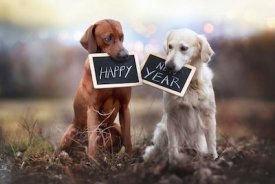 ProHeart 6 is a twice-yearly injectable heartworm disease preventative. It's the only heartworm product that provides six months of continuous protection against heartworm disease with a single veterinary-administered dose. What does that mean for you and your dog? It's simple, convenient and assures protection against heartworm.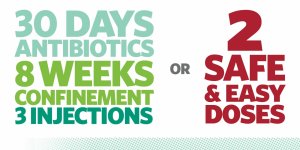 Questions Your Cat Needs Answered

In honor of National Answer Your Cat's Questions Day on January 22nd, here are some of the most likely questions your curious kitties would ask: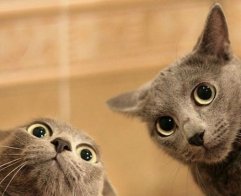 Q: I love it inside, but sometimes I want to go out and roam around. Is that OK?
The great outdoors may look enticing, but it's best to stay inside. Indoor cats live longer and have fewer diseases and injuries than outdoor cats. A nice window with a good view can help cats experience outdoor attractions.
Q: Should my fur be brushed? And do I really need to take baths?
It's not critical to brush short-haired cats, but long-haired cats need frequent brushing to prevent them from developing matted fur. Cats typically don't need baths; they keep themselves pretty clean on their own.
Q:Are hairballs supposed to be common?
What can my human do to prevent them?
Hairballs can be common, especially in long-haired cats. Lots of brushing and a diet with increased fiber can help curtail hairballs.
Q: My house is so warm and cozy, do I really need an annual exam?
Yes! One year in a cat's life is comparable to five to seven years in a human life, and many things could happen within that time frame. Cats should be examined by Dr. Daniels yearly to look for problems and to ensure they are staying healthy.
Q: My human always complains that I have bad breath. I think it smells great!
Bad breath is an indication of gingivitis, which is a common problem in cats due to lack of brushing and flossing. If left untreated, it can develop into periodontal disease resulting in painful abscesses and tooth loss. Cats should have their teeth examined yearly and cleaned in the early stages of gingivitis to prevent further complications.
Q: Can I take human medicines like aspirin, anti-diarrheal medication or other over-the-counter products designed for humans?
Absolutely not. Cats should never be given medication intended for humans unless prescribed by Dr. Daniels. Cats are sensitive to these medications, which could cause severe illness or death if ingested.

Can you imagine going a day without brushing your teeth? Of course not! So when is the last time you brushed your pet's teeth? Make a resolution for 2019 to brush your pet's teeth regularly!

Please Don't Feed Stray Cats!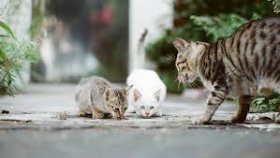 Need stray/feral cat removal in your hometown?
Many people feel good feeding stray cats and think they're helping the cats. BUT FEEDING STRAY CATS HURTS THEM. This feeding causes a bunch of cats to get together, and dependent on human feeding, and they breed like crazy. Then you've got a lot of cats in one small area, they fight, they spread disease between each other, and the population grows too large to feed.
Meet Brewster Nguyen Our January 2019 Pet of the Month

My name is Brewster and I am a 4-year-old Pug. Don't tell Dr. Daniels but my favorite treats are "nannas". Don't judge me but I also love to eat grass. However, Mom and dad love me so much that they give me bananas whenever I want. I am so spoiled by mom and dad that I get to sleep in their bed! My parents say I am special because I blow wet kisses in their faces. Something funny that happened to me one time was the time mom forgot to shut my crate and I was free to roam the house all alone...hunting for more "nannas" of course.
Your Pet Could Be Our Next
Pet of the Month!

To enter your pet into our monthly drawing to become Pet of the Month: Stop by our office and fill out a quick form telling us why your pet deserves to win. Or email us at info@largovet.com and we'll email you the form.

Winners receive a gift for you and your pet, a gift certificate to Largo Veterinary Hospital, a photo and feature in our newsletter, and your pet's name on our sign in front of the hospital.

3 Lifesaving Commands Every Dog Should Know
Although there are many behaviors that promote pet safety, there are three basic commands that are especially critical: "down stay," "drop it" and "come." Not only should every dog be familiar with these behaviors, but dogs should be trained to perform them anywhere, anytime.
A dog who immediately drops his body into a down, regardless of distance from his owner, will be better able to avoid danger. There are occasions when your dog may find himself in a dangerous situation but calling him to you could actually create a bigger hazard. For example, you're on one side of the street and your dog is on the other and there's a car coming. Directing him into a down stay can keep him out of the way and safe until you can get to him.
Everyday household items can be dangerous for dogs — ladies' underwear, chicken bones, apple cores, prescription medications — for some, even a single pill or odd item can have devastating effects on a dog. This is why the "drop it" command is so important. Unless a dog has been taught to drop whatever is in his mouth immediately, he may play keep away and swallow the item before you can retrieve it. A dog that understands "drop it" will let go of the item, which can then be taken away, averting a potential disaster.
Dogs are often happily oblivious to potential threats around them, like traffic, poisonous plants, aggressive animals. They can easily wander into dangerous situations. Teaching your dog to always come when he is called can help minimize the dangers for a dog prone to dashing out of doors or pulling out of his collar. Even the best-behaved dogs may find themselves in dangerous situations and it is truly risking life or death to not instill a reliable recall.