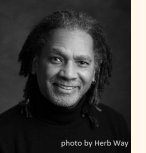 As I write this column on November 20, 2018, Muslims are celebrating Mawlid-al-Nabi, the birthday of Muhammad. Muhammad's birth was approximately in the year 570 C.E. according to the Gregorian Calendar. He was a merchant and a shepherd by trade and he began his ministry around the age of 40. He died from an illness in the year 632 after uniting Arabia into a single Muslim entity. Of course we have the holiday of Thanksgiving this year on November 22, 2018. The month of December brings us the holidays of Hanukkah and Christmas. Much is said and written about Hanukkah and Christmas, for they spring from the same womb if you will. However, I have found the most compelling and eloquent description regarding these two holidays from the words and insight of Dr. Howard Thurman. I will let "the good doctor" take it from here:

" There must always remain in every people's life some space for the celebration of those events of the past that bear their fruit in the present---those events in which the human race seems to catch its breath and to give the long look forward and backward. Such events are surrounded by a quality all their own, and yet they seem to gather into themselves the essence of all striving and meaning of all hope. Hanukkah is such an event. Here was a moment in the life of Israel in when a people was faced with an ultimate choice. On the one hand, to renounce the very heart of a faith in One God with whom they were covenanted... On the other hand, to say "yes" to a truth by which the steps of the past had been guided when there was no light and no guide save one....

Sunday, 2 December 2018, 11 am

Rev. Michael J.S. Carter"The Bible, UUs, and Revelations"
The bible is not a bad book. It may not even be a good book for some. But it is a book about the human struggle to find meaning in the act of existence. How did all this begin? How will it end? Why am I here on this planet? Why must I die? Why is there evil, suffering and violence in this world? Are there other worlds? How do I know what is right? The Bible attempts to answer these existential questions. No matter what your theology, or lack thereof, we all wrestle with these fundamental questions. The Bible gave us a a way to talk about these things. No, certainly not the only way, but a way. The Bible is not a book that is the final authority or the final revelation on anything. It can point the way to some of life's questions, but it is not the final word. I want to explore the Bible and its meanings for us this holiday season, and I also want to offer a new UU definition of what the word Revelations can mean for us as a progressive, free thinking community.

Sunday, 9 December 2018, 11 am Tim Perry"Ash Wednesday"
Some of you know that Lent was always my favorite season of the liturgical year when I was a more traditional Christian. It all begins with Ash Wednesday, and the ominous sounding - but undeniably true - reminder: "Remember that you are dust, and to dust you shall return." But does it have to be so grim? Join me as we dare to gaze into the void of our transience and mortality for a bit, and let's see if we can't find a message of hope and joy, even there......Tim Perry is a former fundamentalist, a former Catholic, a minister for most of his life, "A priest forever after the order of Melchizedek," according to his ordination, and these days a hopeful agnostic who doesn't believe much of anything he believed ten years ago, yet somehow finds a reason to get out of bed, and can be frequently seen lurking around these parts.
Sunday, 16 December 2018, 11 am

Rev. Michael J.S. CarterAdvent/Anticipation
"The word "Advent" is derived from the Latin word adventus, meaning "coming." And so winter is fast approaching, and the liturgical season of Advent, with its emphasis on "anticipation" (waiting and expectation) and reaching its climax at Christmas, introduces a sustaining note of hope into the darkness of the winter season. The winter season of darkness and death contains within itself the promise of life and renewal. We are searching for and will be discovering new beginnings. Ironically enough, we find these beginnings in the life of a child.

Sunday, 23 December 2018, 11:00 amLinda Metzner and Rebecca Williams"Rhythm of Winter"
The holiday season can be a hectic time with parties, shopping, and a seemingly endless list of non-stop obligations. Yet as the nights grow longer and the days shorter, the rhythm of winter is actually calling us to slow down and reflect. In the Goddess' wheel of the year, the Winter Solstice initiates the most inward turning season. Escape the holiday
madness and join us in a quiet celebration of winter's gifts.
Monday, 24 December 2018, 5:00 pm

Rev. Michael J.S. Carter
"The Light of Christmas"
We as UUs do not gather on Christmas Eve to worship the infant Jesus. Our Unitarian ancestors agreed that they came to follow his teachings, not to worship him. These teachings
say that we as human beings should not, "hide our light under a bushel." The great teacher said that we should let our light shine before others, that they may see our good works and give thanks. What does it mean to be a light to the world, especially in these times, and especially on Christmas Eve night. The fact of the matter is that we are the Light we have been waiting for in a beautiful and at times broken world. We are the visible reminder of invisible light. Let us encourage each other to let their light shine, for it is better to light a candle than to curse the darkness. This is the Season of Lights!
Sunday, 30 December 2018, 11:00 am

Murphy Funkhouser Kapps

"Letting Go to Carry On"

Joseph Campbell tells us that, "We must let go of the life we planned so as to accept the one that is waiting for us". As we approach the New Year, Murphy Funkhouser Capps helps us to lighten our "load" by unpacking our expectations and disappointments in order to "carry on" successfully into the future. What appears as "the end of the road" or "the belly of the whale" is more often a beautiful and unexpected new beginning. Using excerpts from the Hero's Journey and personal insights from her own "redirections" in life, Murphy hopes to inspire and provide a little "love for the road".

_____________________________________________

For more information, visit: http://uusv.org/sundays/

This month in RE we will be talking about Air, our congregation, and immigrants.

Preschool students will be learning about our congregation and our traditions and habits. The elementary class will be learning about Air power of all kinds: wind power, the power of breath, the power of words, and how these kinds of power can be used to be leaders. The youth continue to explore the current immigration situation in our country and what our congregation is doing and what they can do affect change to create a "fair and peaceful world".

The upcoming holidays are always fun as I get to hear and to share the latest in holiday high spirits shenanigans. We'll also be delving into some holiday traditions as well as traditional crafts! What were your favorite things to do during/for the winter holidays?

We depend upon donations from our congregants to provide snacks during coffee hour. We appreciate donations of nutritious finger foods such as cheese and crackers, fruit, veggies and dip, and multi-grain baked goods. We are trying to eliminate our use of disposable plastics, so if you bring a baked good which needs a fork for eating, please bring a container for dirty forks, take the forks home to run through your dishwasher and return the forks to church. Obviously, best to bring baked goods which do not require the use of a fork. Thanks for your ongoing contributions to our coffee hour!

Our contractor, Marc from Hammerhead Stoneworks, has very high standards for the quality of our marble monument stone. He has finally recently found a stone which meets his requirements. We are still waiting to find out when the stone will be delivered and installed.

The construction materials you see in our parking lot is the kit for our gazebo. Bill Altork is working with Scott Conklin on the best plan for the gazebo footings. Then Bill will finish the permitting process. Assembly of the gazebo kit will happen after the monument is installed.

Lastly, Lee Reading has checked on IRS regulations and he has found out that 100% of your donation to the garden for engraving is tax deductible.

From your Board of Trustees
These are the abbreviated minutes from the Board Meeting held on November 29, 2019. A full copy of the minutes will e posted in the foyer.
Our volunteer Treasurer, Lee Reading reported that we are four months into our 2018-19 operating budget year and we have a net surplus for income and expenses.
The Board expressed positive feelings about their recent meeting with the Committee Chairs. Many committee members are exhausted. It was suggested that a committee fair be held in late February or early March so the committees could recruit new members.
Michael Figuera has agreed to be Chair of the Strategic Planning Task Force.
Many thanks to Ginny Moreland for her years as Newsletter Publisher. Barb Rogers has agreed to coordinate the monthly newsletter.
The Board modified, then adopted, job descriptions for all paid employees and lay leadership positions.
The Board expressed a strong interest in getting more information about the activities of the Board to the congregation. It was agreed to do a report to the congregation in June before the annual congregational meeting as well as the President doing articles for the newsletter.

Minister's Message continued

Then there is the event and the holiday we now refer to as Christmas. Here was another moment in the life of Israel in which a baby was born. In the birth of this baby, many people saw the dreams for which their hearts had hungered for and for which their dreams were foretold. He grew into manhood exhibiting in word and deed a fresh new quality of the age old response of the Spirit of humanity to call of God. his was the vision of a great collective ideal that all human beings are the children of God, that the normal relationship of one human being to another is love, that there is a personal power, equally available to rich and poor, Jew and Gentile, to men and women, to the wise and foolish, to the just and unjust.
Hannukkah and Christmas spring from the same womb and are mothered by the same brooding spirit: one marks freedom from tyranny and the preservation of the Eternal Light for all the generations of human beings; the other announces that there is a Presence in the common life, a Light that is within every person that comes into the world.
---Howard Thurman ( For The Inward Journey: The Writings of Howard Thurman)
Merry Christmas and Happy Holidays To All!
Michael


Keep our veterans in mind when you do your holiday baking this year. I invite everyone to bring a generous plate of homemade cookies to church on Monday, December 24th. Following the Christmas Eve Service, we'll enjoy some of our homemade cookies and beverages during our reception. Afterwards. coffee hour, Carolyn and Milt will deliver the remaining cookies to the Veteran's Restoration Quarters in East Asheville. This is a project operated by ABCCM to transition homeless veterans toward permanent housing. When we've delivered your cookies the past couple of years, the Vets were very appreciative of our donation! For more information contact Carolyn Shorkey 299-9456.

Tuesday, December 4
12:00 pm at UUCSV.
The topic is 'What do the Holidays mean to you'?

Our choir schedule is a little different in December. We will be singing for Christmas Eve, 5 PM on Monday December 24th. Our rehearsals will be on December 16th, 12:15 after the service, then on Wednesday the 19th at 7 PM, and then on Monday the 24th at 4 PM to get ready for Christmas Eve. Come sing with us! Linda Metzner, choir director

The Women's Group in its current form will not meet in December and also not during the winter months. We all thank Lois Heinz for her leadership in coordination of the group. There may be a meeting scheduled (probably in the new year) to brainstorm new purposes, goals and formats that might take the Women's Group in a new direction. Watch the Current for updates.


The management is thrilled to announce that Barb Rogers has

agreed to take on our monthly Newsletter!

Barb will take over in January, with Ginny providing support and training as needed. Huzzah, Barb!

December's Friday Fling, a fun party for grown-ups, usually every third Friday of the month, will be held on 21 December at the UUCSV church. Red and white refreshments will be provided; please bring a potluck dish to share. First movie choice: Babe (1995; inspirational story of a shy Yorkshire pig who doesn't quite know his place in the world). Second movie choice: A Christmas Story (1983; Jean Shepherd's oldie but goodie will put you in the mood for the season). Potluck begins at 6:30. For further information call Norm Kowal (458-4537).

Asheville's 38th annual Martin Luther King, Jr. Prayer Breakfast will be Saturday, January 19, 2019, at 8:30 a.m. at the Crowne Plaza Resort. The keynote speaker will be Ernest Green, one of the nine students known as the Little Rock Nine. Tickets are available for those interested in attending: Patron, $35; Adult, $25; Youth (12 & under), $15. Contact Andy Reed at 828-667-1733 or 828-301-8968, or
reedroid53@gmail.com
. If members of the congregation would like a table of ten, we can reserve one when 10 tickets have been spoken for.
Larry Pearlman is the coordinator of our Congregational Care Team. He can be reached at larryrpearlman42 @
gmail.com or by phone at (602) 501-8471.

The deadline for the January Newsletter is December 27th. Please submit items to

this

address. The best format is simply in the body of an email. Thank you!

Board of Trustees:

Heidi Blozan
Kathryn Coyle
Susan Culler, President
Diane Graham


Pam Sain




Linda Tatsapaugh, VP




Deb Vingle



Minister,
Rev. Michael Carter,
ex-officio, non-voting
Board Member

Treasurer:
Lee Reading