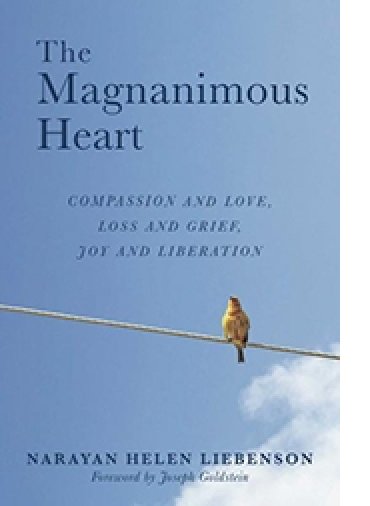 MAGNANIMOUS HEART: Compassion & Love, Loss & Grief, Joy & Liberation
by Narayan Liebenson
$17.95, ISBN13:9781614294856

The magnanimous heart is a heart of balance and buoyancy, of generosity and inclusivity. It allows us to approach each moment exactly as it is, in a fresh and alive way free from agendas and shoulds, receiving all that arises. It has the capacity to hold anything and everything, transforming even vulnerability and grief into workable assets. In writing evocative of Pema Chôdrônís, Narayan Liebenson shows us exactly how it is possible to turn the sting and anguish of loss into a path of liberation, moving from the "constant squeeze" of suffering to a direct experience of enoughnessóthe deep joy, peace, and happiness within our own hearts that exists beyond mere circumstances. She teaches how to skillfully respond to painful human emotions, and teaches the art of meditative inquiry, questioning wisely–showing us how to live from a compassionate love that guides our lives and warms whatever it shines upon. With metta and compassion as companions and allies, we discover how our own magnanimous hearts can gently allow the inner knots to untie themselves.
Publisher: Wisdom Publications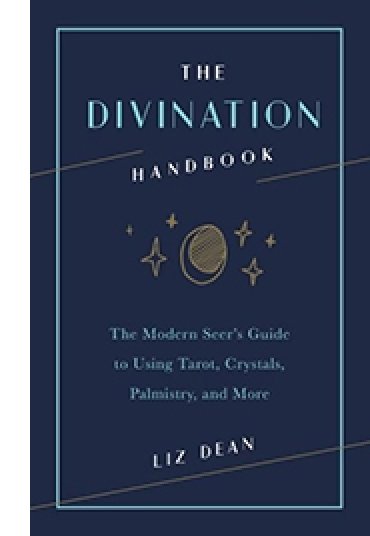 DIVINATION HANDBOOK: The Modern Seer's Guide To Using Tarot, Crystals, Palmistry & More (Hardcover)
by Liz Dean
$19.99, ISBN13:9781592338733

The Divination Handbook is a modern seer's guide to developing your intuitive abilities and mastering time-honored techniques used for fortune-telling and prediction. With this guide, you'll learn how to use tarot, crystals, palmistry, and more to part the veils between the realms. Learn to understand the deeper meaning of ordinary events–and reveal what your future may hold. Lavishly illustrated, The Divination Handbook presents to you over a dozen oracles of the ancients, from palm-reading and tea leaves, to fortune-telling with cards, runes, and crystals. Step-by-step illustrations guide you through the methods, and helpful tables and reference charts show you how to understand and decipher common psychic symbols. Learn the stories and meanings in everyday objects–such as patterns of tea leaves and coffee grounds in a cup–or delve deeper into esoteric traditions like the tarot. With The Divination Handbook, you'll never be at a loss for answers and guidance to your most pressing questions.
Publisher:Fair Winds Press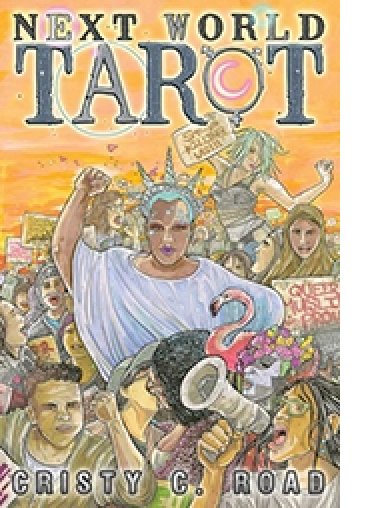 NEXT WORLD TAROT: Deck & Guidebook
by Cristy Road
$50.00, ISBN13:9781945509292

Featuring body outlaws, endangered cultures, and anti-colonial belief systems, THE NEXT WORLD TAROT envisions a world where justice relies on respect and revolutionary love. The Fool's Journey is about smashing systematic oppression, owning their truths, being accountable to the people and places that support them, and taking back a connection to their body that may have been lost through trauma or societal brainwashing. The NEXT WORLD TAROT is a visual spectacle of both the battle cry and the re-connection between outcasts and their criminalized identities. This set includes 78 Tarot Cards and an accompanying Tarot Reader written and illustrated by Cristy C. Road.
Publisher: Silver Sprocket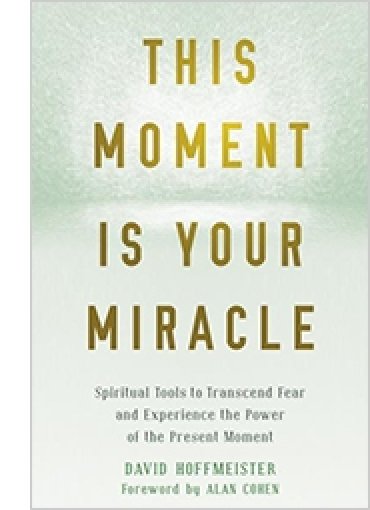 THIS MOMENT IS YOUR MIRACLE: Spiritual Tools To Transcend Fear & Experience The Power Of The Present Moment
by David Hoffmeister
$16.95, ISBN13:9781684031870

Written by a world-renowned teacher of A Course in Miracles, this book reveals the profound power of the present moment and shows how tapping into it using practical insights and simple exercises can fortify your spirit against fear, break down perceived limitations and your sense of separation, and help you manifest a life of joy, oneness, and serenity. We all feel isolated and afraid sometimes, but the truth is, we're never really alone. Indeed, as author and spiritual teacher David Hoffmeister points out, it is the deeply ingrained belief that you are separate from everything–that youíre on your own, there is reason to be afraid, and you might not be worthy–that prevents you from living the joyful life you long for. So, how can you begin to untangle the thoughts and feelings that keep you trapped in your own egoic fears? This Moment Is Your Miracle addresses this painful yet widespread belief in separation, peeling back the layers of misperception to uncover the divine oneness at the heart of reality, through which we are all connected. You'll find spiritual practices and tools to help you awaken from the nightmare of fear and isolation, and practical ways to cultivate acceptance, forgiveness, healing, and trust–for the betterment of yourself, your relationships, and the good of all. With this book as your guide, you'll learn how to trust your inner guidance and accept life's miracles, and find true freedom and peace of mind. There has never been a better time than now.
Publisher: Reveal Press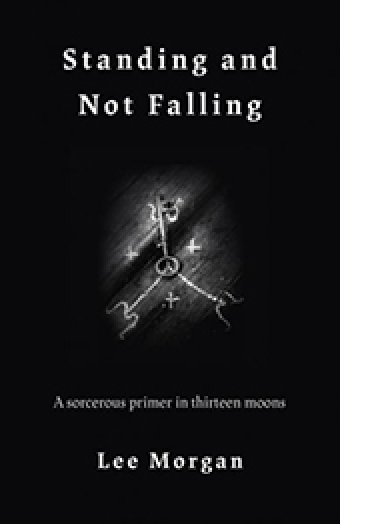 STANDING AND NOT FALLING: A Sorcerous Primer In Thirteen Moons
by Lee Morgan
$18.95, ISBN13:9781789040142

The Otherworld is ready for you, but are you ready for the Otherworld? What would you tell your own less-experienced self about magic if you could go back in time and make a better start? That is the question this book seeks to address. What might you need to slough off, how far might you need to walk from the comfortable and familiar to truly embrace a magical life? Covering a period of thirteen moons, Standing and Not Falling is a workbook that allows the reader to clear the way before embarking, or to conduct a spiritual detox on themselves before stepping up their practice, or engaging a new beginning. Suitable for practitioners of any type of sorcerous activity from witchcraft to ceremonial magic and beyond. This book takes steady, direct aim at the main causes of disfunction and difficulty that arise for practitioners of the art magical, both individually and in relation to others, and at times also at the key maladies of our age.
Publisher: Moon Books




•
Check Out This Month's Special Deals!
•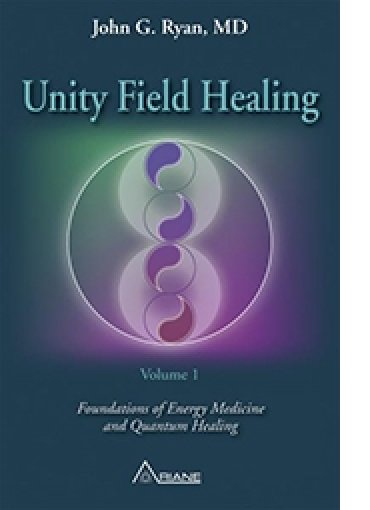 UNITY FIELD HEALING: Foundations of Energy Medicine and Quantum Healing - Volume 1
by John Ryan, MD
$17.95, ISBN13:9782896264988
"Dr. John Ryan is one of only a handful of medical professionals currently aware of the true realities of quantum-based healing. Finally! It's time to demystify all the puzzles around energy-based healing, and this book is right on time!" Lee Carroll, PhD – Author and Original Channel for KRYON Humanity is now at the crossroads of a massive transformation in health and healing. The opportunity to advance one's personal wellness and awaken an amplified healing potential now exists. However, this futuristic healing requires an openness to the spiritual and energetic nature of our reality, and the consciousness basis of our human experience. For the seeker, access to deep and sometimes mystical healing can occur – through a journey of conscious personal awakening and the biospiritual integration which ensues. This mysterious journey kindles an inner power. This is a power that can heal and restructure your personal reality in mystical ways. But where do you begin the journey? And, how do you navigate the confusing landscape of Energy and Spiritual Healing? You have found your guide! Unity Field Healing Vol. 1 provides a powerful catalyst to your healing journey. It consolidates a full understanding of all that is needed to understand and benefit from the new healing paradigm. It demystifies the confusion experienced as one first encounters and then matures in the new world of spiritual consciousness and energy-based healing. This foundation provides the springboard to take a giant leap into the future with the introduction of Unity Field Healing – a quantum-based healing potential that can catalyze healing in a brand new way. The book is a one-of-a-kind volume – described as the "go-to source for new-consciousness healing". Written by a Medical Doctor and healer, who works in both traditional and esoteric worlds of healing – it is a unique and clear-headed consolidation of all you need to know to bring your spirit alive in your healing journey. It is a must-read book for anyone seeking to awaken or strengthen the mystical potential to heal in body, mind, and spirit.
Publisher: Ariane Editions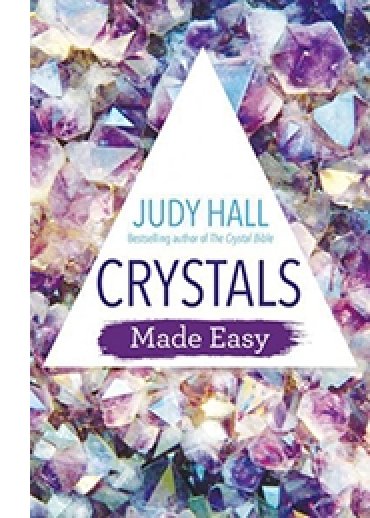 CRYSTALS MADE EASY
by Judy Hall
$15.99, ISBN13:9781788172608
Crystal healing and therapy is experiencing an incredible new resurgence as it enters the mainstream, yet Judy Hall, internationally recognized crystal expert, has been pioneering crystal work for over 45 years. Over the course of her long career, she has become the go-to teacher on crystal healing. Combining all of her expertise in one book, she brings us Crystals Made Easy, the perfect guide to working with crystals for the complete novice. In this book, readers can expect to learn all about the immense benefits that working with crystals can bring to their lives. Judy explains, in a way that is easy for a complete beginner to understand, what the reader can use crystals for, how to choose the right one(s) for their needs, how to cleanse, charge and attune them, and how to harness their full power to benefit the reader's life. This is the most concise, authoritative title on the subject from the leading expert on crystal energy and author of The Crystal Bible.
Publisher: Hay House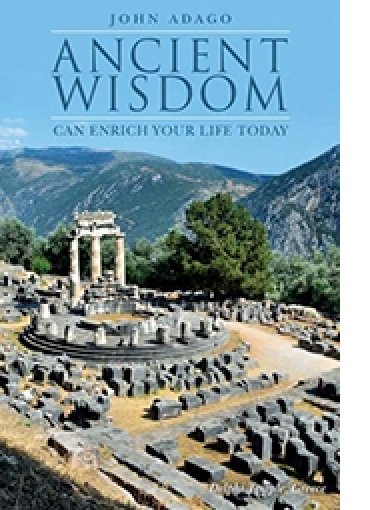 ANCIENT WISDOM CAN ENRICH
YOUR LIFE TODAY
by John Adago
$19.00, ISBN13:9781977576590
The Ancient Knowledge of universal laws can help us lead fulfilled and purposeful lives, and can enrich your life today. Nothing we experience has not occurred before. Nations rise and fall, and cultural expectations change, but human nature is fundamentally the same as it was when Jesus, Moses, Confucius, Buddha, and Socrates were alive. The universal laws that govern our lives today are fundamentally the same ones that guided ancient civilizations.
Publisher: Program Publishing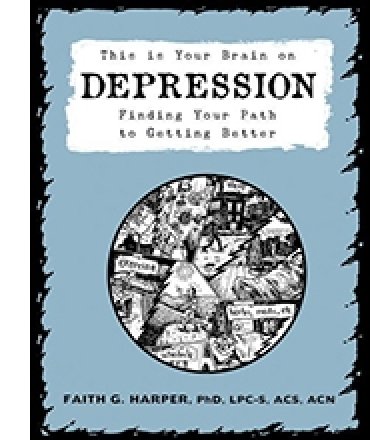 THIS IS YOUR BRAIN ON DEPRESSION: Finding Your Path To Getting Better
by Faith Harper
$9.95, ISBN13:9781621062233
People who have never been depressed have no idea what it's like. And people who have know all too well how tough depression can be to live with. Dr. Faith explains the brain science behind depression (complete with Zuul references) and talks you through the different options out there for getting better. Because yes there are things you can do to feel good again (including drugs but avoiding spiraling successions of drug cocktails). If you need solid expert advice from someone who can also make you laugh your ass off, this zine's for you!
Publisher: Microcosm Publishing
Self-care is a necessity for any modern woman, and this book helps you prioritize #1 with a little help from the magic of witchcraft. The Witch's Book of Self-Care has advice for pampering your body, mind, and spirit with spells, meditations, mantras, and powerful activities to help you to keep healthy, soothe stress, relinquish sadness, channel joy, and embrace your strength. This book features such magical self-care remedies: -A Ritual to Release Guilt: Learn to burn whatever causes you pain and process painful memories or work through heavy emotions in this therapeutic ritual. -Green Space Meditation: Learn how to reconnect with the healing energies of nature, even in the middle of a bustling city, as part of a series of meditations based on the elements and your senses. -DIY Body Butter: Create your own custom soothing and smoothing body butter, powered by crystal and essential oils suited to your intention, and sanctified by a ritual. And much more! The Witch's Book of Self-Care shows you how easy it is to connect to the earth, harness your personal power, and add a little magic to your everyday life for a better you!
Publisher: Adams Media Corporation

Friday,

January 04, 2018

Vol. 34, No. 01


January

New Leaves
Update Catalog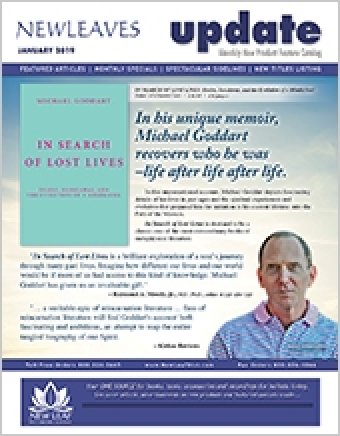 Feature Issue

We're off to a great start in 2019, so dive into our first NewLeaves Update of the year! Packed with great deals on some of the best products. Our cover article features the fascinating book In Search of Lost Lives by Michael Goddart from Epigraph Publishing.


Our monthly
catalog
New Leaves
Update
features
Available At Quality Paperback Prices.

Also

ads for

New Products!
The printed issue will ship to you.

Log-in and

view the latest PDF,
New Leaves Update catalog.

It'

s searchable, printable and includes links to our web site for all advertised products.
Visit our website

Log-in
to view the latest digital New Leaves Update catalog
Items recently received in our warehouse

Our best-selling products, updated monthly

eLeaves is published every Friday at 6pm eastern time. It features ANNOUNCEMENTS of interest to our customers, COMING ATTRACTIONS featuring frontlist items expected within the next month and FRESH STOCK which focuses on items newly received in our warehouse.

eLeaves is only one of the email communications available to New Leaf customers. To view the full list, subscribe to more options, or unsubscribe, please click

here

.