The Workshop Price Includes:
1. Six Two Hour Workshops (including time to draw) that will jumpstart or deepen your relationship to your creative passion and the recordings, and MP3s of these classes
Value: $450
2. $15 gift certificate to Amazon for art supplies or a new sketchbook
Value $15
3. Jill's 2019 Art Desk Calendar
Value $20
4. A copy of Jill's The Nine Modern Day Muses (and a Bodyguard) book Value $25
5. A So What Coffee Mug!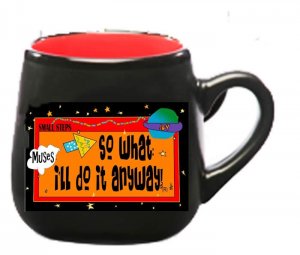 Value $25
6. Meditation for Creative People An Mp3 downloadable
Value $15
7. Inclusion in The Underground Highway to Creative Results on Facebook for the duration of the class.
Value $34
8.Inspirational PDFs with Jills art $25
9. An approach that, unlike many other programs, won't leave you overwhelmed.
Priceless
YOU SAVE $200!
Value $575!!
Cost: $325
Or the No-Frills Version - Without the book, the calendar, and the mug $275
Pay in one, two or three payments
Scroll down
Limited Enrollment. Don't miss out.
Would like to explore different styles of drawing and art.

Want to defy self-doubt and crippling comparison

Don't think you can draw but are curious and want a gentle way to start

Do draw and desire the unleashing of a deeper creative voice if you have been drawing

Want to generate a plethora of sketches in a short amount of time under the influence of an altered state of sketching.

Want to experience how to make sketching not only easier but relaxing, addictive and even, I dare say, a blast.

Want to create at least three sketches you'll want to frame, share with the world, or simply become.

Want to start the year revved-up with a creative habit and a drawing jones.






Jill's Nine "Modern Day" Muses (and a Bodyguard) are actually powerful creative principles in the guise of the wily muses that have helped thousands break through creative blocks and unleash a more authentic creative voice.
In this form, the exploration of principles has more imagination, play, humor, and calls to the child-like spirit inside of us that is responsible for our creative freedom. We will dive into experiences inspired by five of her wily Muses (and the Bodyguard) in this six week session to begin generating a body of work, complete work you've started, or simply have fun discovering a new way to approach drawing.

Each Week a New Muse Will Show You a Different Approach to Drawing:
The Bodyguard
Our self-talk is the number one indicator of our enjoyment and success in the creative process. The Bodyguard will teach you how to realistically adopt new "creative" self-talk to replace habitual self-criticism that clogs up creative vessels. We will warm up with some free range doodles that call forth protection.
2. Spills, The Muse of Practice, Process, and Imperfection
Pressure and perfectionism are often the biggest blocks to deepening creativity. Spills insists on lowered expectations and exercises that bypass pressure, you will generate art and sometimes words quickly, with guarantees to generate results you will be pleased with.



Albert, The Muse of Thinking Different
Using perspectives, personas, and trigger words, to provide an altered state of thinking to generate new ideas, Albert helps you see ideas from a different angle. Left-field techniques dislodge ideas in an uniquely right-brain fashion; titles, captions, and stories give your drawings, sketches, and scribbles new dimension.
Bea Silly, The Muse of Play
Bea Silly will insist that we revert to a kid-like state to replenish that spirit of uninhibited, spontaneous creating. Generating drawings and words through play is one of the most powerful ways to break through to new vistas of creativity. We will practice thoughts and feelings that tap into the freedom we were born with.
Audacity, The Muse of Courage and Uninhibited Uniqueness
Creativity flourishes with courage and confidence, often beyond what you thought were your limits. Audacity will show you how to cultivate creative courage with simple experiences that move you past your insecurities and/or into more uninhibited territories.
6 . Aha-phrodite, The Muse of Passionate Attention
Aha-phrodite promotes new ways of paying attention resulting in awareness that successful artists have used to infuse their work with creative distinction. She covers many aspects of paying attention from what worked in the past to where to find ideas.