As hard as it is for Joyce and me to imagine, not every child loves to read. Sometimes called "reluctant readers," these young people have also been referred to as "dormant readers". Award-winning NC author, Barbara O'Connor shares three important ways she woos readers. As an educator, keep these in mind when you encourage your students to tackle a title they're hesitant to read. As usual, we are giving away some great books--one might appeal to a dormant reader you know.
Send us an email with ways you've engaged a reluctant reader and we'll enter your name twice in our giveaway contest, and we may pass your suggestion along to other Talking Story readers.
Barbara O'Connor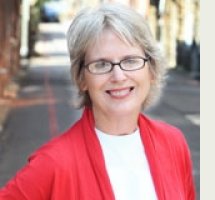 Let's face it: some kids just don't enjoy reading as much as others. So, how do you write books that entice those kids? First, write stories about things that appeal to kids: animals, problems at school, secrets, mysteries, friendships. But a good story isn't enough. First and foremost, you've got to get

- and keep -

the attention of less enthusiastic readers. But how do you do that?
The title is the front door to your story. It helps grab attention. I know that the title of my book How to Steal a Dog plays a big role in enticing young readers to read it. Your title should have something alluring about it – a promise of something worth reading. The Small Adventure of Popeye and Elvis promises adventure. The Fantastic Secret of Owen Jester promises a fantastic secret. (But remember, you've got to deliver on that promise.)
Once you've captured their attention, you've got to lure readers into the story. The first chapter is critical. If you don't hook them with the first chapter, you'll lose them. Start as late in the story as possible and jump right into the action. You'll have time for backstory later. And this is critical: you want the reader to know what your story is about as soon as possible.

Once you've lured them into the story, you've got to keep them turning the pages. How? With short chapters that have cliffhanger endings, more action and dialogue than narrative and more showing than telling.
That's my formula for writing books that grab less than enthusiastic readers. Imagine my delight when I recently received a letter from a parent that said, "Thank you for lighting that fire for reading within my daughter."
Mission accomplished.
Barbara O'Connor is the author of award-winning novels for children, including Wish, Wonderland, and How to Steal a Dog. Drawing on her South Carolina roots, Barbara's books are known for their strong Southern settings and quirky characters. Barbara is a popular visiting author at schools and a frequent speaker at conferences around the country.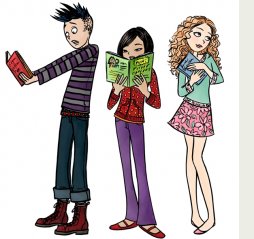 by Carol Baldwin

Ask students to pick a title from a variety of reading materials such as audio books, or teen and sports magazines, nonfiction, graphic or novels, or
1. Conduct student-led discussions. After asking, "Why did you read this book?" the leader asks the reader if he would recommend the book or not and give three reasons for his answer.

3. Pick characters from two books and write a story where they meet. Read and compare them in class.

4. Rewrite an ending to a favorite book or rewrite a scene from a different character's point of view.

5. Reader's theater often grabs reluctant readers as they get to read and dramatize a favorite story.
6. Give extra credit to students who enlist at least one other family member to read the book.
A Teen's Take on Three books

by Collin Hostetter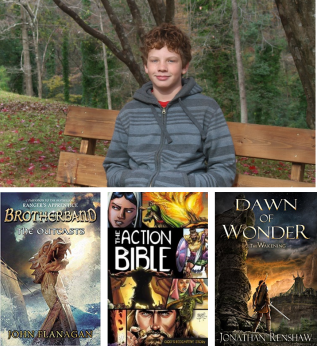 The Outcasts is a fantasy about Viking children being trained to be great warriors. The story is just fun and filled with adventure. They leave their island to go hunt down pirates who had stolen one of their greatest treasures - an orb. They are successful but it takes like three books. I liked it because it kept me on my toes. I never knew what would happen and they kept on running into other dangers. I had to keep reading the other books in the series to find the ending.

The Action Bible
Illustrated by Sergio Cariello
This is a Bible Story book in comic book version. It doesn't really have verses in it. All the dialogue is in speech bubbles. It gives you a feel for what actually happened. I liked it because the drawings gave a picture of what the stories looked like. I think it helped me to get into the Bible a little more. I read that and then I read the Bible to get the details.
by Jonathan Renshaw
This fantasy is about a kid named Aedan whose father teaches him to be so fast and skilled in the forest that the townspeople think he is a phantom. When Aedan's friend, Kalry is kidnapped, people think he is responsible so his family flees to the big city. Aedan is taken in by a knight who sends him to an academy for warrior training. It
turns out that Kalry is actually alive and the book ends as a cliffhanger because Aedan wants to go rescue her. I'm waiting for the author to write the next book. It's one of the best books I've read.
Collin Hostetter was a dormant reader until his local library summer reading program turned him on to the Brotherband series! Now he loves to read although he prefers audio books because he can multi-task while listening. Collin also enjoys woodworking and playing in the out-of-doors.
We love to hear from our readers!

You can contact us through the newsletter or individually at the following websites.

We're also both available for school visits.

Joyce

Please Share Talking Story!
Have you noticed the "Share" button on the top of this newsletter? If you share TALKING STORY either on social media or email it to a friend, we will enter your name in our giveaway. Please
email
by January 21, tell us what you have done, and your book preference and we will add your name to the hat!
If you're having trouble emailing us, try using CHROME browser.
Send us an

and we'll enter your name to win one of the three books below.

Each will intrigue a young reader in your life.

If you have a book preference, please mention it. We try to honor requests.

US
address
only.
Enter by

(Or better yet, enter right now!)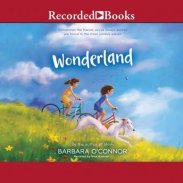 Congratulations to winners from our

fall issue.

Connie Saunders won Farmer George Feeds the Nation.
Jane Headly won Revolutionary Rogues.
Mary Morton Cowan won
Answering the Cry for Freedom
Myra Strickland won Puritan Girl, Mohawk Girl.
by Joyce Moyer Hostetter


My book
BLUE
is often read in classrooms or by whole grade levels which means there will always be a few students who, if given a choice, would have chosen another book entirely. But I have been fortunate that time and again I hear from students and teachers that BLUE hooked the reluctant readers - often turning them into book lovers and history enthusiasts.
My goal is always to make my reader care on the first page. As I learned from an editor at my very first writer's conference - "The more personally you write, the more universal your story will be."
To Eileen Heyes for donating Tough Act to Follow and Acting Innocent.

To Barbara O' Connor for being our featured author.

To Lila Quintero Weaver for her illustration.

To Collin Hostetter for being our teen reviewer.

To Recorded Books for Wonderland.

To Joanne Hunsberger for proofreading.