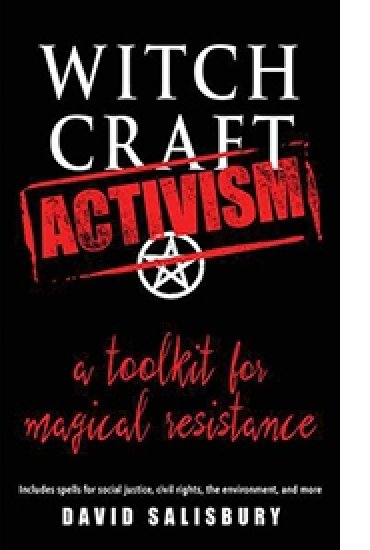 WITCHCRAFT ACTIVISM: A Toolkit For Magical Resistance (Includes Spells For Social Justice, Civil Rights, The Environment & More)
by David Salisbury
$14.95, ISBN13:9781578636570

A hands-on guide from an experienced activist with tips on everything from joining activist groups to conjuring spells for self-protection. There is a movement on the rise, one that brings the worlds of social justice and political activism together with the practice of witchcraft. Activists wish to add magical methods to their arsenal, while spell casters seek to use their powers to resist oppression. Written by an experienced witch-activist and with the current political climate in full view, the book shows readers how to learn spells for self-protection and body shielding, as well as methods of developing enhanced psychic intuition and situational awareness. Salisbury explains how and why to conjure spirits of defense, land spirits, ancestral spirits of activism, as well as your own personal guardian spirits. Included are rituals, spells, and sigils, written clearly and simply, so that even someone with absolutely no previous experience in spell casting can immediately feel empowered and join the "witch resistance."
Publisher: Red Wheel/Weiser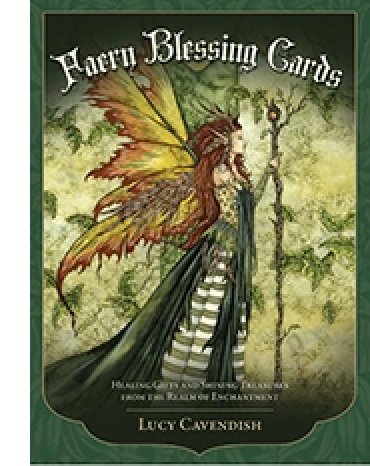 FAERY BLESSING CARDS: Healing Gifts and Shining Treasures from the Realm of Enchantment (435 cards & guidebook, boxed)
by Lucy Cavendish & Amy Brown
$23.95, ISBN13:9781925538595

Are you ready to reclaim the blessings of magick, wonder and nature? Faeries are ancient, powerful elementals, and they have many blessings and gifts to offer. Once, the faeries and the humans were allies, united in our love for and protection of the planet. Today, many have lost this connection – and with it, the blessings of the faeries. With this deck, it is the faeries' intention to reweave and reconstruct that relationship, for the good of us all, and for the good of this planet. With every card you'll receive faery treasure – a priceless gift to ignite your intuition, lift you up when the world seems too heavy, offer deep healing and help set you once again on your true life path. Featuring the paintings of renowned faery artist Amy Brown, written by Lucy Cavendish, this deck is your magickal, healing pathway to receiving messages and blessings from the faeries, every day.
Publisher: Blue Angel Gallery Pty Ltd.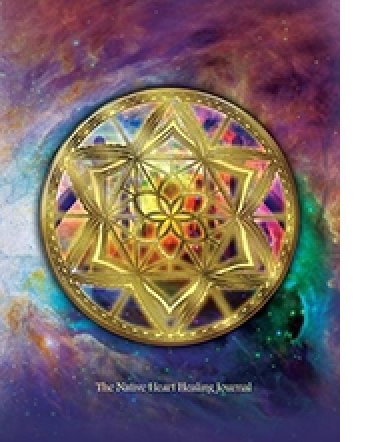 NATIVE HEART HEALING JOURNAL (220 pages, deluxe matte soft cover, with color illustrations)
by Melanie Ware
$19.95, ISBN13:9781925538571

This deluxe soft cover journal features 220 pages of cream-coloured premium quality wood-free paper, with a combination of lined and unlined pages to accommodate all facets of your self-expression – you may like to write, doodle, paint or draw. Over 140 of the pages feature an inspirational quote or message and the journals also include 44 full colour artwork reproductions to inspire your creative expression. Publisher: Red Feather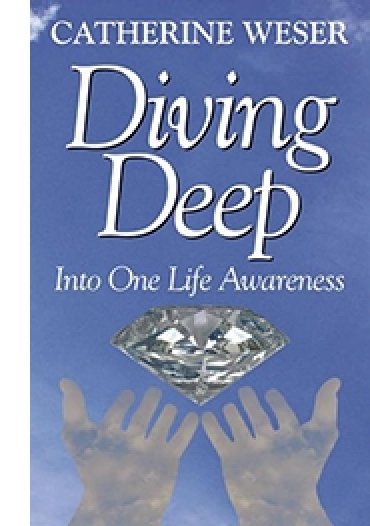 DIVING DEEP: Into One Life Awareness
by Catherine Weser
$17.95, ISBN13:9781948749138

Since 1982, when the presence of the spiritual master, inner teacher, and guide known as Dwahl Khul, or DK, entered her life, Catherine Weser has been sharing his teachings with a constantly growing international audience. Now, in Diving Deep, she combines her own knowledge and creativity with DK's wisdom of One Life consciousness. Her new book is a fully integrated blending of Catherine's fascinating personal journey with DK's inter-dimensional guidance, and includes powerful affirmations of gifts and resolutions to challenges. As with Catherine's many articles and workshops all over the world, all the lessons of Diving Deep are guided by the presence of DK as inner teacher, influencing and guiding the information. One Life, as Catherine notes, is a non-dual philosophy. To know One Life is to experience all in an awakened state of being. In the One Life, all sentient beings are one. There is no path to the One Life; it is simply here and now.
Publisher: Terra Nova Books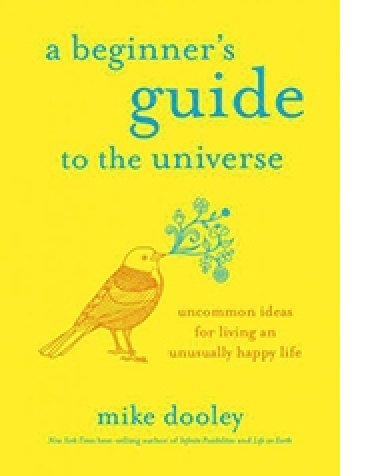 BEGINNER'S GUIDE TO THE UNIVERSE: Uncommon Ideas For Living An Unusually Happy Life (Hardcover)
by Mike Dooley
$19.99, ISBN13:9781401955021

Mike Dooley returns with what he expects to be his most impactful book yet: a volume of elegant, brief lessons conceived as a message from a father to his daughter, and equally relevant to everyone who's living a life on earth. (In other words, everyone.) Mike is a beloved teacher and thought leader for seekers around the world, known for his trademark humor, wisdom, and sheer joy in living–all of which he's shared in his 17 books and his free daily e-mails of "Notes from the Universe." His Beginner's Guide to the Universe, inspired by such classics of gem-like wisdom as Life's Little Instruction Book, The Four Agreements, and The Things You Can See Only When You Slow Down, gives voice to his most essential, heartfelt advice about living deliberately and creating consciously. Guiding the reader thoughtfully and joyfully through a range of topics–including family and relationships, power and responsibility, adversity and bouncing back from it, even the nature of heaven, angels, and God–Mike succeeds in making a happy life in this universe seem easily within our reach. With short passages of text placed artfully on each page, and a format that's a pleasure to hold in the hand, this is an ideal gift for a parent, a parent-to-be, a child, a new grad, a dear friend, or anyone who needs a dose of Dooley, whether they know it or not.
Publisher: Hay House




•
Check Out This Month's Special Deals!
•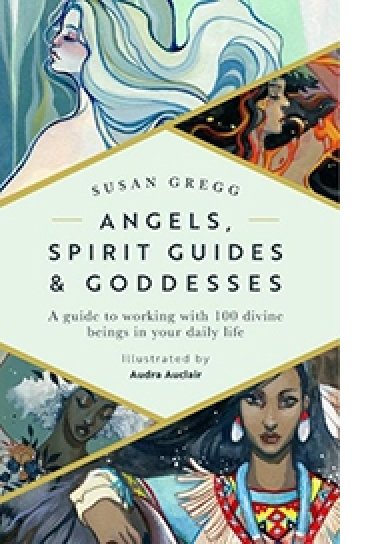 ANGELS, SPIRIT GUIDES & GODDESSES:
A Guide To Working With 100 Divine Beings
In Your Daily Life
by Susan Gregg & Audra Auclair
$19.99, ISBN13:9781592338511
Angels, Spirit Guides & Goddesses is a lavishly illustrated guide to 100 celestial helpers who are ready to provide guidance–all you need to do is ask. Celestial helpers surround us in abundance, simply awaiting our call. Angels, Spirit Guides & Goddesses is a lively reference to who's who in the celestial realms. Featuring 100 divinities from spiritual traditions both current and ancient, this guide shows you how to call upon divine help in all areas of your life, from relationships, to career and money, to home and family. Angels, Spirit Guides & Goddesses offers an overview of each deity, their purpose, and how you can call upon them for assistance. Need protection? Call upon Archangel Michael. To find your true soul mate, open your heart to the Hindu god, Krishna. Want assistance with healing or communicating with animals? Invoke Saint Francis. Is your life in need of excitement? Call upon Hawaiian volcano goddess Pele to stoke your passion and inner fire! Beautifully illustrated in full color, Angels, Spirit Guides & Goddesses helps you to easily connect with the essence of each guide and call upon them for magical help and support.
Publisher: Fair Winds Press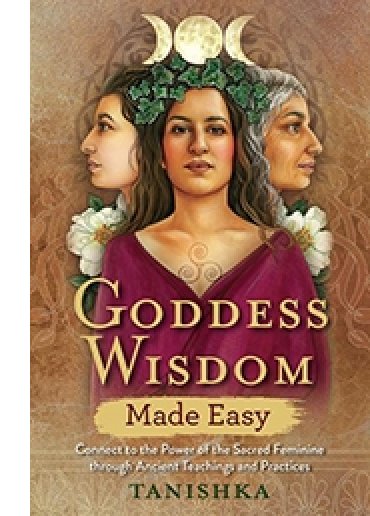 GODDESS WISDOM MADE EASY: Connect To The Power Of The Sacred Feminine Through Ancient Teachings & Practices
by Tanishka
$14.99, ISBN13:9781788172615
Ancient civilizations once worshipped female deities and women were the leaders, counsellors and healers of their communities. Through the ages, the wisdom of the Goddess was then forgotten, and people around the world lost their connection to ancient feminine wisdom. In this practical guide, Tanishka, a leading teacher and author of women's wisdom traditions, introduces the main Goddess cultures and explains how their teachings and practices can empower and transform your life today. You will learn: • the history, philosophy and practices of ancient Goddess traditions • the seven Goddess archetypes and their corresponding chakras • the life stages of the feminine journey and how to transition through each one • rituals to reconnect with your inner goddess • insight and tools to understand and align with the cycles of nature Publisher: Hay House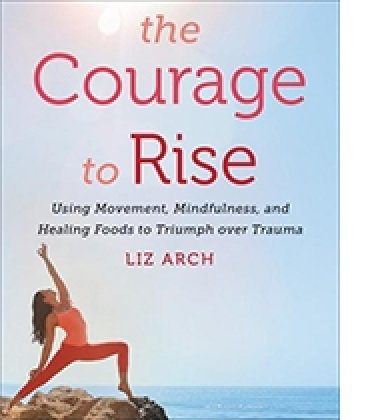 COURAGE TO RISE: Using Movement, Mindfulness & Healing Foods To Triumph Over Trauma
by Liz Arch
$26.99, ISBN13:9780062694232
Krista Mitchell (Change Your Energy) is a master at crystal healing, and with Crystal Reiki, she has created a handbook for practitioners both amateur and professional. This hot new technique combines crystal layouts with energy healing to treat a variety of ailments. Fully illustrated and easy to use, this comprehensive guide teaches the fundamentals of working with crystals and chakras; explains how healers should prepare themselves, their space, and their tools; covers four levels of healing that include auras, body, mind, and spirit; and stresses the importance of self-care for healers themselves.
Publisher: Sterling Ethos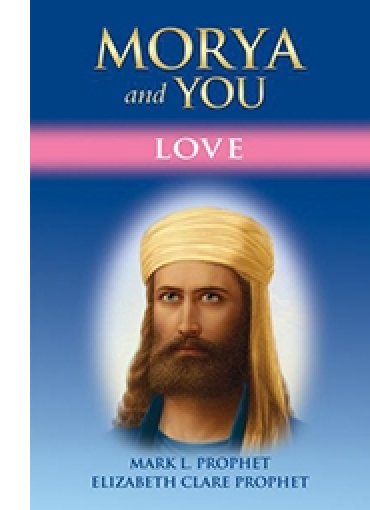 MORYA AND YOU: Love
by Mark Prophet & Elizabeth Prophet
$19.95, ISBN13:9781609882921
Sometimes we look a stranger in the eye and have a flash of recognition: we know this person! You may feel an instant soul connection when you gaze into the eyes of the fierce being whose portrait graces the cover of this book. Who is he? He is the ascended master El Morya. Now a purely spiritual being, he's had many earthly embodiments where millions of souls knew him intimately–as father, brother, teacher, ruler and friend. He was Abraham. He was Sir Thomas More. He was Akbar the Great. And he had many more lives as the exemplar of fatherly guidance and love. You may well have been one of those millions who knew him in the past. The problem is, you've forgotten all about him as you entered your present life. Master Morya hasn't forgotten you. He's looking for his students and friends of old, and his eye is on you. His heart is longing for you.
Publisher: Summit University Press
Interested in meditation, but allergic to woo-woo? Dan Harris used to think that meditation was for people who drank kombucha, played ultimate frisbee, and used the word "namaste" without irony. Then he had a full-blown panic attack on live television (5mm views on YouTube!) and on his way to sanity, discovered meditation. His memoir about this experience, 10% Happier, became a #1 bestseller and made readers (fidgety skeptics like himself) curious about meditating. But then, in his travels, Dan encountered a lot of people who said they wanted to meditate, but couldn't quiet their mind, didn't have time, felt weird and culty doing it, etc. So he set out on a cross-country trek with Jeff Warren, a master meditation teacher (a "Meditation MacGyver"), to get to the root of the problem. The result is a book that, with irony and insight, confronts and dismantles all the reasons you're not meditating–and provides a range of meditation practices that meet you where you are in your life and offer you the chance to become 10% happier, for real.
Publisher: Spiegel & Grau

Friday,

February 01, 2019


Vol. 34, No. 05


February

New Leaves
Update Catalog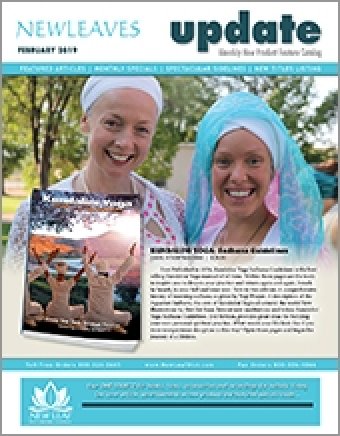 Feature Issue

There's something in the air this time of year…. Is it love? Maybe. Or maybe it's a new edition of the NewLeaves Update! Our February issue includes some great specials on Card Decks. Cover feature comes from Kundalini Research Institute.


Our monthly
catalog
New Leaves
Update
features
Available At Quality Paperback Prices.

Also

ads for

New Products!
The printed issue will ship to you.

Log-in and

view the latest PDF,
New Leaves Update catalog.

It'

s searchable, printable and includes links to our web site for all advertised products.
Visit our website

Log-in
to view the latest digital New Leaves Update catalog
Items recently received in our warehouse

Our best-selling products, updated monthly

eLeaves is published every Friday at 6pm eastern time. It features ANNOUNCEMENTS of interest to our customers, COMING ATTRACTIONS featuring frontlist items expected within the next month and FRESH STOCK which focuses on items newly received in our warehouse.

eLeaves is only one of the email communications available to New Leaf customers. To view the full list, subscribe to more options, or unsubscribe, please click

here

.