A Special Women's Circle
Sacred Repair with Barbara Mainguy

Fri. April 26th * 7:00 pm - 9:30 pm

Sacred Repair ; Women as 'wounded healers' bring their wild energy, informed by struggles and suffering as we walk in this world.
The healing stories we tell are a unique offering from this feminine medicine.
Join this group of women and circle up for an evening of exploring and honoring your medicine walk.
Please bring a rattle or drum, bottle water and a journal.
Cost: $25
To register email shamanicfirereiki@gmail.com
Location:
SFR Soul Haven, 56 West 45th Street, Suite 1703
New York, NY 10036
Btw. 5th and 6th Avenue, Midtown, Manhattan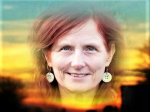 Barbara, MFA, MA, is involved in creative arts psychotherapy and group medical care, especially in relation to geriatrics and people with psychosis. She is a filmmaker and a visual artist and is currently editing a film on how society decides whom to call "mad". Her M.A. is in Creative Arts Therapies from Concordia University (Montreal) with an emphasis on Drama Therapy. She is the author of scholarly papers on embodied narratives and drama therapy with autism and schizophrenia. Together, she and Lewis have written Remapping the Mind, published in 2015.