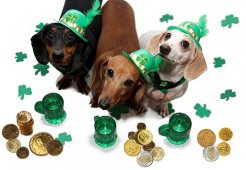 Poison Prevention Awareness Month.
March 3: If Pets Had Thumbs Day
March 3-10: Professional Pet Sitters Week.
March 13: K-9 Veterans Day
March 23; National Puppy Day
March 28: Respect Your Cat Day
March 30: Take a Walk in the Park Day
- separate fenced-in areas for both small & large dogs



- water bowls and kiddie pools
- two separate areas for large and small dogs - obstacle courses


- water bowls are available
- plenty of benches for humans as well
- plenty of obstacle courses

- an obstacle course
- fountains just outside the enclosure
- the park is home to a lake that looks breathtaking at dusk

Lake Vista Park, St. Pete
- large fenced in area with lush grass
- plenty of benches and shade
- dog bowls, a washing station, complete with a hose, and even a charging station for your phone is available for your use

- safe fenced-in areas for them to play

- cooling stations and water bowls
- plenty of shade trees
- agility courses for dogs needing exercise


- a fence that accommodates both small and large dogs

- lots of shade
- water bowls & hoses
- this park is made up mainly of restored wetlands, so you and your dog can witness beautiful wildlife

- benches
- water bowls &b tennis balls

-separate dog park with large fenced in areas for both small & large dogs
- washing station

- dog bowls, a dog washing station, and a place to charge your phone!
- beautiful beachside view
- plenty of shade

March is Poison Prevention Month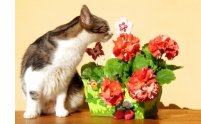 In our busy lives we forget how curious our pets can be. Sometimes curiosity leads to danger if our pets eat something poisonous. There are many common foods, plants, and other items in our homes that are varying levels of dangerous for our pets. Below you will find some information on these toxic items and links to more specifics.
Cleaning Products: Some cleaning products can cause burns in your pet's mouth or esophagus, while others can lead to liver or kidney damage. To keep your pet safe, store all cleaning solutions out of their reach and keep animals out of the way while cleaning and rinsing. A dog may choose to drink old dirty mop water over fresh clean water! 5 dangerous products &

Household cleaners safe for pets.
Rat/Insect Baits: Place baits for rats, mice, ants, roaches, etc. in areas inaccessible to your pets. Some baits contain ingredients like peanut butter that may attract a pet. Don't forget that some pests—like mice and rats—may move bait into an area your pet can easily reach.

Human Food: Never give human

food to your pet without checking with Dr. Daniels. Grapes can cause kidney failure in dogs. If too much garlic or onion is ingested, red blood cells can be destroyed, causing anemia. M

acadamia nuts cause temporary hind limb paralysis in dogs.

More human foods to avoid & the Chocolate Toxicity Meter is a great resource.

Automotive Products: gasoline, oil, antifreeze, tire cleaners and windshield antifreeze should be kept where pets do not have access. Clean up spills immediately, even if you don't think a pet would go in the garage.

Prescriptions: Pets metabolize and eliminate some medications differently than humans. Only give your pet medication recommended by Dr. Daniels. The wrong medication can cause severe illness or even death.Keep all prescriptions and medications out of your pet's reach, preferably in closed cabinets. Keep your pet's medications in an area away from the family's medications. This will help prevent a pet accidentally ingesting a human's medication

Plants: Identify plants in your house and yard and remove those that can cause severe or life-threatening clinical signs (a few examples include oleander, yew, sago palms and lilies). Check to see if plants are toxic before landscaping

.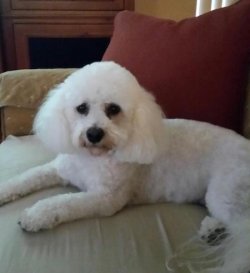 I am a 5-year-old Bichon Frise who loves any toys that squeaks! When mommy and daddy nicely make their bed I feel like the bed is calling my name and I jump up and mess it all messy. One time I rolled in something really sticky, which was so fun. But the stickiness wouldn't go away and my parents had my ears shaved...it was so embarrassing. Don't tell Dr. Daniels but my favorite treat is the toast crust, yum. I am so spoiled that I get to sleep in bed with mommy and daddy OR daddy's favorite recliner chair.

Spring forward an hour on Sunday March 10th for Daylight Savings.
Is Your Pet Constantly Itching?
This time of year many of us are sneezing and our pets are itching. Are you already giving your pet daily medications to help with itching from allergies? We want to help your pets get some relief. At Largo Veterinary Hospital we offer allergy testing. If your pet's test does reveal allergies we want to work with you to create a plan best for your pet. We offer different approaches to reducing allergic reactions.
If you would like for us to test your pet for allergies or talk to Dr. Daniels about the special diets we carry, please call our office to schedule an appointment. 727-584-8370
Follow us on Social Media.