Spring Awakening Despacho
with LinDel Sandlin

Thurs. Mar 21 * 7 pm - 9:00 pm

Spring is a time of preparing the soil and planting seeds. Our focus for the Spring Awakening Despacho will be preparing ourselves to "plant" something new in our lives. By calling it in energetically, it can bud and grow for us onto the Earth plane. What would you like to plant for yourself at this time in your life? Maybe a new job or romantic partnership; perhaps a new way of relating to your current co-workers or partnership. Let's also plant seeds for our All Our Relations and for Mother Earth.
A Despacho is a South American medicine bundle (similar to a mandala) that holds natural elements representing the prayers of the people. As the elements are added prayerfully to the Despacho, the vibration of those in the room rises. The Despacho becomes a living prayer that brings energy shifts, healing and balance - especially when the bundle is offered to a sacred fire (which happens separately a few days later).
Please bring your prayers and intentions for the seeds you'd like to plant for yourself, your "family" and for our Mother Earth.
All materials will be supplied
Cost: $35

Location: SFR Soul Haven, 56 West 45th Street, Suite 1703

Bwt. 5th and 6th Avenue, Midtown, Manhattan
Off Rockefeller Center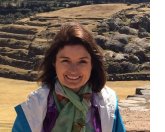 LinDel Sandlin will be facilitating the Ayni Despacho this evening. She traveled to South America and participated in numerous Despacho rites with modern-day Inka Q'ero medicine men and women (through her training with The Four Winds) and has continued to bring this medicine forward in her own practice.
LinDel is especially grateful to all the Andean medicine people over the millenia who kept their sacred healing practices alive - often at great peril to their own lives.
LinDel can be reached at
LinDel.SmilingChi@gmail.com
or visit:
www.facebook.com/TaiChiShaman/
For More Info on Despacho's