Your Heart Knows the Way
Run in that Direction
~Rumi~
SFR Welcomes Back Our Dear Gaia with our Deepest Condolences, Love & Gratitude

Astro Forecast, Astral Awareness & Insight
with Gaia Somasca

Spring Blooms with a Libra Super Full Moon
"Spring has returned.
The Earth is like a child that knows Poems."
(Rainier Maria Rilke)

In old English, the words "springan" meant to leap, to burst forth, to fly up and spread. As it does still today, it was the time of "rising or springing into existence," a time of beginning, so that the words "spring of dai" meant "sunrise," and "spring of mone" was the "Moonrise", or the waxing Moon.

Nothing like Springtime, when Sun apparently crosses 0 degree of the sign of Aries, the first sign of the zodiac, feels like birth and marks new beginnings, a time filled with outwardly expressing energy.
Info on Libra Super Full Moon
Gifted by Gaia
Spring Equinox Celebration
with Cory, Irma, Judy & Rosangel
Wed. Mar 20th * 7:00 pm - 9:00 pm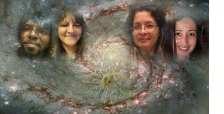 Come join us as we celebrate the arrival of Spring with community movement of sounds, dance, opening the path of Vortex Road Openers to activate our inner core as we travel within shamanic dream, vision and journey into revitalizing fortitude.

Bring your rattles, drums and let's shift the energy to shake, rattle and drum in the Spring Renewal Energy.
Info on Spring Equinox Celebration
Cost: $25

Spring Awakening Despacho with LinDel Sandlin

Thurs. Mar 21st * 7:00 pm - 9:00 pm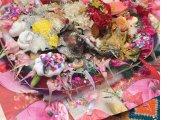 Spring is a time of preparing the soil and planting seeds. Our focus for the Spring Awakening Despacho will be preparing ourselves to "plant" something new in our lives. By calling it in energetically, it can bud and grow for us onto the Earth plane. What would you like to plant for yourself at this time in your life? Maybe a new job or romantic partnership; perhaps a new way of relating to your current co-workers or partnership. Let's also plant seeds for our All Our Relations and for Mother Earth.
Info on Spring Awakening Despacho
Cost: $35

Experience Your Intuition, A "Clairs" Immersion Workshop with Constantina Rhodes, Ph.D.

Sat. Mar 23 * 11:00 am - 5:00 pm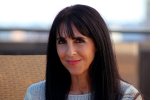 Are you intuitive, but don't really know how to access your intuitive skills?

Are you a seasoned practitioner, but need to jumpstart your connection with your intuitive self? This immersion workshop is designed to deepen your intuitive capacities by focusing on the paraphysical senses, or "clairs" -- clairsentience (psychic feeling), clairvoyance (psychic sight), clairaudience (psychic hearing), clairsavorance (psychic tasting), clairscent (psychic olfaction), and clairtangency (psychic touch). You will learn to identify how your own intuition speaks to you -- everyone operates differently! -- and how to access this vibrant pathway to your inner wisdom for guidance in all aspects of your life.
Info on Experience Your Intuition
Cost: $169

Shamanic Crystal & Stone Illumination Series

with Irma StarSpirit Turtle Woman

Mon. Mar 25th * 7:00 pm - 9:00 pm


Learn how to recognize, identify patterns, shapes and facets in crystals and qualities of gemstones & stones. As healers the need to incorporate the crystal/stone people into your work such as reiki, shamanism, crystal and energy work.

This month discover the Devic Temple or Fairy Frost Energy look within your crystal and seen dancing energy light forms within it?. There is trapped water, air or gas within them that are often called veils or fairy frost. Nature Spirits reside in them and are known to be caretakers of the Earth. Come discover and tap into the energy of the allies within the crystal.
Info on Devic Temple Fairy Crystal
Cost: $45

Farey Vortex Universal Light

with Cory Crow Night Singer

Tues. Mar 26th * 7:00 pm - 9:00 pm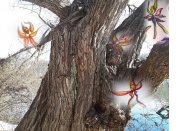 We will explore the realm of the light code frequencies and discover how to use them for personal healing and raising our light body vibration there will be exercises on how to create your own light code.

In this class we will discover our connection to the realm of the faery kingdoms and the elementals we will be offering them offerings and receive blessing and healing from them.journeying into the faery to receive a magickal gift.
Info on Farey Vortex
Cost: $25

Gentle Harmonic Sounds & Yoga with Andrea & Judith

​Wed. Mar 27th * 7:00 pm - 8:30 pm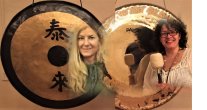 Come explore gentle and therapeutic yoga poses,deep releasing stretches with deep breathing and supported restorative poses with the sound and healing vibration of the crystal bowls and gongs.
We combine physical movement with sound and frequencies to penetrate into all the layers of our bodies to release stuck energies .The result is a deeply relaxed body and mind filled with healing vibrations and a deeper sense of connection to Spirit.
$30

The Women's Empowerment Circle with Mia Roman

Fri. Mar 29 * 7:00 pm - 9:30 pm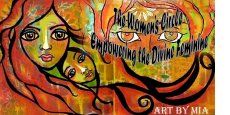 "The Women's Circle, Empowering the Divine Feminine" is the New Girls Night Out!!! Uniting and Empowering one another. These Goddess gatherings will involve ritual, sharing, bonding, empowering, self love, and learning, all in a safe judgement free zone. Join us for special Divine Feminine theme nights and ceremony which is a beautiful way to pause, reflect, de-stress, relax, and set personal intentions for the Mind, Body and Spirit. Utilize the gifts of Mother Earth, Spirit and Divine Feminine Energy to balance, charge, and get grounded.
Info on the Women's Empowerment Circle
Cost: $25

Shamanic Deathwalker; Death & Dying Workshop

with Tony Allicino

Sat. Mar 30th * 10:00 am - 6:00 pm



Death is an inevitable, sacred, and mysterious part of the Circle of Life, and shamans have provided spiritual service and support for thousands of years to those in the process of dying, those who have died, and for the living who are coping with the dying or the death of a loved one.


Is shamanic service with dying and death part of your practice?

If not, are you ready to step into your role as a Shaman Deathwalker?

​Info on Shamanic Deathwalker
Cost: $250

Reiki Art with Judith Grasshopper

Sun. Mar 31st * 1:00 pm - 4:00 pm

Join us for a day of creativity by opening the minds eye.

A day of Shamanic Reiki Art, something to take home as part of your life journey.
On this day we will share a beautiful community blessing within the circle. Followed by a Shamanic Drum journey to help you open your Heart Chakra channel waves to Nature, transmuting yours visions into Water color arts.
Info on Reiki Art
Cost: $50

Introductory to Shamanic Shapeshifting

with Irma StarSpirit Turtle Woman

Tues. Apr 2nd * 7:00 pm - 8:30 pm


Join us in an introduction to shamanic shapeshifting a discussion of purpose and use of transforming and blending into a new form of liberation, working with our light energy body/dream-body to transcend into deeper understanding the practice of shapeshifting.

Focus & Intent helps change our energetic patterns by working with our power animals and guides.
Info on Intro to Shamanic Shapeshifting
Community Cost: $11

Shamanic Reiki, Preventing Soul Loss

with Robert Levy

Sat. Apr 6th * 5:30 pm - 7:30 pm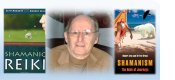 Shaman's believe that the soul is not one complete part but made up of many parts, and when all the parts that comprise the soul are present, we are complete.

Imagine a 100 piece puzzle, and each piece oversees one part of your personality, your likes and dislikes, what makes you happy or sad or afraid, etc. The soul is the part of us that gives us our sense of identity and answers the question, Who are we? Shaman's also believe that the parts of the soul are very protective of its entirety. When an event occurs that traumatizes us, one piece of the puzzle, the part that oversees what has been traumatized, escapes, allowing the remaining pieces to stay together, to stay with you. But that missing part also means we are not whole.
Info on Preventing Soul Loss
Early Bird Cost $55 until Mar 22nd thereafter $75

Save the Dates & Open For Registration
Open for Sessions & Day Rentals SFR Soul Haven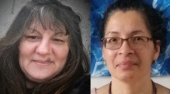 Irma and Judith are open for sessions, crystal, Vogel wand, sound, Reiki, Karuna Reiki and shamanic sessions.

SFR Soul Haven is also available for Day rental only
(no hourly rental offered) or weekend (in advanced) rental.
To Inquire just email us at shamanicfirereiki@gmail.com

Open Now for Registration MedicineWay (Shamanic) Apprenticeship Program,
Being in Wakeful DreamTime, The Art of the Seer's Series, The Art of Stalking; Vital Force Energy & Crystal Healing Certification I, II & III with Irma.
Info on 2019 Apprenticeship and 6 - 9 Month Courses

Join us at Meet-up under Shamanic Fire Reiki