MEDICINE RATTLE WORKSHOP
with Mia Roman from the Women's Temple
Sat. July 20th * 12:00 pm - 5:30 pm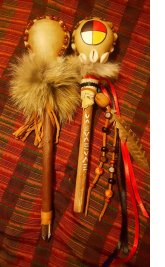 Come and join us in Sacred Ceremony and create your very own unique and power-full Shamanic Medicine Rattle. As we join in the creation of rattle making we put our love, intent, and energy into this powerful medicine tool. It will make a truly special ally who will assist in the process of healing, song, journey, and helping others.
We will open the circle, call in our Ancestors, guides and power animals, set our intentions and prepare our rattles for creation.
In this full day workshop, you will be shown the full art of rattle making in the traditional way, in a day of ceremony we will honor the spirits of the animal and the tree while the sacred process. I will lead you on a journey to connect with the spirit and medicine of your rattle.
Your investment is for a natural hide and includes decorative items.
Full payment secures your place, payment due before July 1st.
All rattles made with natural materials and deer skin. All materials, instruction, guidance, and support provided.
* Pre-cut and dried animal skin and wood stick
* Supplies to decorate/personalize your rattle
* Smudge blessing * Rattle Blessing ceremony * Special gift from Mia
* Demo on rattles from around the world and their uses.
With your rattle you will venture on a journey and relationship of healing, and song.
Early Bird Special until June 20th $88.00, thereafter $100.00
* Mia needs to order materials class must be paid in full before July 1, 2019.
Location SFR Soul Haven, 56 West 45th St. Suite 1703, NY, NY 10036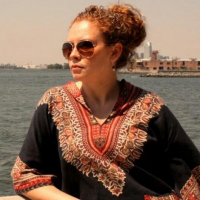 Making Magic and Healing from the Heart.
Mia Roman a self-taught fourth generation artist with a degree in business and a passion for Art and healing has become an internationally recognized visual and Mixed Media Artist, Curator, Expressive Arts Workshop Facilitator, Energy healer, Educator and Entrepreneur whose visual works have been exhibited and are part of private collections internationally and throughout the United States.
Mia is a certified Reiki practitioner, Energy Worker, and Visual Artist that took creativity to another level. She uses the arts, culture, and traditional/indigenous medicine modalities to help heal and inspire.
She currently teaches healing arts through painting, writing and indigenous drum and rattle making, and incorporates herbal medicine using Mother Earth and history as inspiration to wholeness.
Mia Roman can be reached at thewomenstemple@gmail.com