When I have a task to accomplish, one that requires a particular kind of sustained focus, not-knowing to knowing, blankness to clarity, and a deadline--I notice a quickening and slight holding of

my breath

, a subtle tension around my belly and upper throat, and a tiny speeding up of my heart. My eyes look this way and that, while my hands start grabbing for things to do. I make scratch paper of outdated flyers and junk mail, I clear things off my desk into organized piles or files, I walk down the hall to fill up my water bottle, I spray the plants with water, I check phone messages, and I check the clock again and again to see how much time I have left. The list of things I grab goes on, and e
ventually, I get tired of doing this and that, or the clock runs out. When this occurs I turn my attention to the task which now has more urgency and priority in my meaning space. And the first move I make is, pause...……………………………………………………………………….
Breathing into this pause...…………………….
And the task of writing this piece for the newsletter...……………...
I find myself wondering about Spring. What does Mother Earth go through as she prepares to fulfill the task of a new season of sprouting, budding, growing, and blossoming?
Does she quicken, swell with tension, and speed up?
Does she look this way and that, grabbing to express small movements to support shifting, changing, and clearing?
How does she know
her right timing?
What urgencies swell within her?
What supports her to focus, pause and...………. ……………………………………………………………...
As April warms and brightens our days with Spring, at Moving Body Resources we are here with offerings to support your preparations, wanderings, focusings, timings, and more. We hope you will stop by, join a class, workshop, event, or schedule a private session to support the potent pauses of your being. Please see our April highlights below, including some special events ahead in the spring and summer. Call or check out our website for details too.
With sustained focus, not-knowing, knowing, blankness, clarity, amazement
and praise for your potent pauses,
Mary Abrams &
All at Moving Body Resources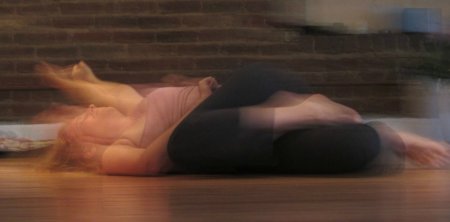 MOVING BODY INNOVATIONS
Taught by Mary Abrams
NEW EVENING CLASS 5 weeks only!
Mondays 6 - 8 pm Apr 22-May 20
(on May 6 class combines with Moving Body Healing)
Thursdays 10 am - 12 pm

Sub teacher: April 4 only
Fees: $30/single class
$130 / 5 class series
See info below.
MOVING BODY HEALING
Monday 6-8 PM
Apr 1, May 6
$30 single class
ALL ABOUT ATTENTION
Fridays Apr 19, May 24
HEART-CENTERED TOUCH FOR MEN
Led by Adam Brown
Two Thursdays a month: 8pm - 10pm
(pre-registration required)
212-366-9025
adam@heartcenteredtouch.com
OOFA "LIKE YOU" LAB. . .
with Sarah French
Thur April 11 6:30-8:30
See below...
2 Wednesdays a month: 6:30pm - 8:30pm
(pre-registration required)
Taught by Mary Abrams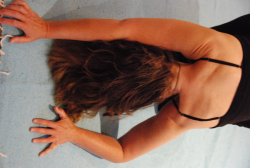 These classes are an amazing opportunity to awaken your senses, experience your body as movement, interrupt your habitual ways of thinking and feeling, and to develop new clarity, awareness, strength, and liveliness in your entire being. We will explore with breath and sound play, sensing, feeling, micro-movement, expressive movement, and deep stillness.
Beginners are welcome anytime.
New Evening Class - 5 weeks only
Mondays, Apr 22-May 20 6-8 pm
Every Thursday 10 am-12 pm
Drop-ins welcome to ALL classes.
Fees for 2019:
$30/single class
$130/ 5 class series
Pre-registration via email or phone 24 hours in advance is appreciated but not necessary.
TO REGISTER via email or phone contact:
mary@movingbodyresources.com
or 212-206-7542
Taught by Mary Abrams
Fridays Apr 19, May 24
9:30 am-1pm

$55/ session
With Mary in a group setting, experience in-depth one-to-one attention. Discover through fluid movement, contact, and listening, how you can facilitate deep connections within yourself as you satisfy deep needs for attention.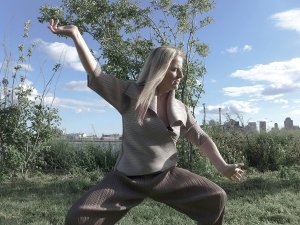 Sessions include self-exploration with Continuum-inspired breath and movement play, and a one-to-one session with Mary witnessed by the group.
Each one-to-one interaction is followed with a short dialogue, to bring more articulate awareness to the process and the elements involved in how we explore giving and receiving fluid generous attention within ourselves.
Limited to 5 people per session.
Pre-registration is required.
TO REGISTER via email or phone contact:
mary@movingbodyresources.com or 212-206-7542
Taught by Mary Abrams

Mondays Apr 1, May 6
6 - 8PM
This class explores the questions, "What is healing? Who is the healer? Who is healing? Can healing occur if nothing needs fixing? Can healing occur if no one has special powers? Or if everyone has special powers?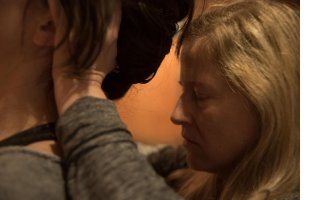 During these sessions all participants will be invited to explore themselves moving, sounding, breathing, and being in the space as healers, as being healed, and in endless creative roles appearing and disappearing for no rational reason. Participants will be invited to bring their special, sacred, and mundane objects to heal with, along with fabrics, singing bowls, shakers, candles, water, and all other items in our healing space. Together we will discover the mysteries and meanings of healing.
This class is inspired by Mary's lifelong creative explorations in the mystery of being and ongoing Somatic Movement practice.
$30/single class
$130/ 5 class series
TO REGISTER via email or phone contact:
mary@movingbodyresources.com or 212-206-7542
& WORKSHOPS:

OOFA "LIKE YOU" LAB
with SARAH FRENCH

Thursday, April 11

6:30-8:30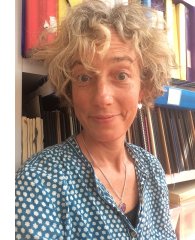 All welcome! Join our pod to stumble & dive, swoop & flutter into new inner & outer spaces.
We use prompts inspired by Clown, dance, dreamwork, animal studies, nature & each other to open to the muses. Dispensing (somehow) with the need to perform, we research the mystery of ourselves & our belonging.
No requirements ~ bring You (& a journal). With curiosity & a desire to hear how the world speaks to us, we'll be off!
note: All labs are the unique creation of those who attend.
RSVP required to

leafridman120@gmail.com

. Lea also has more info about the lab.
Wondering, but not sure? Please write to Sarah at
sarahfrenchy@gmail.com
Future labs: May 2, May 23
Sunday April 28
1pm - 4pm
Tickets are $125;
Early-bird $95 through March 23rd.
RSVP:
https://embody-nyc.eventbrite.com
To all the women craving more freedom and flow…
When was the last time you let yourself sink into what feels good in your body, spontaneously
sing for joy, or hop, skip and jump through your day?
If it's been awhile, it's time to awaken to the possibilities when your feminine essence leads the
way.

We've been asked to achieve, perform, and have it all together.
In stepping up to the plate we've forgotten our greatest strengths:
● A primal connection to the world through our senses
● The ability to feel deeply and process a full range of experiences in our bodies
● A shame-free curiosity and courage that knows no limits
Your pleasure. Your power. Your play. Welcome to your mo-jo.
Our families, communities, and planet are asking for your fiercely feminine grace to
guide us back home.
We've tried the approach that applauds hard-work and a perfect performance at the expense of
disconnection with ourselves, each other, and a power greater than all of us.
The result is burn-out.
We've forgotten that slowing down, surrendering into a more receptive stance, and walking
alongside the footsteps of the other is what's requested of us.
However, we can't walk this path until we awaken what has been silenced and shunned
for too long.
If somewhere along the line you've been dished out a message that sounds like this… your
sensuality is dangerous, your emotions too messy, your joy unproductive…
It's time my sister. Reclaim your pleasure, power, and play.
This EMBODY half-day workshop invites you to connect with your feminine essence, so you feel
vibrant, confident, in-flow, and free.
Our time together gives you an immersive sensory experience to get out of your head and into
your body, so you feel safe to awaken and express the parts of you that have been craving
more voice and space.
Through a combination of dance, somatic movement, and coaching, you'll explore a range of
emotions in your body, including your Pleasure, Power, and Play, so you have a lasting cellular
memory to guide you home to your most authentic, embodied self.
All those who identify as women are invited to attend.
Tickets are $125; Early-bird $95 through March 23rd.
RSVP: https://embody-nyc.eventbrite.com
For more info visit www.kendra-tanner.com/embody
Bio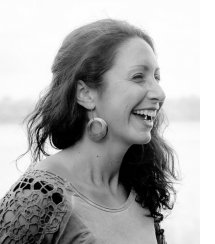 Kendra is an Embodiment Coach and EMBODY Dance Class facilitator committed to helping
women cultivate a relationship with their body and Self that breaks-free from shame- and fear based
messages that keep you playing small. She creates judgment-free spaces; weaving
mindset tools, somatic experiences, and spiritual practices, to facilitate connection with your true
self. She has shared her story overcoming challenges with her body and business at TEDx-
Swansea and in her self-study guide, Your True You Journey.
A New Yorker living in Wales,
she is learning to Slow. Right. Down.
Engaging with Your Ancestors:
Towards a Practice of
Embodied History
Taught by Amanda Faye Lacson & Mary Abrams

Saturday May 18, 2019

10 am – 2:30 pm
Fee: $70

Building family trees is hardly new (though developments in DNA testing have given it a new spin); so what do you do with the dates, names, and family stories that have been passed on to you? While there are many ways to present your ancestors' stories, practicing an embodied history through movement, body awareness, and writing offers immediate ways to be in touch with your ancestors, to honor their stories, and to connect them with your own.
Moving, breathing, and embodied writing are tools to awaken all of our senses. In this workshop we aim to connect you with your ancestors' lived experience: we use breath and movement exercises to deepen your bodily awakening; and embodied writing prompts based on poetry, myth and ritual. If you write about the taste of salt and iron in a slippery oyster, or the clanging and hiss of your steam radiator, your reader is drawn closer to you with a direct feel for your experience. When applying these embodied writing skills to creating your ancestors' embodied history you can draw your ancestor closer to you and to your readers through sensory experience.
We define "ancestors" very broadly: ancestors can be from the family you were born into, from your chosen family or community, from the land you call home, and/or from your evolutionary, biological, and elemental origins. Engaging with all our ancestors through an embodied history practice, helps us honor the traditions and elemental processes that root us in the history of the world. Embodied history can also help set us free from familial and historical patterns that no longer serve our growth and development.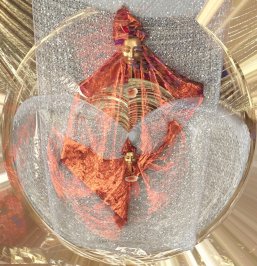 All people are welcome. No writing or movement experience is necessary. Please wear or bring clothes that are comfortable to move in. Bring a notebook and pen, along with an object (photograph, stone, textile or other) that connects you to your ancestors of any kind.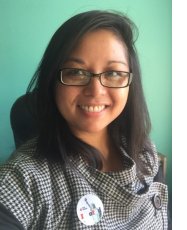 Amanda Faye Lacson, MA is the founder of FamilyArchive Business, a studio designed to meet the family at any point in their archiving process, from organizing photos in boxes to creating a final product to share with family. Amanda's love for preserving family stories came from a young age, when she borrowed her parents' typewriter to record her mom's family tree on onion skin paper. With her background in Art History, Humanities and Transformative Language Arts, Amanda brings her skills in writing, facilitation and visual storytelling to each family's unique project. While Amanda was born in the U.S., her parents and older sister are immigrants from the Philippines. She is particularly fascinated with immigrant kitchens from all over the world, and how our ancestors held onto their cultural traditions while incorporating tastes and techniques from their new homeland.
Mary Abrams, MA, RSME loves moving, learning, and being in business. She has professionally explored her passions since 1984 as a dancer/choreographer and somatic movement teacher. With curiosity and enjoyment, Mary supports groups and individuals in environments that enhance creativity, healing, and transformation through body-self awareness and movement explorations. To the best of her knowledge, Mary's Midwestern ancestors originated from Scandinavia, the Netherlands, British Isles, Eastern European and Jewish cultures; and she also feels very connected to her primordial ancestral roots alive within her cellular matrix.
To register via email or phone contact Mary Abrams:
mary@movingbodyresources.com or 212-206-7542
SEX & THE PSOAS


with Liz Koch
A 3-hour class for women only
Tuesday May 21, 1:00pm - 4:00pm

Workshop Cost:
EARLY BIRD $95 ends April 21,
Regular Registration $125
Register here:
https://coreawareness.com/events/sex-the-psoas-3-hr-womens-class-new-york-ny/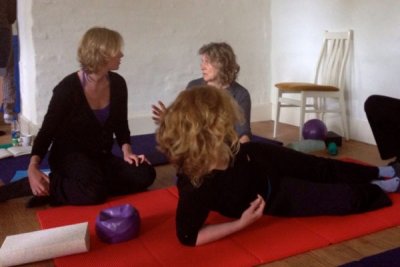 Focused on the relationship of the Psoas to all aspects (and ages) of sexual health: pleasure, full body orgasm, and core integrity.
Staying juicy, no matter what age or phase you are experiencing, involves entering the waters of life, the arms of mother earth and be held by caring deeply for yourself.

Whatever that looks like for you, whatever your desire; gardening,

sharing with women friends, journaling, bodywork, and privacy – it is mandatory that we take back time.

In the midst of a busy family time I demanded of myself like a ferocious guard dog, my own time for being nourished.

Adrenal health is a happy life in every phase. Whether in moon cycle or menopause when I understood that my anger or hot flash was a sign that I was lacking nourishment, in all its varied forms: nutrient rich foods, sleep, play, and rhythm, I would slow down and sense within.

Finding my own rhythm by attuning to the earths rhythms I began again a new dance of life with self, family, and other.
(excepted from Maiden, Mother, Crone: Our Pleasure Playlist)
Email: liz@coreawareness.com
RE-WILDING Psoas 5-Hr Workshop
Wednesday May 22, 1:00pm - 6:00pm
Workshop Cost:
EARLY BIRD $160.00 ends May 1st ,
$185 Regular
Register here: https://coreawareness.com/events/re-wilding-psoas-new-york-ny/
Although culture defines the "wild" as untamable, feral, out of control, riotous, ridiculous, rash, stupid, impractical, and tempestuous, it is by welcoming the wild that we avoid living a domesticated, indifferent, and unenthusiastic life.
Enfolding somatic awareness and biomorphic movement into our life changes not only the course of our health but the creative expression of our soul.
Re-wilding psoas is not a sacrifice or a fix for a dilemma; rather, it is a way with which to participate – to consciously join in, to belong… to play.
Creating fertile territory for re-wilding psoas requires dissolving, decomposing, and recycling what is stagnant in order to once again let our hearts lead us into dynamic, fresh impulses of play. In contrast to cathartic discharge, flailing dissonance, or dismissive amnesia, re-wilding is a surge that can dynamically change the course of our life. No longer controlling core behavior ~ re-wilding psoas becomes an expression of renewal.
Recommended Reading ~ This workshop is based on my new book Stalking Wild Psoas: Embodying Your Core Intelligence

"Liz Koch opens the reader to a brilliant phenomenological panorama of the human body as a shaping, a process, a Gestaltung—as the expression of our soul, intelligence, and consciousness."
—
Jaap van der Wal
,
MD PhD,
embryologist, anatomist and (re
covering) morphologist
Liz Koch, author of Core Awareness andThe Psoas Book,seeks to dissolve the objectification of "body" in order to reconceptualize human beings as biologically intelligent, self-organizing, and self-healing. Specifically addressing educators and therapists, she delves into the conceptual framework of core by decolonizing the popular mechanistic thinking of psoas as muscle, inviting the reader on a journey toward reengaging with life's creative processes. The book illuminates the limitations of the predominant paradigm of body and actively explores psoas as a vital, intelligent messenger that links us to an expansive network of profound possibilities. Employing biomorphic and embryonic paradigms, Koch redefines psoas as smart, expressive tissue that is both elemental and universal. Named after the her popular exploratory workshops of the same name, Stalking Wild Psoas encourages all readers to nourish integrity and claim self-efficacy as creative and expressive individuals.
Email: liz@coreawareness.com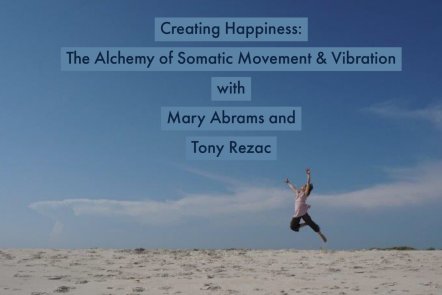 Contact: mary@movingbodyresources.com
Happiness has been a Holy Grail of sorts, for many of us in the West. It is something we have been taught to go out and find from outside ourselves. So we try our best, striving to reach for circumstances and life situations that bring about happy states.
This new workshop, CREATING HAPPINESS, questions and flips around what we have been taught. Instead we explore ways we can actively participate with our whole experience in the interest of what supports us to create, sustain, and rest within elevated states.
Join us for this lively exploration of happiness and how we can anchor happy experiences through somatic movement and meditation.
Each person will leave with new tools and perspectives that they can use to further discover, learn and enhance their levels of satisfaction, happiness, and joy. In addition, each person will be invited to participate in a 21-Day Happiness Experiment. A practice for deepening our learning and to give each person a chance to try out what we practice in their daily lives.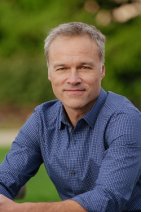 TONY REZAC is an author and men's coach who creates workshops and programs that assist men in meeting the challenges they face. He coaches men from all walks of life who are moving through challenging transitions with his Life Renewal Program for Men. Tony went through the Mankind Project`s New Warrior Training in 2004. He has led and participated in men`s groups ever since. He is known as a compassionate and skilled facilitator and for his commitment to the personal development of men. Tony is the author of "Body and Soul: The Essential Handbook for Men", a book of essays about healthy masculinity and finding your life purpose, and creates content and programs for Team Come True, a charitable team-building company that he owns with his wife Lisa.
Top photo credit: Ali Fischer, dancer; Jennifer Moloney & Lillian Stamey photographers
Shamanic Reiki Circle
Led by Leah DeSanto
Two Wednesdays a Month
6:30pm - 8:30pm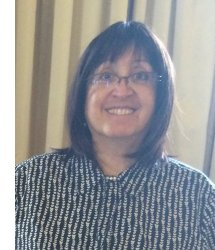 Join me twice a month on Wednesday nights from 6-8 pm.
Class starts with meditation, Reiki giving and receiving, Shamanic Journeying and ends with a Healing Circle.
Please call or text to pre-register for the Circle as space is limited to 10 people.
About Leah DeSanto
Intuitive, Usui & Tibetan Reiki Master Teacher
Shamanic Reiki Practitioner, Empath:
18 years experience - Private Practice & Teaching:
Mt Sinai Beth Israel Main Hospital, Center for Health & Healing - Reiki Practitioner;
Edgar Cayce NYC - Shamanic Reiki Practitioner, Usui & Tibetan Reiki
Practitioner
I utilize my formal training together with my Intuitive and Empathic skills to get to the root of emotional and physical issues, energy blocks. When necessary, I use Shamanic Journeying to resolve childhood traumas that are affecting a person's happiness.
I
currently offer Private Sessions, Certification for Reiki Level 1 and 2, and Long Distance Reiki, by Appointment.
For More Info or to Register:
Email: brachas18@gmail.com
Text 917-575-6182
https://www.reiki-relaxed.com/
Summer fun at Omega Institute
Somatic Movement Summit: The Creativity of Health, Mirroring Nature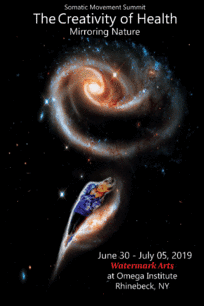 Explore the practice of Continuum at the Somatic Movement Summit with experts
REGISTER HERE NOW!


MBR has wonderful spaces for teaching
and healing arts of all kinds.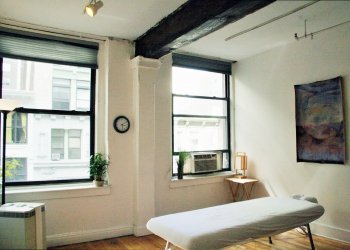 MBR has 3 office spaces and 2 group spaces available by the hour and by the day. Any space can be rented for one time, one hour, a few hours, a full day, an entire weekend, or for ongoing classes.
Our 3 offices are ideal for a variety of private practice sessions. Our 2 group studios -- 400 sq. ft. Small Studio and 1300 sq. ft. Large Studio -- are great for classes, workshops, and other group events.
The more you rent, the better your deal!

Office rates begin at $32/hr for 2019.
Movement Studio rates range from $49 to $135 / hour.
Email:

services@movingbodyresources.com


or
call Greg at (212) 206-7542 - Mailbox option 2
Please Note: If you contact us after

7 pm

, on weekends, or at short notice please email rather than call.
Photo by Barbara Schaefer
112 West 27th Street. Suite 402.
New York, NY 10001.
(Between 6th and 7th Ave)
Phone: (212) 206-7542

services@movingbodyresources.com