Plastic food and water bowls:

Animal acne has been attributed to the use of plastic food bowls. Also as plastic bowls age, the plastic begins to peel or develops scratches that release toxic chemicals into your pet's food and water.

Better options for food and water bowls include stainless steel, glass or ceramic. They should be wide enough so that your pet's whiskers don't touch the sides.

Nail clippers:

Over time, nail trimmers become blunted, which can lead to claws becoming crushed and splintering when they are trimmed. This is uncomfortable for your pet.

Damaged toys:

Old and damaged toys can potentially develop loose parts or stuffing which if can become a choking hazard or cause a gastrointestinal blockage. Replace toys which have become damaged and check them once a month for wear and tear.

Out of date food & medications:

Throw away medications which have expired. Out of date medications lose their potency and effectiveness. Always check the use by date of foods and medications.

Cat litter trays:

As with plastic food bowls, litter trays can develop scratches over time which can not only trap bacteria but also odors. Urine can degrade the plastic, causing it to become brittle and weakening it. Y

ou should have as many litter trays as you have cats, and then one extra. So if you have two cats, there should be three litter trays.

Pet beds:

Replace every year or two as they can become soiled with dead skin cells, oils, dirt, dust mites, bacteria and parasites.

Choose a bed with a removable cover if possible, so it can be washed every few weeks. You might place a soft blanket over the bed which can also be removed and washed regularly.

Toothbrush:

Your pet's toothbrush becomes a harbor for bacteria, bristles will become worn. Replace pet toothbrushes as often as you would your own, which should be every 6-8 weeks.

Grooming equipment:

Clean grooming brushes regularly with warm, soapy water to remove hair build up and oils. Replace brushes when the bristles begin to wear.

Our June 2019 Pet of the Month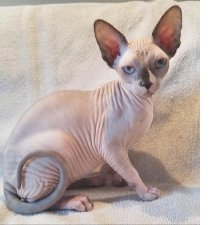 Hi, my name is Indy and I am a young 9 month-old Sphynx feline. My favorite thing to play with is not a silly toy but my canine brother, Bristol! I love my family, I even love my mom so much that I jumped in the shower with her. I probably needed a shower though because my most embarrassing moment so far is the time I fell in the toilet. Shh...don't tell Dr. Daniels but my favorite treat is "kitty crack" Delectable bisque. I am so spoiled that I even get to sleep under mom's pillow.
4 Reasons To Give
Shelter
Cats a Chance
Anyone who's ever adopted a cat knows how special rescued kitties can be. Here are our top five reasons we think shelter cats are the best cats.
Shelter Cats Choose Us:

Many people will tell you that they didn't choose their cats; their cats chose them. Have you ever walked into a shelter and looked around, then locked eyes with one specific cat? Or met a particular feline who would not leave your side? Heard a cat meowing at you from a cage across the aisle? Maybe a cat even reached out of his cage and bonked you on the head. Cats

just seem to recognize their future owners. So when a cat chooses you, you can be sure he saw something special. Go with it!

Your Cat Helps You Be Part of the Solution:

We may try to make the world a better place but it's not always easy to see the impact of our actions. When you adopt a shelter pet, you see the impact every day.

You and Your Cat Can Lead by Example

: By adopting a shelter cat you can show your family and friends firsthand how wonderful, loving, playful, fun and all-around delightful shelter cats can be.

Unfortunately lots of people don't realize that many cats end up in shelters not due to behavioral or health issues.

Personality and Preferences Profile:

Shelter and rescue workers want nothing more than to make successful matches, they can often tell you about the temperament and personality of the cat you are considering adopting.

If you have dogs, shelter and rescue workers help you choose a cat who gets along with pups. If you have a busy household with kids in it, shelter and rescue workers will help you choose a cat who will be comfortable amidst the chaos.

And you can find out if your kitty has special needs, like allergies or skin conditions, how much he sheds or if he will need special grooming care.

Research shows that having dogs in the office lowers anxiety in employees and increase work efficiency. Considering take your pet into the office consider these Pet Peeves first:
-->Your dog's barking or yipping is interrupting the morning meetings. Solution: Leave chatty, anxious, or aggressive dogs at home. Consider attending an obedience class before your dog gets a bad rep in the office.
-->Coworkers are sneezing. Solution: First check that no coworkers near your desk or office are allergic. Next reduce allergens by bathing your pup regularly.
-->Your pets personal stuff is causing clutter. Solution: Keep toys and water bowls out of high traffic areas.

How much heat can a dog's paw handle?
It's hot out there right now, please protect your pup's paws. Our hot Florida sidewalks and streets heat up quickly and can stay dangerously hot even after the sun has gone down. Check the pavement before walking your dog. Place your hand or bare foot on the surface for 10 seconds. If it is too hot for you to keep your hand or foot on it, then it is too hot for your pet!
If you do suspect than your pet's paws have been burned, get them inside right away. Carry your pet if possible and apply cool water or compresses. Seek veterinary attention as soon as possible.
Join the fun, follow us on social media