May 27 - All Summer
Open EVERY DAY of the week!
9am-7pm

Did you know that we have set start times and making a reservation will ensure you arrive on time and have a reservation on days that we sell out?


Saturdays - All Summer
Twilight in the Treetops- 7:30-9:30

Tuesdays - All Summer
Ride Kolo on Tuesdays this summer for just $5 after 5pm

July 4th
We're open all day!

July 7th & 21st
TreeQuest Open Climbs starting at 12PM



Book your summer group on our low ropes elements with team building facilitators or our Treetops Adventure Park! Email groups@adventurecenterofasheville.com for more info and discounts! We also have new programs to match the NC State Standards for curriculum.




Check out our parent company this summer

Check out our parent company this summer. Wildwater, Ltd. has 4 other locations in NC, TN and SC? They have rafting, ziplines, lodging, camping, jeep tours, paddle boarding, ropes course, whitewater kayak instruction, and a kid zip. Check out Wildwaterrafting.com for more information!

Learn More!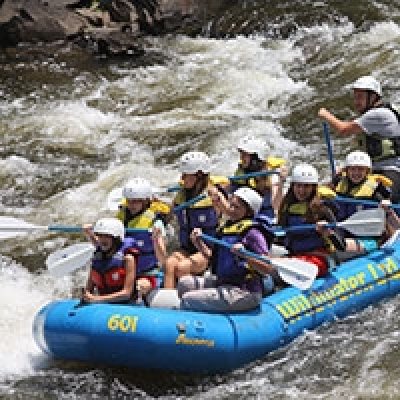 Still room to book your child for Summer Adventure Day Camp and Kolo Bike Camp!



Hello! I'm Sarah, the director of Adventure Camp. This is my third year working at camp and I couldn't be more excited! A little about me: I was born and raised in Swansboro, NC, a small beach town. I grew up going out in the boat with my family and hanging out at the ocean with my friends. I moved to Asheville to attend UNC Asheville and never left! I am currently a middle school teacher and have taught elementary school in the past. In my spare time, I love hiking with my dog and cooking anything. My favorite adventure activity is white water rafting because it reminds me of home. I can't wait to have an awesome summer at Adventure Camp!

At Adventure Camp this summer, we have teamed up with Chimney Rock State Park and The North Carolina Arboretum to offer programs to our campers. On certain weeks they will join us to do programs with animals and plants to educate our campers on several different topics having to do with environmental education.

In addition, we have added another adventure activity- Tree Quest. Tree Quest is recreational tree climbing. Guests use specialized gear and techniques to climb on one of our stately oak trees using a rope without negatively affecting the tree. Climbers "inch worm" their way up one of our eight climbs that range in height. TreeQuest allows Guests to enjoy an adventure activity in a controlled situation so that they can focus on the thrill of the activity and experience the environment they are in.




Kolo Bike Camp is happy to have Danielle Brendle as Director and Collin Taplin as Advanced Camp Leader back with us this year!


We offer tailored programs to corporate groups, school groups, association boards, emergency management teams, etc. Our highly skilled facilitators design fun and competitive programs utilizing our Low Ropes Elements and Initiatives, our Treetops Adventure Park aerial challenge course and our Tree Quest tree climbing.

Our low ropes facilitated programs with experienced instructors focuses on active interactions designed for guests to step outside of their typical comfort zones. We highlight the potential strengths of team task completion and the challenges of processes such as communication, group decision making, and task sharing/delegation. Our program is regularly described as fun, engaging, challenging, sometimes frustrating, thought provoking, and personally enlightening. The group will walk away knowing more about themselves and each other and hopefully shed light on some ideas the team can develop and implement long term.