Fall Equinox Despacho - Letting Go with Beauty
with LinDel, Tai Chi Shaman
Fall is the time when trees let go of their leaves and pull in their energy so they can nourish their roots. Is a cycle in your life coming to a close? Is there something you need to let go of in your life? Just as the trees let go their leaves in a beautiful show of color and celebration, let us come together in a beautiful ritual and build a community Despacho as we let go of what no longer serves us.
On September 25, we will be about midway between the Autumnal Equinox - a day of near perfect balance between the dark and light - and a new moon (or Dark Moon) occuring on Saturday, 9/28. In many traditions, the days of the waning moon is not a time to start new projects but the time to finish them up. A time to release what's not working in your life so you can move forward.
Previously, the gentle Ayni Despachos we did were about balance and reciprocity. This time, I will be facilitating a Kutti Despacho which is for releasing heavy energies that weigh us down. A few days later, I will be burning the Despacho (hopefully on the night of the Dark Moon) which will combust the energy quickly. The energy shifts from doing the more intense Kutti Despacho works deeply to move out heavy, stuck situations.
Please wear dark clothing and bring a dried chili pepper to represent a heavy situation you're ready to release into the Kutti Despacho. All other materials are included; please register in advance so there's enough for everyone.
Cost: $35

Location: SFR Soul Haven, 56 West 45th Street, Suite 1703

Bwt. 5th and 6th Avenue, Midtown, Manhattan
Off Rockefeller Center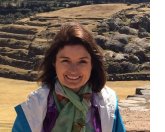 LinDel Sandlin will be facilitating the Despacho this evening. She traveled to South America and participated in numerous Despacho rites with modern-day Inka Q'ero medicine men and women (through her training with The Four Winds' Light Body School) and has continued to bring this medicine forward in her own practice. LinDel is especially grateful to all the Andean medicine people over the millenia who kept their sacred healing practices alive - often at putting their own lives at risk.
LinDel can be reached at LinDel.SmilingChi@gmail.com
or visit: www.facebook.com/TaiChiShaman/
For More Info on Despacho's